In the movies which follow, I have linked to my affiliate partner that I personally use and recommend.
Dating ideas – do you have any?
Earlier in Date your Man 2, I mentioned that my husband and I watch movies together. This is after the children are in bed and often by candlelight. This is special time for us to be together. Whether we just "veg" in front of a fun and frivolous movie or watch a more thought provoking movie, we enjoy this time together.
I have compiled a list of five movies that are especially meaningful. I have each linked to amazon.com of which I am an affiliate. While I will make a small amount of each sale when you purchase anything from amazon through my site, you may be able to find these less expensive at other stores.
**Please note: These movies are "mommy/daddy" movies and have adult content which our children are not allowed to view.**
"The Story of Us" With Bruce Willis and Michelle Pfeiffer, this is probably our favorite. It is extremely realistic in showing the consequences of holding grudges, not forgiving and taking relationships for granted. It also show that reconciliation even in extreme circumstances is possible. This movie does contain profanity and crude language.
"Late for Dinner" With Brian Wimmer and Peter Berg, this is a light-hearted movie and very enjoyable. While the plot is unrealistic, it shows that extenuating circumstances are possible. Another lesson is that there are always two sides to every story.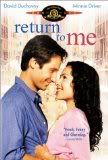 "Return to Me" With David Duchovney and Minnie Driver this is a very emotive movie! It shows how fragile life, as well as, our relationships are. It has encouraged us to plan for tomorrow while living for today.
"The Family Man" With Nicholas Cage and Tea Leoni this movie shows choices completely opposite to the ones we have chosen. It made us sympathetic to people like the main character who made choices out of ignorance or misinformation. People who, when shown differently, desired to change.
"For Richer For Poorer" With Tim Allen and Kirstey Alley this movie provides another example of people who have made wrong choices. When confronted with a different way of life, they see the shallowness of their own life and values.
Related posts: