Menu planning has been one of the biggest changes made that resulted in a substantial savings to our grocery bill. In fact, this one simple step helped cut my grocery budget by over 60%!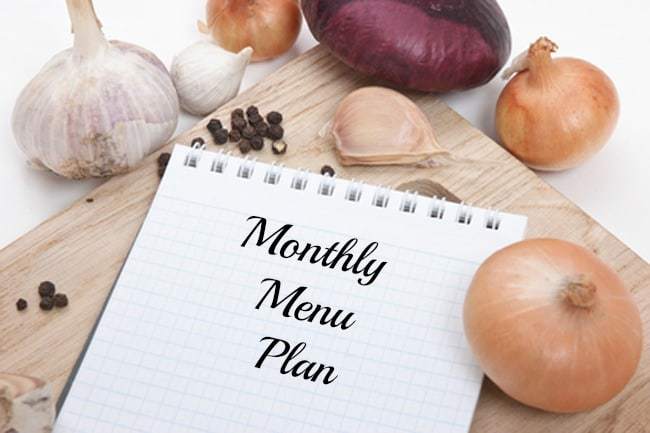 For more information on Meal Planning on a Budget, I created a bundle that gives you step-by-step instructions to save you money. In the 2 book bundle you get Meal Planning on a Budget along with a Recipe Cost Calculating Workbook. Get Your Bundle Now!
I have given a little background about our early years of marriage when funds were so limited. Living off  John's stipend while he was in graduate school was quite challenging. But as I shared, it helped me better understand the need for diligence in bookkeeping and frugal living.
Early Menu Planning = Casserole of the Week
During this time, my menu planning consisted of deciding which ONE casserole to cook for the week. With our family just starting, one large dish could last the whole week.
These economical meals not only saved money but also my time! Variety was not so much an issue with my husband (provided it wasn't bad), but each dish was nutritious and microwaveable!
My menu planning the "casserole of the week" cooking lasted up through the birth of four or five children in some form or another. But, as John's salary increased, I allowed our grocery budget to increase – dis-proportionally.
After several years of scrimping and saving, we were living debt free in our own house and driving debt free cars. Thus, I stopped writing down our expenses in my budget book. We had achieved our goals and consciously chose not to be misers – we even bought a ski boat!
Getting Serious About Menu Planning
Yet, while we could have kept on without a problem, I wanted to see where our money was going and decided to dust off my budget book.
Much to my surprise, I was spending $800 per month on food. Granted, we had 8 children at the time (from 0 to 18 yrs. old), but I thought $800 was excessive and wanted to reduce it.
I decided our frequent trips to the grocery store were primarily the problem (we shopped once a week while in the city for music lessons). This enabled poor (or no) planning on my part. Picking-up what I remembered but at the same time falling prey to impulsively buying more prepared foods became my norm.
I had sacrificed healthy meals for convenience.
Our family meals are more than just pit-stops where we simultaneously feed. Instead, they are times of re-connection and conversation as a family, not uncommonly lasting two hours. Even the young are encouraged to listen and take part as we grow together as a family.
So to begin my menu planning, I made a list of the homemade meals we enjoyed. I then drew out a calendar and filled in meals for the whole month. I placed it and others like it into a plastic sleeve and displayed it on my frig.
So, at a glance, I would know what was for dinner. In an effort to make it easier for you, there are Meal Planning Pages as part of the Daily Life Planner printable series that also includes calendars.
Monthly Shopping List
Next, came a monthly shopping list. Checking my pantry first, I made a shopping list according to the recipes on my monthly menu. This was a bit overwhelming at first, but the results were well worth the effort.
By simply planning meals for a month and shopping accordingly, I was able to lower our food  bill to $400. That was a 50% savings!
And that was even before I was using coupons. I must also note that eating out at restaurants is a treat for us and we do it far less than once a month.
Taking Menu Planning a Step Further
I further tweaked my menus by figuring out the cost per serving of each individual recipe. Yes, this took some more time and effort, but what else is a mother of eight to do?
I found, by expanding my recipe collection to include additional, more economical meals (red beans and rice was added) I further cut expenses to $300. This was not as big a jump, but the result was less expense with a healthier variety.
Jumping to the present, this year we were blessed with a very productive garden. My menu planning now revolves around eating out of our three freezers (2-25 cu ft and 1-17 cu ft).
Now, for a family with 6 children still at home (the oldest have married and families of their own who visit frequently), I am spending less than $300 per month including the feed for our chickens and milk cow.
The keys are planning, using what we have on hand (garden fresh and freezers) and shopping with a list that goes along with my menu plan.
Do What Works for You
Menu Planning only works if it you use it. Like I said, in the beginning, monthly menu planning was overwhelming so you might want to start with a weekly plan.
The important thing is to find a plan that works for you and stick to it. You really will see a difference – you can eat quality food for less!
Photo Credit: © Depositphotos.com/Observer