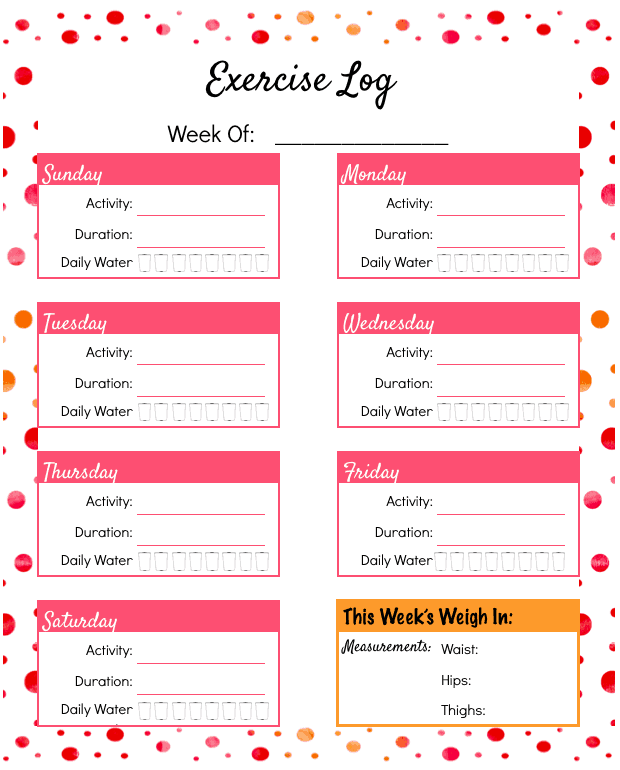 If you made the New Year's goal of exercising, are you doing it? I have been plugging along with resistance training and rebounding. No matter what exercise you are doing, the Exercise Log printable will help you keep up with it.
The complete Daily Life Planner contains 180 pages to help you get and stay organized as you live the life you are called to. Get your Daily Life Planner here.
As you can see from the picture, each day has a place to write the activity you are doing and the amount of time you spent doing it. I love being able to mark off my daily water intake with the glasses of water. Staying hydrated is definitely an important part of our health!
Another important feature of the Exercise Log is the Week's Weigh In box. This is the area in which you write the measurements of your waist, hips and thighs. You can certainly add any other measurements you would like too – tailor it to fit your needs!
Having a written record of the exercising I have done and my measurements has been a great encouragement for me and I hope it will be for you too.
Another source of encouragement has been my Fitbit Zip. I love seeing the steps and miles add up through the day – it makes me want to do more!
I have also had the Fitbit One which is a more expensive version but was great – I lost it several times in the vineyard and it even went through the wash three times before it finally died!
There are other fitness trackers available but these are the two I have used.
Download the Daily Life Planner – Free Printables – Exercise Log Here. 
Please do not alter or sell the Daily Life Planner free printables pages without my personal written consent. They are intended for personal use only and not for resale.
Join the newsletter
Join and get my Top 10 GAPS RECIPES FREE!