As the mom of a large family, learning how to organize a closet has helped decrease clutter. An organized closet is a more efficient use of time and space, however it does take a bit of effort!
A closet is normally not seen by anyone and can be a magnet for clutter. However, since nobody sees it, the motivation is not there to organize it.
Because a closet is used everyday, if left unorganized, a lot of time can be wasted and frustration occurs because of the mess!
How to Organize a Closet
Depending on your personality type, there are a couple of ways to approach the problem of an unorganized closet:
Take it slow and easy – sort, purge and organize slowly over time
Do it all at once – set your mind to it, make time and get it done in a short amount of time.
First of all, I tend to be an all or nothing type of person. For that reason, when I decide to do something, I jump in with both feet! You get the picture – clothes, shoes, other items pulled out and put into piles.  😉
Whichever method fits your personality, here are the steps I take to organize a closet.
How to Organize a Closet Step by Step
1. Purge Unused Items
If you haven't used items or worn clothes in a year – do you still need it? Maybe it is time to give those items away or sell them.
Move items in the closet that belong elsewhere in the house and put them where they belong.
If clothes are out of style (and you don't wear them), get rid of them.
Keep only items that fit you and you wear.
2. Think about How You Store Your Clothes
A closet can be used in a variety of ways:
hanging clothes
storage boxes
keeping folded garments
storing shoes
keeping the laundry hamper
and more…
3. Plan How to Organize
Maximizing closet organization can be done with many different tools and closet systems available.
Do an online search for closet storage organizers to see which tools might be best for your needs. I find that just de-cluttering and getting rid of clothes I no longer use makes a huge difference.
Really, organized clothes just make life easier!
4. Do It!
Take the time to learn how to organize a closet and then do it with your closet!
Let's look at some other general tips…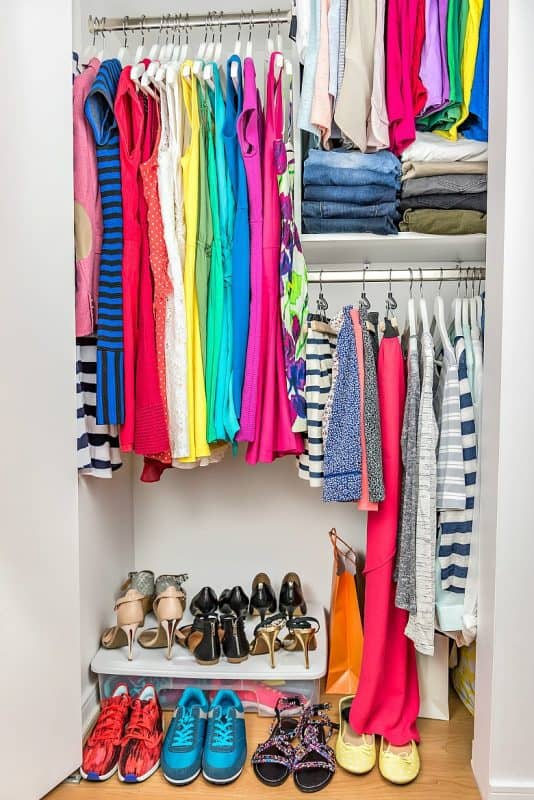 Other tips for how to organize closets:
Keep items used most often in an area with easiest access
Think of the seasons – If it is summertime, move summer clothes to the front and visa versa with winter.
Hang clothes in sections based on type or color. Example: long dresses together, all blouses and all skirts together. Or by color – blacks together, purples together…
Use boxes and baskets or other space savers, to hold shoes, bags and belts.
If space is limited consider packing and storing off season clothing elsewhere.
A Little Effort Gives Great Reward!
Learning how to organize a closet can be does easily. With a bit of time and effort, you can overcome the frustration that clutter can cause.
Finally, for me personally, an organized closet helps give a more positive mindset, outfits are easier to select, and clothing and accessories are kept in better condition.
It is a win-win!
What are your closet organization tips?