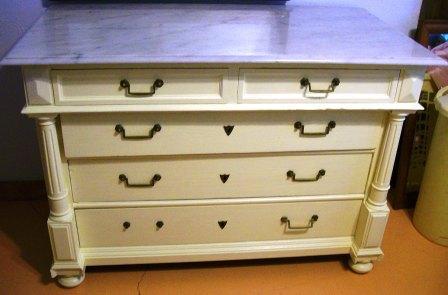 Redecorating can easily mean spending lots of money, but, it does not have to. With phase one of our home completed, I felt it time for some sprucing up in the interior design area. One very budget friendly way to add pizzazz is to start with pieces of furntiure you already have or a yard sale find and paint it!
You can see the difference in an old dresser before:
After painting it is ready to hold our 6 year old son's clothes:
There are a few things to be aware of before you begin.
1. There are 2 types of paint commonly used on furniture, latex and oil based.  If the piece of furniture is already painted, you need to know what type of paint is on it. To do this, take a cotton ball wet (but not dripping) with nail polish remover. Gently rub the painted surface in an inconspicuous spot. If the paint is latex, a small amount of color will show on the cotton ball. If the paint is oil based, the cotton ball will be clean.
Why is this important? If you use a latex paint over an oil based paint – it will peel. The pink trunk below was the toy box  from my childhood. It was painted with an oil based paint.
This does not mean you must use an oil based paint which seems to take forever to dry and smells terribly. But, the surface must be primed. I use a primer product made by Kilz for oil based paint. It is available in a spray,  a paint can, and either of these are available in a regular or an odorless version. The same pink trunk now primed with Kilz primer for oil based paint. I also taped old newspaper to the inside to protect the surface not to be painted.
Finally, the "new" blue trunk painted with latex paint is better suited for the boys' room.
I personally prefer using latex paint because there is very little odor, drying time is much faster and clean up is with soap and water rather than mineral spirits.
2. The surface should be clean and smooth. Gently sand the piece with fine sandpaper to roughen it up. This allows the new paint to adhere better.
3. Work in a well ventilated area. The wind here in west Texas makes painting outside many days almost impossible. I painted the furniture pictured in the middle of the kitchen with the windows open. I did use the spray primer on the toy box so the priming was done outside.
4. Protect your work surface. I always spread newspaper or plastic on the floor.
5. You will need a paint brush and an old rag to wipe up any drips.
6. Read the back of the paint can for specifics about drying time and time needed between paint applications.
7. Clean up your brush with soap and water if using latex paint and mineral spirits if using oil based paint.
Related posts: