Looking for something different, fun and cute for the special mom or grandma in your life? This list of 40 Mothers Day Gift Ideas DIY is designed to give kids a load of fun making a craft to show their love!
After all, the whole idea of Mother's Day is to show appreciation and love – right?
So, why not let them invest some time, while having fun making something that is sure to bring a smile to her face! Mothers Day crafts bring a lot of joy both to kids and moms!
Here are 2 Bonus Mothers Day gift ideas DIY'ers love from my collection. And, while they may not be so much a Mothers Day craft, they are still fun to make and loved by all:
Homemade sugar scrubs are always welcome and they are easy enough for kids to make – check out the link for some great recipes!
DIY bath salts are another wonderful gift idea easy enough for kids! In fact, don't be surprised if they want to take a bath just to try them out first!
All you need are some cute jars and you are ready to go! Oh, but don't forget the printable gift tags: All Occasion Printable Gift Tags and Inspirational Printable Gift Tags.
But, if you are looking for something a little bit more on the craftsy side to get the kids (young children, toddlers or older ones) even more involved, check out…
40 Mother's Day Gift Ideas DIY
1. Handprint Flower Bouquet  is even better than handpicked flowers and won't fade or wilt!
2. Mom You are "Pear-fect" just goes to show what creativity a paper plate and some paint brings out!
3. This  Crepe Paper Flower is adorable and would make the cutest magnet for the fridge to hold other craft projects on!
4. A Footprint Keychain would make any mom smile every time she gets in the car to play chauffeur.
5. Dancing Mother's Day Flower Craft is not only a cute flower for mom but also a great memory with the child's picture in it!
6. Mother's Day Thumbprint Craft is a great way to remember those little thumbs that sometime seem to get into everything but really do love you!
7. What is better than a vase of flowers? A Flower Bowl that is filled with flowers that will not fade!
8. Flowers are definitely a theme around Mothers Day so why not give Flowers That Will Last Forever and are adorable?
9. Those thumbs, fingers and toes that are oh so little now, grow so quickly! Now she can remember the cute little thumbs with this Thumbprint Planter
10. Whether you use a photo of  kids or one that is special to mom, these Mother's Day Photo Vases are a great way to show just how special mom is on her special day!
11. I am convinced that every mom needs a place to quickly jot things down before she forgets! This Mother's Day Button Chalkboard is adorable way to give her that special place.
12. It is always so cute to see how kids perceive themselves and others. With this Mommy and Me Magnet mom gets a special hand drawn picture on a magnet to hold art or just to decorate the fridge.
13. Most emphasis is put on the flowers mom gets, but don't forget the vase! This is a great idea for younger kids and older ones too! Mother's Day Vase
14. A Photo Wheel is a great way to display photos of kids, parents, grandparents and much more. It would even be cute to paint the clothespins!
15. This Puzzle Piece Frame is adorable and a great way to make it even more special is to add a unique artwork made just for it.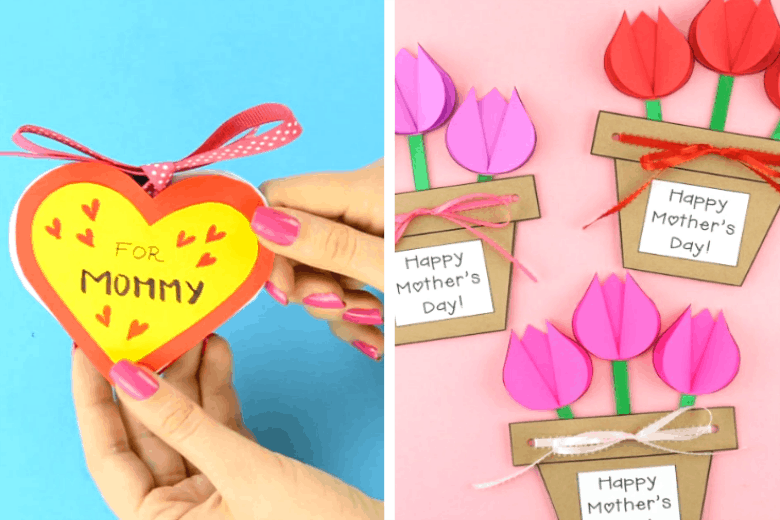 16. Tea Bonnet Craft is a perfect gift to prepare for a special mother-daughter tea party! Be sure to have her make one for herself to match!
17. Making a Thumbprint Tree Canvas is another way to remember those tiny thumbs that will not be small for long!
18. Most children loooove rocks and are just looking for an opportunity so share that love. Enter: Love Rocks
19. Mother's Day Flower Pot gives the opportunity with minimal craft supplies and a template to give the gift of colorful of flowers that will last for as long as they are kept.
20. Cupcake Pop Up Card brings back the joy of fun pop up books and cards that delight us all! Personalized with the child's photo it is even more special.
21. Handprint art is always a hit because you can always look back with fond remembrance! This Family Tree Handprints gets the whole family involved!
22. Twist and Pop Mother's Day Card is a super creative but still easy Mothers Day gift idea. It looks tricky but it isn't when you follow the easy to understand instructions that are given.
23. Most little girls love unicorns and are more than happy to share that love with someone they adore. Now she can: Unicorn Mother's Day Card
24. This Mother's Day Planter requires the use of a cricut machine and design but is totally worth it if you have one. I don't but I am definitely intrigued by all that you can do with them.
25. DIY Mother's Day Flower Pots are another cute way to give flowers with faces – your child's with a craft that is very easy and cute.
26. Bath Salts like my DIY Bath Salts recipe is a super easy bath salts recipe that is sure to please.
27. This Painted Rock Photo Holder gives the child the fun of painting a rock anyway they want and making a photo holder at the same time. Cute and decorative!
28. Up until now, we have had a lot of flower crafts which are alway a hit. But, where's the candy and chocolate? Even if your mom has diet restrictions, this Mother's Day Candy Bouquet can be modified to hold candy that conforms to any restrictions.

29. DIY Mother's Day Coupon Book reminds me of a Fathers Day coupon gift our children did – just as he loved it, I am sure moms will too! Get creative and give special time, gift, chores being done… to mom.
30. DIY Scrabble Tile Picture Frame is a project that can release your inner creativity! It can also help younger children's spelling. Think of loving sayings or words to describe her to place around the frame.
31. Who doesn't love a personalized mug? This DIY Sharpie Mug is both a creative Mothers Day gift idea DIY and practical. She will think of you with each cup of coffee! You can also add ingredients and recipe to a delicious mug cake, or her favorite candy.
32. All that is needed for this cute Mother's Day Frame Washi Tape is hot glue, popsicle sticks, wash tape and whatever you want to put in the frame – a printable saying, photo or drawing.
33. While this is for older children or younger children with help, this Mother's Day Monogrammed Tray can definitely be a work of art and a keepsake that is used and still decorative.
34. Don't be put off by the amount of work for this one because with the pour and melts available, it can be quick and easy – younger children will need help and supervision. DIY Mother's Day Candle and Gift Box also requires no hot glue for the gift box – pretty neat!
35. Kid's Artwork Notebook Cover is the answer to the guilt every mom feels when she throws away a cherished piece of artwork. After all, you just can't keep them all! With this notebook, you have a special place to store pictures of all that beautiful art!
36. As much as I love my sugar scrubs, I know this DIY Vanilla Lip Scrub is going to be a hit. Easy to make and the essential oils is very soothing.
37. Making a DIY Jewelry Box is going to let your creative juices flow! Starting with a ready made box, it is covered and decorated as desired. For decorations, be sure to check out the scrapbooking section in craft stores.
38. A Floral Picture Frame is another way to beautifully decorate a picture frame that can be filled with a photo or drawing. Uses hot glue, silk flowers and a picture frame.
39. With a printable template, anyone can make this DIY Heart Notebook.
My children love cutting so this is right up their alley.
40. Mom is my Superhero is a great way to show mom just how special she is while giving the gift of chocolate.