The old trough is no substitute for a respectable duck pond!
My how time flies – just look at our ducks! They are no longer ducklings. When I got ducks for the farm, I knew they would grow quickly, like chicks do, but I am still surprised! And, they should begin laying eggs in another month – I can't wait to try duck eggs!
I told you awhile back that we had to move the ducks to make room for Maybelle our new calf. As the ducks grew, they obviously needed more room to swim. We had not thought ahead to plan a duck pong and the trough they were using had grown too small – they had to take turns swimming! I had thought of using a plastic kiddie pool as a duck pond but then with our wind, it would probably blow away!
So, when we moved the ducks, we also made a duck pond that turned out wonderfully. Using our tractor, John dug a hole and an old pool liner (that we found on clearance) served to hold the water. Once the hole was duck, the liner was placed in it and bricks and dirt used to anchor it in place.
Filling totes from our well by the barn, the pond was filled with water. You can see below that dirt was used to hold the pond liner in place and the liner had to be adjusted as the duck pond was filled.
It took three children to catch the ducks – they are not people oriented nor as friendly as chicks can be but, still so much fun to watch and listen to. We have two Pekins, two blue Swedish and two black Swedish ducks.
It is interesting the way to tell a female from a male duck and I appreciate a reader emailing me with info. The female has a loud quack and the male sorta whispers his quack. We have at least one male Pekin – "Daisy" has become "Ferdinand" as his gender has been observed! Yes, I do try to keep farm life G rated but it is still farm life!
As you can see below, the ducks were beyond happy when introduced to their new home. Diving, flapping, swimming and floating around, the play went on all afternoon. And, we all enjoyed the show!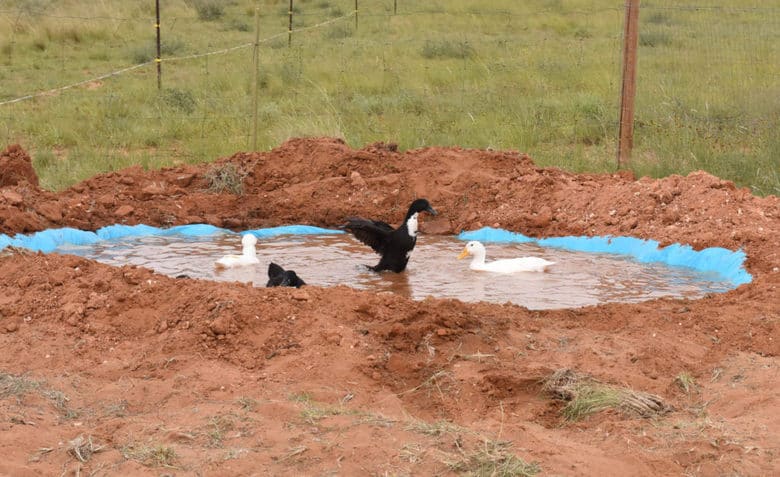 It does not take long for the pond to get very dirty. So, we are discussing ways to make it even easier to maintain and provide fresh clean water for the ducks. For the time being, they are happy and we are enjoying the quacking sounds. And, of course, awaiting the duck eggs!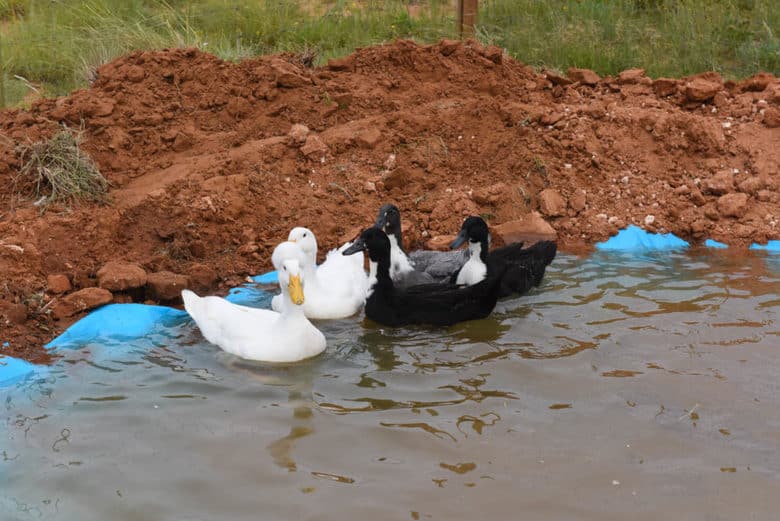 Do  you have a duck story to share or another animal escapade? We would love to hear it!