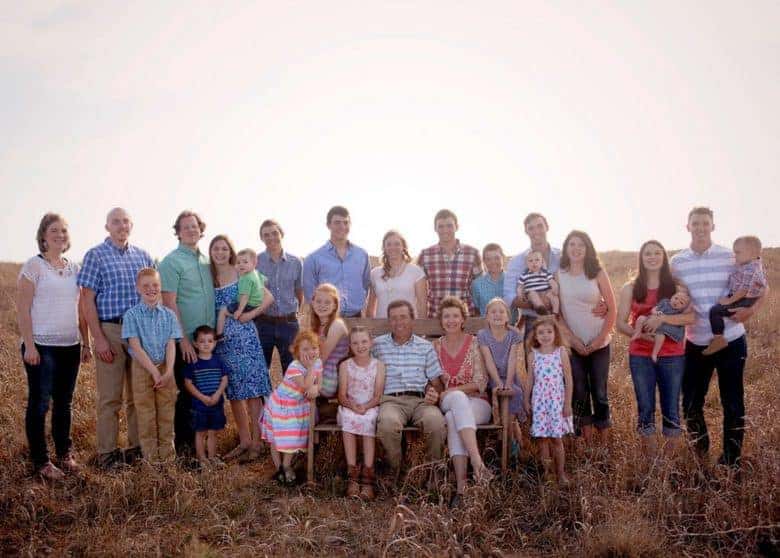 It is amazing how time flies! Family photos are a great way to see just how everyone has grown and changed. So, when everyone was here a few weeks ago, we had new photos made.
Psalm 128:8 says, "Your wife shall be like a fruitful vine, within your house, your children like olive plants around your table."
I was asked once by someone who found out how many children we have, if we were catholic or just fruitful protestants? I had to laugh then and still laugh because we only had six children at the time!
With 26 of us now, it can be a challenge to get everyone together much less dressed for pictures. It took some planning but everyone humored the mother!
Here are some of the highlights – I can't wait to share them!
I love this photo and the long line we make. Plus, the sunset and clouds are beautiful!
Here are the original ten children. We affectionately  call them "The Big 10"! They are from 8 years old to  32 years old.
Of the ten, six are still at home. Ranging in age from 8 – 21 years old, our dinner table is still quite lively!
But, after all 26 of us are together around the table and those with families leave, the dinner table seems soooo small!
Our oldest son and his wife have four children. They are preparing to move out of the country on a new business venture. We already miss them!
Our second son and his family you might remember from New Addition to the Family. Their daughter is only one month old! They live in El Paso which is about 5 hours away.
Our oldest daughter and her family live in Alaska so we do not see them very often! They love the climate there and have a new found love in rock climbing – even the little ones love it.
Our third son and his family work with us in the family vineyard. They live within walking distance so we get to see them a lot.
Finally, here John and I are with the 10 grandchildren. We now have as many grandchildren as children!
We are truly blessed!
If you do not have family photos made, I encourage you to start! It is so fun to look back and see the difference time makes!