One hurdle to organization is keeping it all together where I can find what I need when I need it. Anyone else have this problem? This goes for my Bible study too. For several years I have used a one year Bible reading plan and love it. In today's pages for the Daily Life Planner, I have two options for you to choose from. You can find the rest of the Daily Life Planner – free printables here.
I have always enjoyed reading through the Bible from Genesis to Revelation. But, in planning the Daily Life Planner free printables set, I decided to be daring and venture out of my normal routine with a Bible reading plan that goes in chronological order.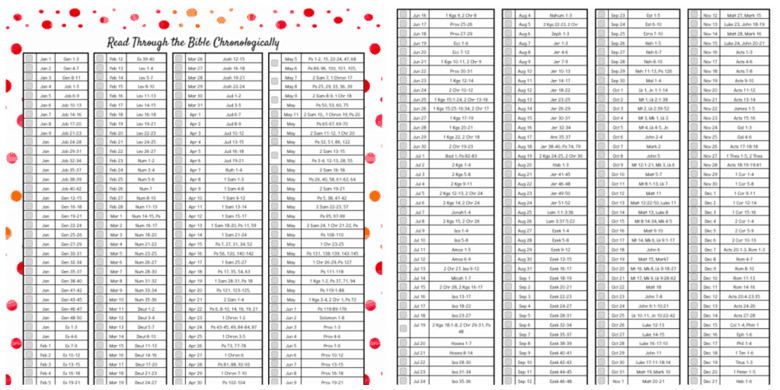 Both Bible reading plans can be downloaded using the link at the bottom of this post. Both allow you to read through the Bible in one year.
Did you notice the box at the beginning of each day of either plan? I love being able to check it off when I am done and the next day, I know right where to start!
It is amazing that just reading three chapters a day will take you through the Bible in a year – slow and steady gets it!
If you have never tried a one year Bible reading plan, I encourage you to give it a try.
It doesn't matter what day it is, just begin on that day and the same time next year, you will have completely read through the Bible!
What better way to get to know your Creator and the Creator of the universe?
Please do not alter or sell the Daily Life Planner free printables pages without my personal written consent. They are intended for personal use only and not for resale.
Related posts: