Today on Family Friday, I thought I would give a quick rundown of our week and end with the highlight!
We have had extremely cold, wet and windy weather here in west Texas. This is why we started pruning the vineyard early – so we would not have to prune in this type of weather. No one likes pruning with 41 mph winds! It is just not pleasant.
So, we have spent the week intensely doing schoolwork. Nobody has complained because they know the alternative is to go outside and prune!
To answer your question before you ask: Yes, our children do help us in the vineyard. It is a family business, after all. But we don't push them to work past their healthy limits. The point is to teach our children about the work that goes into producing food and wares that we need. They shouldn't ever take the food we eat (or even see in the supermarket) for granted.
We are expecting John's brother, Joe to arrive this afternoon and will pick him up at the airport. Mary, John's sister, has been here for a week and is helping us prune. She's also been motivating us to knit and hook rugs! What is family for if not helping you reach your goals?
The highlight of the week was last night's supper: We had homemade doughnuts!
Now, doughnuts may sound funny as a meal, but ours are healthy.
Our oldest daughter and her husband gave us a bakery doughnut rolling pin for Christmas. It's a little funny looking!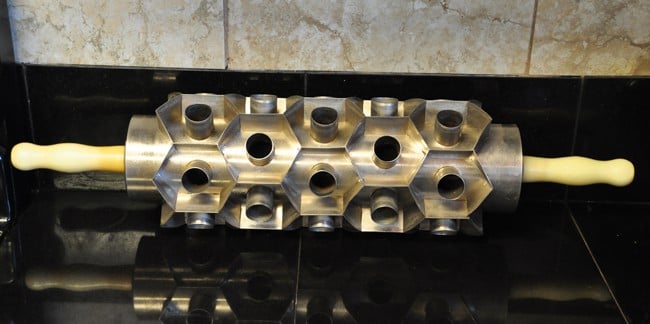 Once the dough is mixed up, we use a normal rolling pin to roll it out and then go over it with the doughnut roller. Fun, right?
One pass is made with the doughnut roller and then a second to cut the remainder of the dough. It is so much easier than cutting out each individual doughnut and hole. We're definitely more willing to make doughnuts when it's down to only a few steps. Compare than to individually slicing out doughnuts one by one.
Since the dough is only rolled out once, the doughnuts are much lighter and fluffier than when we rolled, cut out doughnuts and re-rolled the dough until all was cut and cooked. This puts them more on the level of traditional doughnuts that aren't as dense as traditional "cake" doughnuts. Think Krispy Kreme, not your regular Dunkin' Doughnuts.
Personally, I much prefer these kinds of doughnuts. They're much lighter on the stomach and don't weigh you down as much. But I understand that this is a personal preference. It just makes it a lot easier to make healthier imitations of doughnuts we all love.
As you can see, the number of doughnuts made for our family is impressive. Making our own doughnuts, besides being healthier, is much easier on our budget! These doughnuts are also higher quality than store-bought. I feel perfectly comfortable giving these to our kids as a healthy meal.
Once deep-fried, the doughnuts are iced and eaten. Oh, and to balance out the meal, we had fresh, cold, raw milk. Mmmm!
Even though we make homemade doughnuts once or twice a month, this is the first time since I have been on the GAPS diet that I have indulged. They were delicious!
And yes, I do indulge in delicious foods even though I am on a specialized diet. It's all in the mindful cooking! I have plenty of recipes on this blog that are GAPS legal and are great for people looking to have good food regularly.
On having doughnuts for dinner…
Again, I want to clarify: These doughnuts are healthy and are made to be part of a meal. They're not the typical desserts you see in a grocery store.
In our journey to be healthier as a family, I've been forced to think about what we eat in a much more critical way. What brings us happiness and joy to eat? What are we just eating because we "have" to, because we're told it's healthy?
By finding healthier versions of foods for my family, I'm doing my best to teach them that food shouldn't be something you fear. Food is meant to be enjoyed. So pick the good stuff with taste!
More "healthy" versions of foods we love!
Here's a collection of "healthy versions" of foods that we've tried and loved. Feel free to add suggestions of what you'd like to see in the comments. We really do read them!
Some ideas from my blogger friends:
Have fun making these foods together!
These doughnuts are super easy, as I talk about in the original instruction post:
Oh, one more thing -If you are not using sprouted flour (which you can find from my affiliate –where to buy sprouted flour), to help break down the phytic acid in the whole wheat flour, you can soak it over night in enough of the milk to moisten it plus 2 Tbsp kefir. The next day, proof the yeast by mixing it with 1 c. of the remaining milk (warmed) and 1 Tbsp of the raw sugar – leave for 5 – 10 min. until bubbly. Then, continue with the recipe.

You can use any mixer but I use a Bosch Universal mixer (Purchase from my affiliate), for the following recipe, as well as, my homemade bread recipe. In fact, it is probably my favorite kitchen appliance! I do not mean to sound like a commercial, but the Bosch just does a wonderful job of kneading bread dough so as to develop the gluten which makes for a lighter bread.
What are your family's favorite foods? Have you made them healthy versions of them in the past? Are they naturally healthy already (you lucky dog!)? Tell us all about it in the comments!