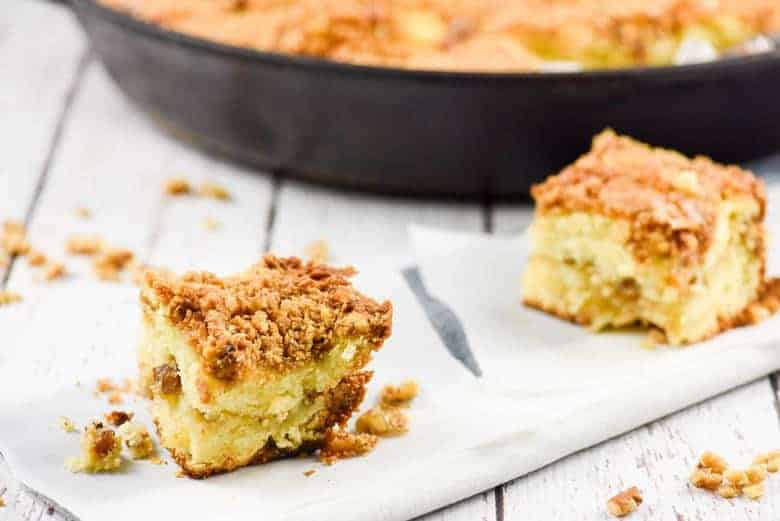 Caramel Walnut Coffee Cake – Mmmmmmm!
Who loves coffee cake?
Everyone at my house!
I do have to confess though, Caramel Walnut Coffee Cake is not served for breakfast around here – it is dessert!
Oh, it would be delicious for breakfast. But, I normally serve it as an evening treat before bed. What a great time for a sugar high – right?
It also makes a great snack when taking a break from vineyard work.
There are just so many times when a good coffee cake fits the bill!
Here in west Texas, we start pruning the vineyard in March while it is still cold. Caramel Walnut Coffee Cake makes a delicious treat when we go inside to escape the cold. It really hits the spot with a hot cup of coffee while we warm up our toes!
I love baking in my cast iron skillet. You might be able to see from the photo that I have a 17″ Lodge cast iron skillet. I got it FREE using my points from Swagbucks that I used for Amazon gift cards. If you are not familiar with it, see 10 Sites that Earn You Money from Home to learn how it works.
The Caramel Walnut Coffee Cake recipe is sized for a 9″ cast iron skillet but tripled fits nicely in my 17″ skillet!
If you keep your cast iron well seasoned, it has a coating that will prevent sticking. I do keep mine seasoned but still like to use parchment paper just to be sure ! 😉
Caramel Walnut Coffee Cake
Yield 9 " cake
Ingredients
Caramel
1 1/2 c. sugar
3 Tbsp water
1/2 c. heavy whipping cream
1/4 c. butter, softened
Topping
1/3 c. firmly packed brown sugar
3 Tbsp unbleached flour
1/4 tsp cinnamon
2 Tbsp melted butter
1/2 c. walnuts, chopped
Cake
1/2 c. butter, softened
1 c. sugar
2 eggs
1 c. sour cream
1/2 tsp vanilla
1 1/2 c. unbleached flour
1 tsp baking powder
1/2 tsp salt
1/2 c. walnuts, chopped

I buy my real salt, herbs and spices from my affiliate, Starwest Botanicals - because of their superior quality. Their herbs & spices are organic, non-irradiated plus, I think they are more aromatic and full flavored than any others.
Instructions
For Caramel
In a large skillet stir together the sugar and water. Cook over medium heat without stirring until the mixture is ambe colored - about 10 mins.
Remove from heat.
Stir in cream and butter.
Let cool in the skillet stirring frequently.
Preheat oven to 350F.
Line a 9" cast iron skillet with parchment paper
For Topping
Whisk the brown sugar, flour and cinnamon in a medium bowl.
Using a spoon or hand mixer, stir in butter until crumbly. Add in the walnuts.
Set aside.
For Cake
Using a hand mixer, beat the butter and sugar at medium speed until fluffy - scrape sides as needed.
Add eggs and beat well.
Add sour cream and vanilla.
In a medium bowl, whisk together flour, baking powder, and salt.
Gradually add flour mixture to flour/butter mixture beating just until combined.
Spread half the batter into prepared skillet.
Drizzle with 3/4 of the caramel and sprinkle with pecans.
Top with remaining batter.
Spread the remaining caramel on top.
Sprinkle with topping.
Bake 45 - 50 minutes until a fork inserted in the center comes out clean.
Notes
For a larger cake, use a 17" cast iron skillet and triple the recipe.
Related posts: