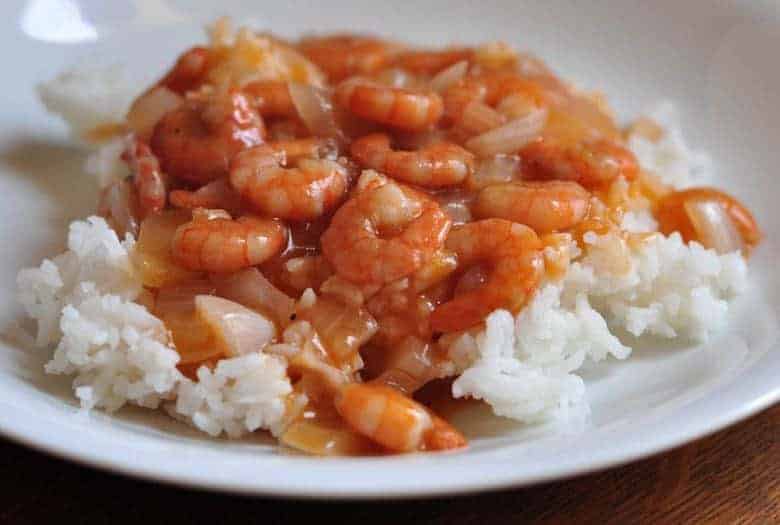 Chinese Shrimp with Tomato Sauce is a super easy and quick stir fry recipe that our family enjoys and is part of the Chinese Cooking and Stir Fry series. If you are new to stir frying, you might want to check out Stir Fry Basics that covers the how-to's equipment and ingredients used.
Stir fry is a quick cooking method over high heat involving constant stirring. For best results, be sure to have all your sauces prepared ahead of time so you can concentrate on stir frying. When I started stir frying, I only had a 6 qt boiler that I used – and it worked. But, purchased from my affiliate partner, a wok and wok ring definitely makes life easier – because of the rounded bottom, it heats quickly and evenly and allows for quicker cooking than a boiler.
The original recipe called for prawns. Now, if you are like me, I thought prawns were just large shrimp. Turns out, after Google-ing, they are! In my pictures you will notice that I do not use prawns but rather smaller shrimp. It really doesn't matter unless you are around our dinner table with 9 people and there are not enough prawns to go around! So, I choose smaller shrimp because you get more shrimp per pound which means my family gets more shrimp per person! Whew!
Now, catch your breath after that tongue twisting explanation and get ready to cook! First I give the recipe with photos for you to see how I do it and then a printable version.
Chinese Shrimp with Tomato Sauce
Ingredients
2 lbs shrimp (I use frozen de-veined)
1 onion, chopped
1 Tbsp ginger, chopped (or 1 tsp dried)
4 Tbsp ketchup
For Sauce:
1 tsp salt
2 tsp raw sugar (or honey)
1 Tbsp wine (I use dry red wine)
1 1/2 c. bone broth or water
For paste:
1 Tbsp cornstarch (For non-GMO cornstarch from my affiliate, use either  Rumford's Cornstarch or Rapunzel Organic Corn Starch)
1 Tbsp cold water
10 Tbsp oil  (I don't measure but use just enough to stir fry each step.) Coconut or Olive oil may also be substituted.
Procedure
1. If necessary, cut each shrimp down the back and remove vein. Remove shells and clean.
2. Heat 6 Tbsp of oil in a wok and cook the shrimp until bright pink.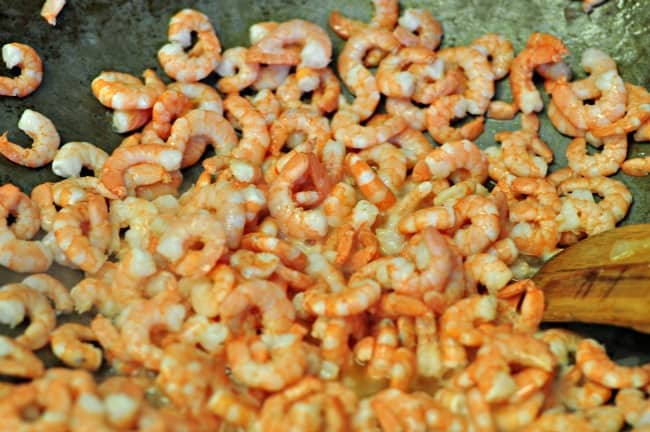 3. Add the sauce to the shrimp and stir fry about 3 minutes. At this point it doesn't look very appetizing since the wine gives it the dark color but trust me, it gets better! Transfer the shrimp and sauce to a bowl and set aside.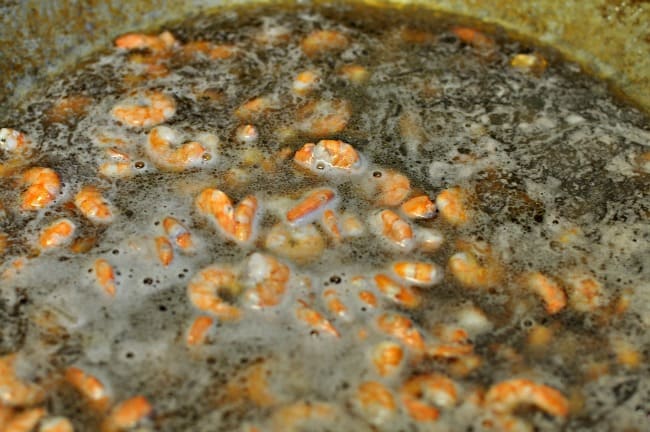 4. Heat another 3 Tbsp oil in the wok- stir fry onion and ginger about 2 minutes.
5. Add ketchup and stir fry 1 minute.
6. Add the shrimp and sauce mixture back to the wok with the  onion and ginger. Cook another 1 minute.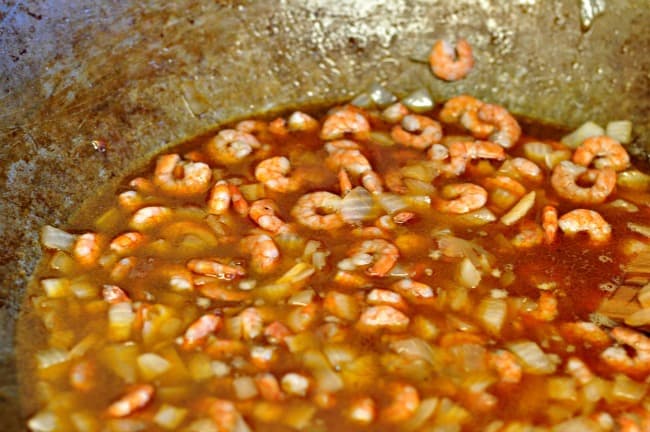 7. Add the cornstarch paste and stir fry until thickened.
8. Remove from heat.
Serve and enjoy!
Related posts: