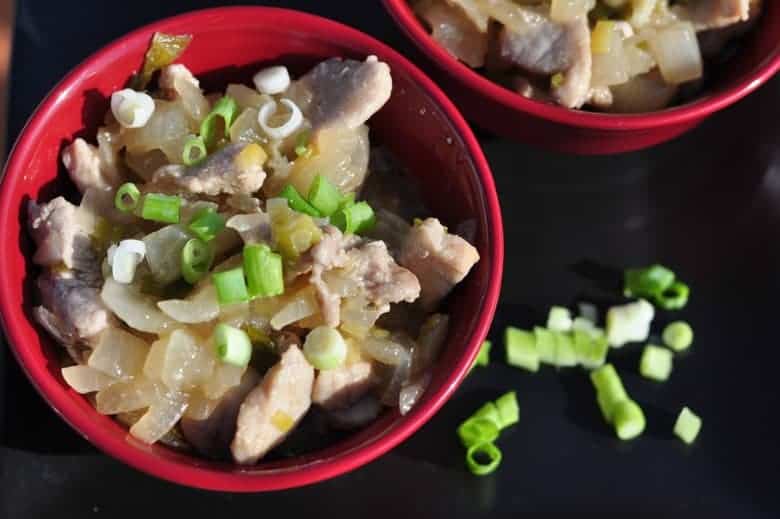 If you are like me, when you see the word "lamb" in the Chinese Stir Fry Lamb recipe, you think, oh boy, that'll be expensive!
Well, that has not always been my first thought!
When we lived in Switzerland, I did our grocery shopping across the border in Germany. We lived in a farming village between Basil and Zurich so the border was only about 20 minutes away. Everything was more economical in Germany so I went once or twice per month and stocked up! This was the 4 year period in our lives that we ate lamb frequently – imported from New Zealand, lamb was actually less expensive than beef! What an excuse!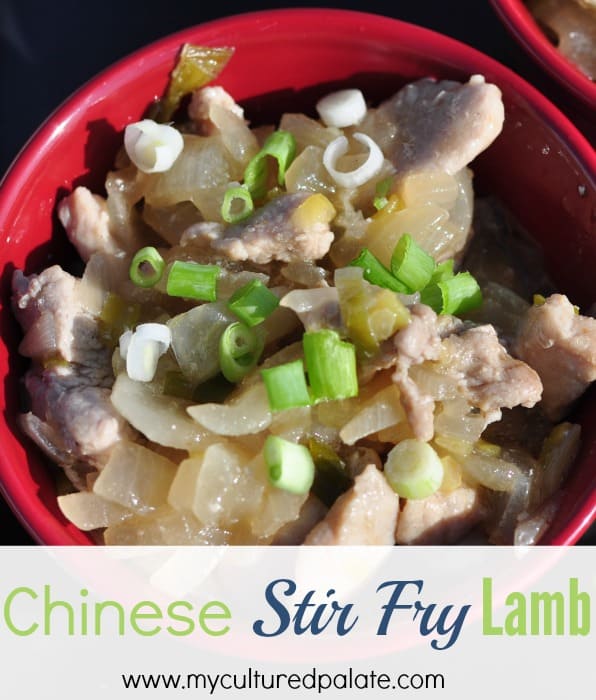 Needless to say, eating lamb for those 4 years ruined us! Lamb is forever a treat in our home. And, Chinese Stir Fry Lamb is a great way to prepare it!
As with all stir fry recipes, a wok is called for and really does make stir frying easier. When I started stir frying, I used my 6 qt boiler which did work but, purchased from my affiliate partner, the wok has a rounded bottom (that's why you need a wok ring to stabilize it) that makes for a more even heating. The wok design also makes quick stirring easier.
If you are new to stir fry, Stir Fry Basics will give you the information you need to get started including the how-to's, equipment and ingredients used. The key to good stir fry is having all ingredients prepared beforehand – meats and veggies chopped and sauces mixed. This is definitely the most time consuming part. Then, all you have to do is stand, stir and add!
In the following recipe, beef can be substituted for lamb and scallions for onions.
Chinese Stir Fry Lamb
Yield 4 servings
Ingredients
1/2 lb lamb (sliced) - lean beef may be substituted
2 onions
3 Tbsp garlic (sliced)
6 Tbsp oil (I don't measure but use just enough to stir fry each step.)
Marinade
2 Tbsp oil
1 Tbsp soy sauce (or I use from my affiliate partner, liquid aminos) If you are gluten intolerant, use gluten free soy sauce.
1/2 tsp sea salt
1 Tbsp wine
1/2 tsp pepper
Seasoning Sauce
1 Tbsp soy sauce
1 Tbsp vinegar
1 Tbsp sesame oil
Instructions
Thinly slice lamb. I have found it is easier to slice when the meat is still partially frozen - if you are using frozen.
Mix Marinade and marinate for at least 15 minutes - I usually do this the night before and let it marinate overnight.
Chop onions or if using scallions, cut them in strips.
Mix seasoning sauce in a small bowl.
Heat the oil in wok until it is very hot - then add garlic - stir fry quickly.
Add lamb and stir fry quickly until browned. The secret to this recipe is using the highest heat and cooking quickly - this makes the meat juicy.
Add the onion and seasoning sauce and stir until heated.
Serve and Enjoy!
Related posts: