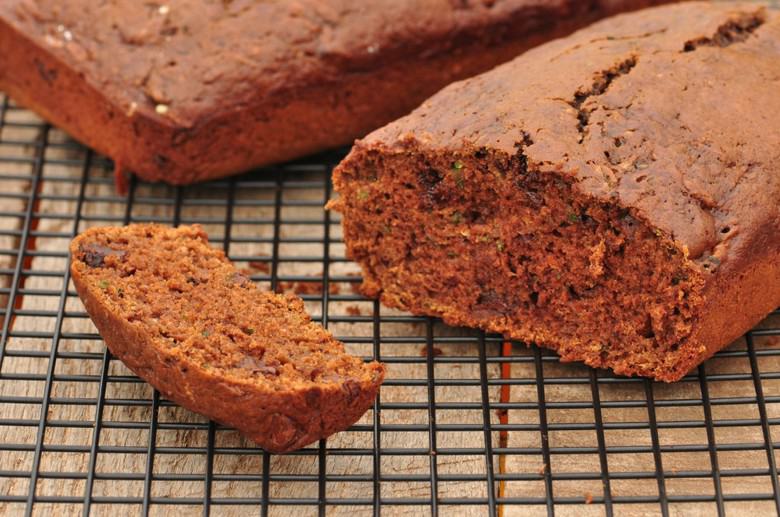 Knowing that our second oldest son and daughter-in-law (who is gluten-free) would be home for the holidays, I needed a gluten-free snack. After looking at various recipes, a reader came to my rescue with the Gluten-Free Chocolate Zucchini Bread. Making it well in advance to tweak as necessary, the family members at home enjoyed eating and taste testing!
Since the gluten-free version was such a hit, I decided to make the same recipe using whole wheat flour and all purpose flour. The whole wheat flour worked well but the loaf was heavier and denser while the all purpose flour made a much lighter and airier loaf – both were delicious! Needless to say, everyone enjoyed "having" to taste and give opinions and none of the Chocolate Zucchini Bread was left over.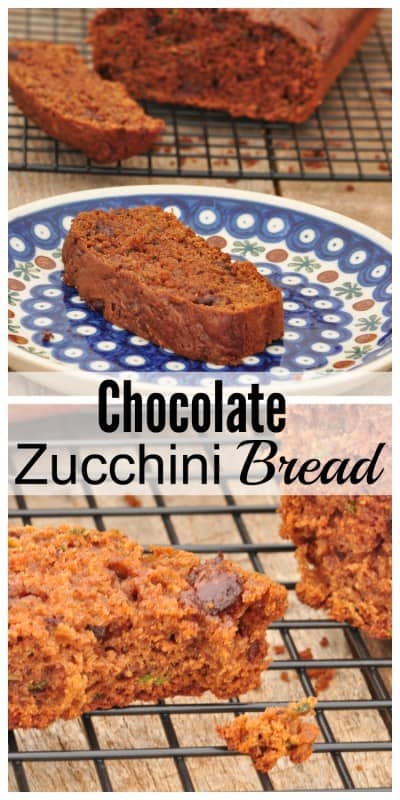 Zucchini squash is one vegetable that our garden produces abundantly. In fact, it produces so much that even with our large family, we can not eat it all! So, after washing it, I shred the zucchini, place it in freezer bags and freeze it – I don't even peel it. You can't get much easier than that!
While fresh zucchini makes delicious bread, having frozen shredded zucchini on hand makes it super easy to whip up a batch of the following Chocolate Zucchini Bread recipe.
Chocolate Zucchini Bread
Yield 2 dozen muffins or 2 loaves
Ingredients
4 eggs
2 c. sucanat or raw sugar
1/2 c. apple sauce, unsweetened
1/2 c. olive oil
1 tsp vanilla (make your own!)
3 Tbsp butter, melted
6 Tbsp unsweetened cocoa
2 c. all purpose flour or whole wheat flour
1 tsp baking soda
1/2 tsp salt
1 1/2 tsp cinnamon
2 c. zucchini, grated
2/3 c. chocolate chips
1 c. nuts, chopped (optional)

***I buy all my spices from my affiliate partner, Starwest Botanicals, because of their superior quality. Their herbs & spices are organic, non-irradiated plus, I think they are more aromatic and full flavored than any others.
Instructions
Preheat the oven to 350 F. Lightly oil two 9 x 5 inch loaf pans or 24 muffin cups. I purchased from my affiliate partner, the Le Creuset Silicone Muffin Cups and love them - I no longer have to prepare and wash muffin tins!
Combine the eggs, sucanat (or raw sugar), applesauce, oil, and vanilla - mix well.
Combine the melted butter and cocoa to form a paste - add to the egg mixture and blend.
Mix together the flour, baking soda, salt and cinnamon. Add to the previous mixture and mix well.
Fold in the zucchini, chocolate chips and nuts (if using).
Pour the batter into greased pans and bake for 1 hour or until a fork inserted in the center comes out clean. Muffins take about 25 - 30 minutes.
Cool for 10 minutes in the pans and then turn onto wire rack and cool completely.
Enjoy!

The Chocolate Zucchini Bread may be frozen once it is completely cooled.
Related posts: