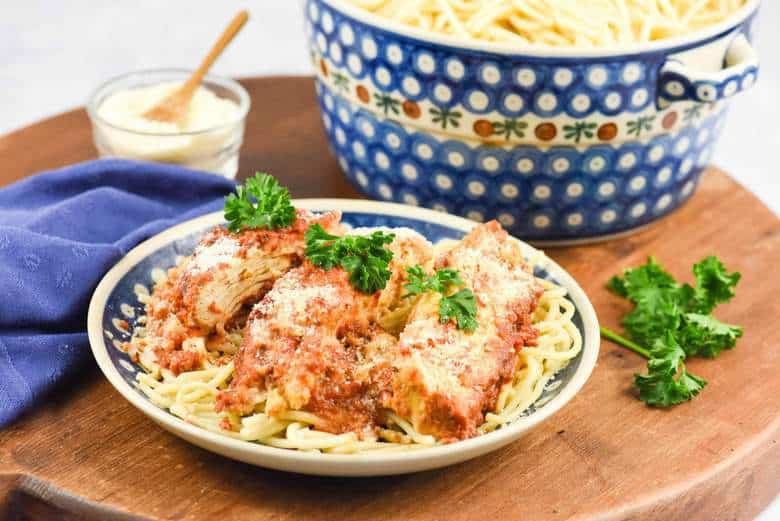 Pruning the vineyard is upon us and that means that for the next month, I will have very little time to spend in the kitchen! Easy Crock Pot Chicken Parmesan is not only easy but it is delicious! We will definitely be having it this month.
When we are pruning, we work all morning, stop for lunch and a quick nap then continue pruning all afternoon until milking time. I stop before lunch to get it all ready and then ring our dinner bell to call everyone inside.
During pruning, I don't have time for complicated meals but I do want nutritious ones!
With Easy Crock Pot Chicken Parmesan, once the chicken is coated, all the ingredients are put into the crock pot and left to cook. I like to add spaghetti noodles and a salad to complete the meal.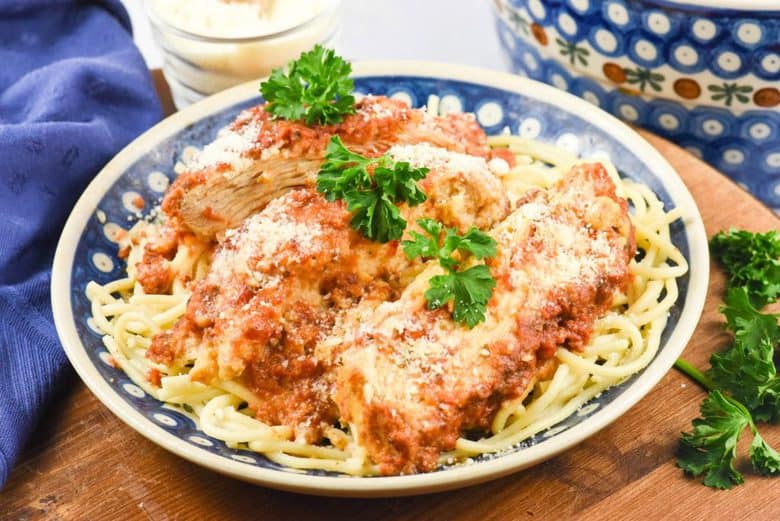 Don't forget, with four boys that have big farm boy appetites and a couple of girls, hearty meals are a must! Especially when they have been working in the fresh air.
I love leftovers so I double this recipe and it fits well in my 6 qt crock pot. This gives me two meals, here's how*:
Day #1: I serve the Easy Crock Pot Chicken Parmesan on a bed of spaghetti with a salad.
Day #2: I cut the remaining chicken into pieces. I add the chicken pieces and the left over sauce (adding a bit more if necessary) to the needed amount of spaghetti noodles. Adding more salad and muffins complete the meal!
*This only works if I have side dishes to go with it – otherwise, it is a one meal deal!
Easy Crock Pot Chicken Parmesan
Yield 6 servings
Ingredients
1 egg
1 1/2 c, Parmesan cheese
2/3 c. Italian seasoned bread crumbs
6 chicken breasts, skinless and boneless
1 24 oz can/jar pasta saucebr]I buy my real salt, herbs and spices from my affiliate,Starwest Botanicals - because of their superior quality. Their herbs & spices are organic, non-irradiated plus, I think they are more aromatic and full flavored than any others.
Instructions
Beat egg in shallow bowl with a fork.
In another bowl combine the cheese and the bread crumbs.
Dip the chicken in egg, then in the breadcrumb mixture - turn to coat well.
Place in a 4 - 6 qt crock pot.
Pour the tomato sauce over the chicken.
Cover and cook on low for 4 hours.
Serve with pasta if desired.
Notes
This recipe doubled fits in a 6 qt crock pot.
Related posts: