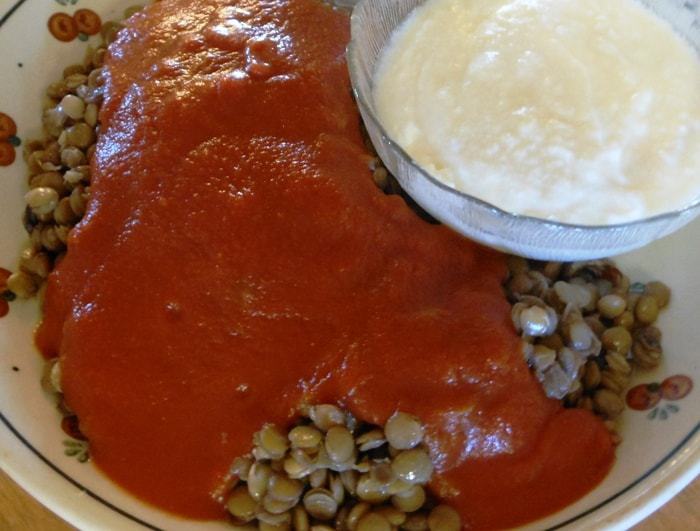 When John and I were first married, another young couple had us for dinner and served Egyptian Lentils. At that time, John was in graduate school, I was working as a nurse and pregnant with our firstborn. Lentils represented an economical meal! Little did I know then how nutritious lentils are for you when properly prepared – I just knew that they were economical!
Lentils are high in phosphorous, calcium, potassium, zinc and iron, plus vitamin B. Not only are they economical, they are one of the most nutritious legumes!  
Plus, served with yogurt on the side, Egyptian Lentils are easily digested. The probiotics in yogurt (and be sure to make homemade yogurt for real savings!) hellp nourish your gut with beneficial bacteria to insure proper digestion. Besides the health benefits of yogurt, the plain yogurt adds a surprisingly tangy refreshment to the spicy sauce of the Egyptian Lentils.
In the following recipe, I have linked to products from my affiliate partners that I personally use and recommend.
Egyptian Lentils Recipe
Yield 4 servings
Ingredients
2 c. lentils -(where to buy in bulk)
2 Tbsp whey, lemon juice or kefir
3c. tomato sauce
1 tsp cumin
1 1/4 tsp chili powder
2 cloves garlic, minced
1/2 tsp salt
plain yogurt

I buy all my real salt and spices from my affiliate partner, Starwest Botanicals, because of their superior quality. Their herbs & spices are organic, non-irradiated plus, I think they are more aromatic and full flavored than any others.
Instructions
Soak lentils overnight in covering them in warm water and 2 Tbsp. of whey, lemon juice or kefir. Drain, rinse and place in a pot with water to cover and cook until tender.
Mix tomato sauce, cumin, chili powder and minced garlic together - simmer over medium heat for 15 minutes.
To serve:
Place a bed of lentils on plate.
Top lentils with tomato sauce.
Serve the yogurt on the side.
To eat:
Using a fork, scoop up a bite of the lentils and sauce and then dip them into the plain yogurt.
Enjoy!
Related posts: