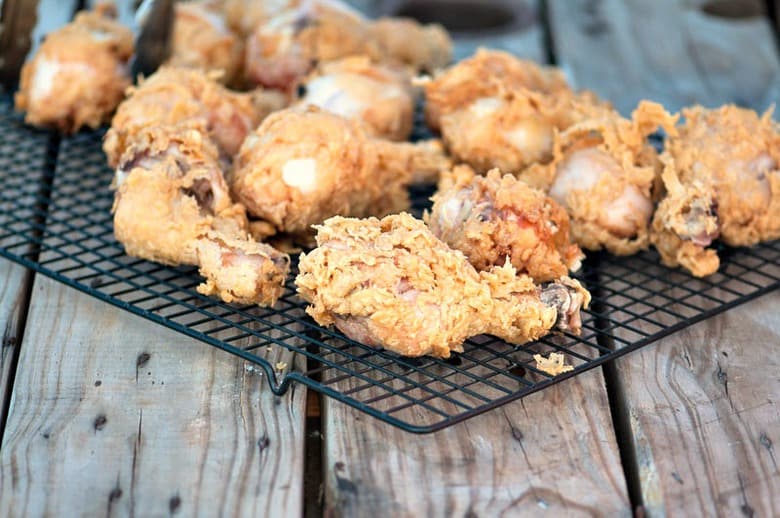 What says, "southern" better than fried chicken?
OK, maybe fried chicken and sweet tea.
The problem is, this southern girl doesn't fix either!
My tea usually turns a bitter and I have always figured that if we want fried chicken, we can go out to eat!
Besides, drinking water is better for you!
So, imagine my dilemma when our soon to be 17 year old son requested, of all things, fried chicken for his birthday dinner … And watermelon.
The watermelon was NO problem!
But the fried chicken…
At our house, birthdays are a BIG deal and a lot of fun. The birthday boy or girl picks the meal and it is complete with a decorated cake, ice cream and of course, presents. So, I really try to give them the meal of choice and it has never been a problem until fried chicken was requested!
My first thought was Sam's Club, they should have something in the frozen food section that I can just heat up or cook in the oven.
Then I was shamed.
John did it. He was the one who said, "You, who runs a food blog, can't fry chicken for your son's birthday?"
That did it.
I was determined not to be ruled by fear of fried chicken ever again. Even if it took several trial runs – I was going to get the hang of frying chicken!
But, just in case, I did check at Sam's and they do have chicken fried tenders you "cook" !   😉
Actually, it was soooo much easier than I thought and the children loved the trial run!
After consulting many, many recipes for fried chicken, I decided to try combining a bunch of them and results were fantastic – moist delicious fried chicken. Plus, we fried it outside so the house stayed cool!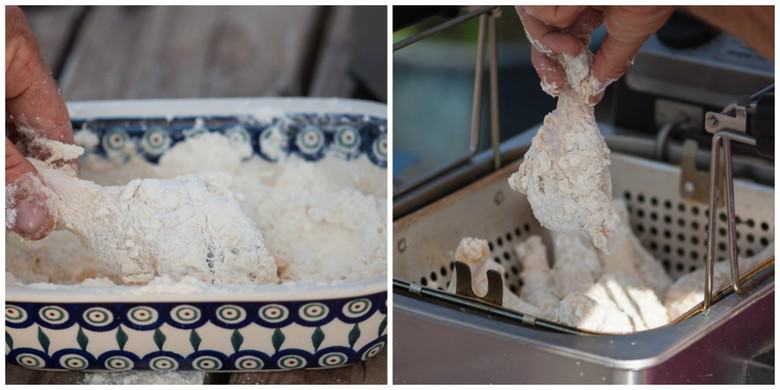 The brining of the chicken is an important step to seal in the moisture so, don't skip it! It sounds really fancy but it is simply soaking the chicken in a salt bath.  With the chicken, it actually soaks in some of the salt so, no salt is necessary in the  flour used to dredge it before frying. It does take planning ahead to brine it, but trust me, the results are worth it.
We have a turkey fryer (available from my affiliate, Waring Pro) that we use to fry foods like doughnuts and fish and it works great! Even though it is a "turkey" fryer, we have yet to fry a turkey! But, it is large enough to fry a dozen doughnuts at once -with our crew, that is important! Don't worry though if you don't have one, you can fry it in a skillet too.
Let me just say, one more time, this fried chicken is super easy and the taste is absolutely delicious! So, if you are like me and have had a lifelong phobia of homemade fried chicken, here is your cure.

Fried Chicken with Kefir Batter
Yield 6 servings
Ingredients
3 Tbsp salt
4 lbs chicken drumsticks
3 tsp dry mustard
2 tsp paprika
1 tsp cayenne pepper
2 tsp black pepper
2 c. all purpose flour
3 Tbsp yellow cornmeal
oil for frying

I buy all my real salt and spices from my affiliate partner, Starwest Botanicals, because of their superior quality. Their herbs & spices are organic, non-irradiated plus, I think they are more aromatic and full flavored than any others.
Instructions
To brine:
In a large bowl, stir together 10 cups water and 2 Tbsp salt. Add the chicken covering all pieces with brine solution. Cover and refrigerate overnight.
To marinade:
In another bowl, whisk together kefir, 1 Tbsp salt, mustard, paprika, 1/2 cayenne pepper (if using) and 1/2 tsp black pepper.
Transfer chicken from the salt brine to the marinade. Cover and refrigerate for at least 4 hours and up to overnight.
To cook:
Remove the chicken from refrigerator an hour before frying - let stand at room temperature.
Mix together flour, cornmeal, 1 tsp black pepper and 1/2 tsp cayenne pepper (if using).
Whether using a deep fryer or oil in heavy pot (filled halfway with oil), heat oil to 350F.
Remove chicken from the marinade a few pieces at a time - do not shake off excess - dredge in flour mixture.
Fry chicken in batches until golden brown and thermometer inserted in the thickest part reads 160F. It takes about 10 minutes depending upon the size of pieces.
Transfer to wire rack.
Serve and enjoy!
Notes
Be sure to allow the oil to reheat between batches.Do not stack chicken on paper towel - this causes the crust to become soggy.
Related posts: