Do you like Zucchini Bread? I know there are plenty of good recipes out there but…
This is not just a plain old zucchini bread recipe, it is a Gluten-Free Chocolate Zucchini Bread Recipe!
Having a gluten-free family member, I was searching for something to bake special for her when a reader came to my rescue. She introduced me to a product which is available from my affiliate partner, Gluten Free Pantry All Purpose Flour – thanks Liz!
I know there are many recipes online to make your own gluten-free flour but, since I do not normally cook gluten-free, the store-bought option was the easiest. And, by the way, the Gluten Free Pantry all Purpose Flour is available with a Subscribe and Save option which makes it even more economical. If you are not familiar with Subscribe and Save, it allows you to sign up for scheduled deliveries at intervals you select at a reduced price. You may change, delay or even cancel subsequent shipments at any time (even after the first delivery).
With a large family, planning ahead is a must! I like to have snack items on hand. Maybe my crew is like yours, when we are playing a board game or just sitting around talking, it is time to munch. Wanting them to be healthy snacks, I often keep on hand zucchini or banana bread. But, from now on, it will be this Chocolate Zucchini Bread and the Gluten-Free Chocolate Zucchini Bread for the gluten-free members of the family!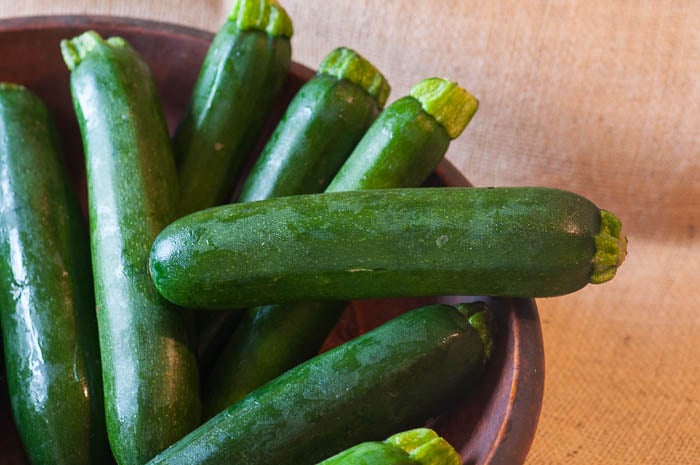 As you can imagine, planning holidays with 10 children and spouses can be challenging! They are not all able to be home for every holiday.
The seven children at home are always here, whenever we decide to celebrate a holiday, birthday or whatever. The three that are married really try. But, there are in-laws to consider. Then, there are jobs and scheduling vacation days to think of…
So it is with Thanksgiving.
Our second oldest son and his wife were not able to spend Thanksgiving with us – it was the in-laws turn. So, they came to visit the weekend before. And, they almost stayed since we had a snow storm blow through! Unfortunately (for us anyway!), they were able to leave and made it home safely in time for work on Monday.
But, since my daughter-in-law is gluten-free, I wanted to prepare something special for her – Gluten-Free Chocolate Zucchini Bread.
One vegetable that our garden produces abundantly is zucchini squash. When our garden is in full production, we cannot eat all the zucchini that it produces so, I freeze it. Well, I grate it first and then freeze it which makes baking zucchini bread easy peasy. I just take it out of the freezer, thaw it and continue with the recipe – its an easy to make quick snack or even gift. And, while we all enjoy zucchini bread, this Gluten-Free Chocolate Zucchini Bread was really a hit – I think it has something to do with the chocolate chips!
And now, without further ado, here is the Gluten-Free Chocolate Zucchini Bread recipe I have been raving about!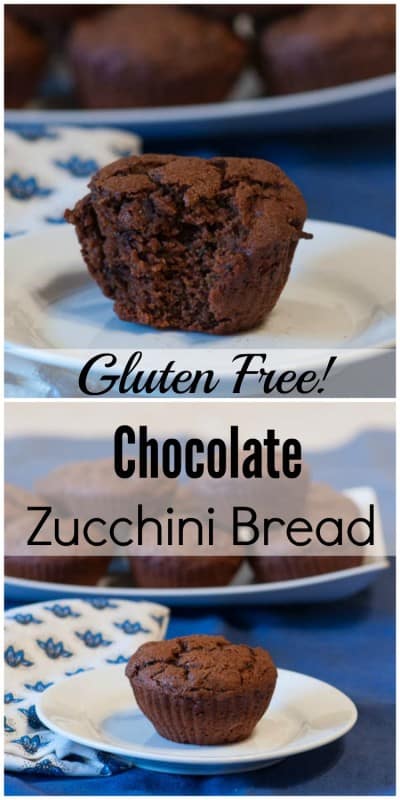 Gluten-Free Chocolate Zucchini Bread
Makes 2 loaves or 24 muffins
Ingredients
4 eggs
2 c. sucanat or raw sugar
1/2 c. apple sauce, unsweetened
1/2 c. olive oil
1 tsp vanilla (make your own!)
2 Tbsp butter, melted
6 Tbsp unsweetened cocoa
1 tsp baking soda
1/2 tsp salt
1 1/2 tsp cinnamon
2 c. zucchini, grated
2/3 c. chocolate chips
1 c. nuts, chopped (optional)

***I buy all my spices from my affiliate partner, Starwest Botanicals, because of their superior quality. Their herbs & spices are organic, non-irradiated plus, I think they are more aromatic and full flavored than any others.
Instructions
Preheat the oven to 350 F.
Lightly oil two 9 x 5 inch loaf pans or 24 muffin cups. I purchased from my affiliate partner, the Le Creuset Silicone Muffin Cups and love them!
Combine the eggs, sucanat (or raw sugar), applesauce, oil, and vanilla - mix well.
Combine the melted butter and cocoa to form a paste - add to the egg mixture and blend.
Mix together the flour, baking soda, salt and cinnamon. Add to the previous mixture and mix well.
Fold in the zucchini, chocolate chips and nuts (if using).
Pour the batter into greased pans and bake loaves for 1 hour and muffins for 25 - 30 minutes or until a fork inserted in the center comes out clean.
Cool for 10 minutes in the pans and then turn onto wire rack and cool completely.
Enjoy!

The Chocolate Zucchini Bread may be frozen once it is completely cooled.
Related posts: