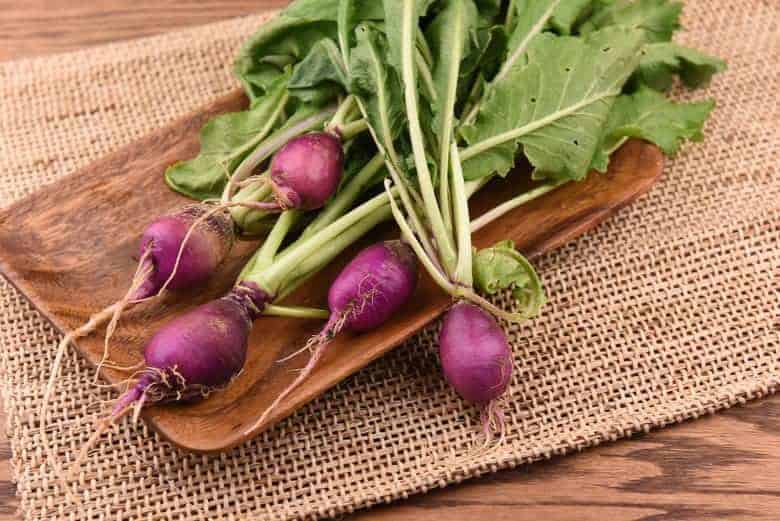 Have you ever heard of a Gourmet Radish Sandwich?
I can hear the sighs now but, don't knock it until you try it!
I had never heard of a radish sandwich until my oldest son and daughter-in-law told me about them and how good they were. I don't know why but, it just did not appeal to me until, I tried them! Now, radish sandwiches are my new all-time favorite sandwiches. Especially since they are growing so well in the greenhouse!
For those of you who don't remember, we were given a green house frame. The type of greenhouse in Walmart parking lots except, here in west Texas, it got blown away in the winds! A friend bought it "as is" and eventually gave it to us. We used ICF blocks to make the foundation and now it is a very respectable greenhouse that will not blow away.
I planted several winter vegetables and so far, the radishes are doing the best. Broccoli, cabbage, kale, lettuce, beets and carrots are also growing and doing fairly well. The biggest battle had been against the mice – who knew that they also enjoy fresh veggies!
If your family is like mine, they will be skeptical. But, even the greatest skeptic was won over with one taste. Our radishes are not very hot and spicy so, I also serve sliced onions for those who want a bit more heat in their sandwich.
Add some homemade mayonnaise to a couple of slices of homemade whole wheat or sourdough bread and you have a gourmet radish sandwich! Notice the rich yellow color or the homemade mayonnaise on the slices of bread below – that is thanks to our free range, farm fresh eggs!
You will note in the recipe below that I specify using the radish tops and if you don't have them, lettuce can also be used. If you taste the radish tops alone, you may notice that they prickle your tongue but, once they are on your sandwich, they are delicious! Not only do they add a beautiful deep green color to your radish sandwich, you are also getting a different nutritional profile in the radish tops than you would with lettuce. Talk about a gourmet treat!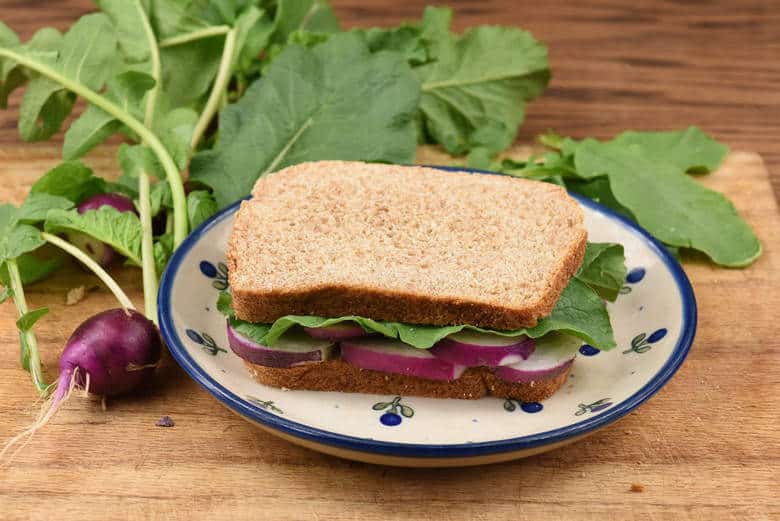 Gourmet Radish Sandwich
Yield 1 sandwich
Ingredients
3 - 4 radishes, sliced
green radish tops or lettuce
4 - 5 slices onion
2 slices bread
mayonnaise (make your own!)
salt and pepper to taste

I buy my real salt, herbs and spices from my affiliate, Starwest Botanicals - because of their superior quality. Their herbs & spices are organic, non-irradiated plus, I think they are more aromatic and full flavored than any others.
Instructions
Spread mayonnaise on bread slices.
On one slice of bread, layer in order: radishes, onions, radish tops or lettuce
Top with second piece of bread.
Enjoy!
Related posts: