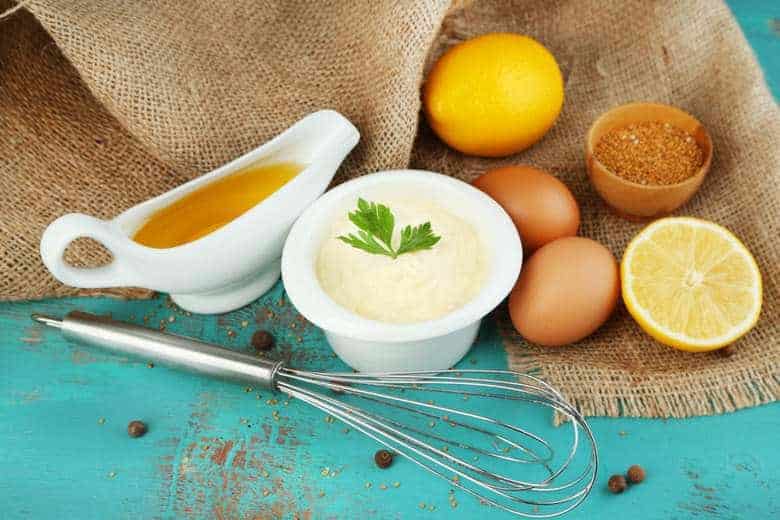 After being on the GAPS diet now for 6 months, the relief from my arthritis pain has spurred me to read and learn more about the affects of diet upon our bodies. Making my own mayonnaise is one change that has resulted from minimizing the amounts of partially hydrogenated fats in our diet.
Making your own mayonnaise is so easy – I should have started doing it much sooner! But, then again, there was no motivation to do it. I settled for the convenience of the store bought mayonnaise and never questioned the healthiness of it! Things have changed, however, I am no longer settling for the status quo! Homemade mayonnaise is creamier and richer in taste than its store bought counterpart not to mention healthier.
You may be a bit squirmish as you look at the recipe which calls for an egg – raw egg, that is. Since we have chickens, I am sure the eggs are fresh and I encourage you also to find a source for pastured eggs. Raw eggs are safe and very healthy for you when they are pastured. In the GAPS diet, raw egg yolk is introduced during the second stage because they are easily digested and absorbed quickly. Eggs provide wonderful nutrition!
Many recipes call for extra-virgin olive oil, which has a very strong flavor. I prefer using virgin olive oil which has a milder flavor. Experiment for yourself and see which you prefer.
I used my food processor and in less than 5 minutes – voile, I had beautiful creamy mayonnaise. If you do not have a food processor, don't worry, I have read that you can use a blender or a wire whisk.
Mayonnaise, Basic Homemade
Ingredients
1 egg (preferably farm fresh)
1 c. olive oil
1 Tbsp lemon juice
3/4 tsp salt
2 tsp mustard
I buy all my real salt and spices from my affiliate partner Starwest Botanicals because of their superior quality. Many of their herbs & spices are organic and I think they are more aromatic and full flavored than any others.
Instructions
In the blender or food processor, whisk the egg.
In a slow and steady stream, add the olive oil.
Add the remaining ingredients.
Refrigerate.
Related posts: