Have you ever tasted homemade peanut butter? Ooooh, it is so good!
For homemade peanut butter you, of course, need peanuts (or any other nut you want to use). Sometimes you can get them farm fresh, at farmer's markets or at your local health food store. When bought in bulk, the peanuts can be stored directly in a clean, re-sealable bucket or bagged and in your freezer. We usually start with full 5 gal. buckets and break down one bucket at a time into freezer bags to save space in our freezer. When we need peanut butter, I thaw and grind a bag.
The benefits of grinding your own peanuts are:
There are no preservatives
You can salt to taste – or not
There is no added oil
No added sugar – unless you want to
Fresh taste
Normally less expense for better quality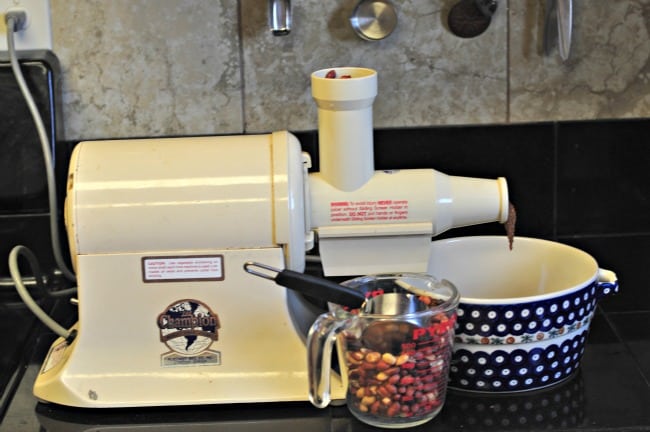 I use the above pictured Champion Juicer, but I understand that homemade peanut butter can also be ground with a Vita Mix or other powerful blender.
To roast peanuts:
Spread a thin layer of nuts in a pan and roast in oven at 300F for approximately  2 hours.
Mix up the nuts frequently – do not allow to brown.
Taste and continue to bake until the nuts are crisp.
Peanut Butter
Instructions
Attach the solid shield attachment to the bottom of the Champion Juicer. (Where the grate is which usually allows the juice to come through.)
Pour 1/4 c peanuts at a time into the shaft.
Push down gently with the plunger.
Peanut butter extrudes into a bowl.
Continue until the desired amount of peanut butter is ground.
The peanut butter can be re-ground to achieve a very smooth texture if you like.
Salt to taste.
Cover and store in cool place.
Related posts: