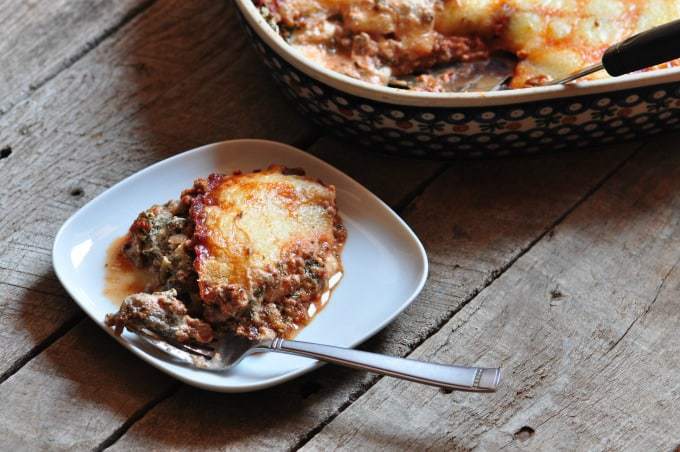 Spinach lasagna – who doesn't like it?
Maybe I should say, Lasagna – who doesn't like it?
Even children who don't care for spinach like this lasagna recipe! But, with Popeye as a hero, what child doesn't like spinach?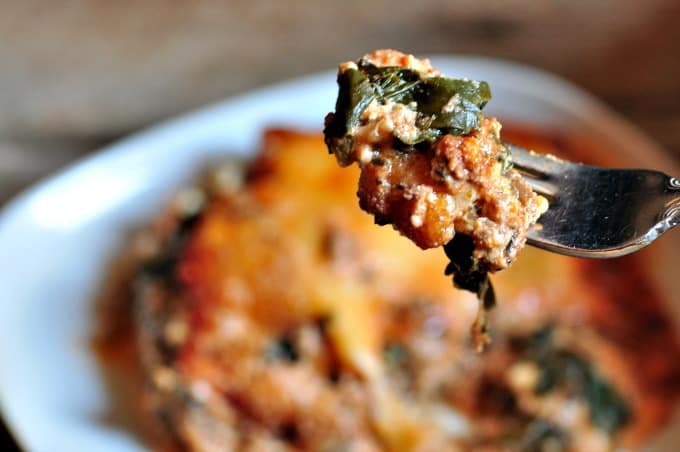 As the mother of a large family, I am always looking for ways to stretch meals. Yep, it was my frugality that was the inspiration behind my spinach lasagna recipe! That, and the fact that I could not eat meat for 30+ years because of meat allergies. Thankfully, my allergy to meat and other physical problems have resolved thanks to the GAPS diet! But, even though I can now eat meat, my spinach lasagna recipe is still a mainstay of meal planning.
Please keep in mind, with a large family I multiply recipes for large crowds! The basic ingredient quantities are given along with variations that I have used successfully and it is easily multiplied.
One final note before the recipe: I do not cook my lasagna noodles ahead of time – I layer them uncooked in the lasagna. This saves time, another messy pot to wash and the quality of the final dish is not affected!
In the following recipe, I have linked to products from my affiliate partners that I personally use and recommend.
Spinach Lasagna W/ Meat Option!
Yield 13 x 9 inch pan
Ingredients
Spinach Filling
Tomato Sauce
I use frozen tomato sauce from last years garden and add Italian spices. When I do not have frozen tomato sauce, I used canned and add my own Italian spices to taste - basil, garlic and oregano.
For a meat option:
Brown 1 lb ground beef or turkey meat and add to the tomato sauce.
Instructions
In a greased 13 x 9 pan, starting with a bit of tomato sauce in the bottom to prevent sticking, layer:
Lasagna Noodles - not cooked (where to buy healthy pasta)
Spinach Filling
Tomato Sauce
Mozzarella Cheese (I now use our homemade mozzarella)

Be sure to end with Mozzarella Cheese.

Bake at 350F for 1 hour.
Notes
I do not cook my lasagna noodles before assembling - not only am I saved time but also another messy pot to wash AND the quality of the dish is not affected!
Related posts: