Do you ever reach the point of needing some inspiration  in the kitchen? I do. Usually it is after a busy time of vineyard work but, not always. This is where I found myself just a few day ago – needing inspiration! This is when I begin looking through older cookbooks that I have in a closet. They are in a closet because I do not use them often but they are good and I do not want to get rid of them. While they are not necessarily REAL food cookbooks, most of the recipes can be easily adapted to a traditional diet by changing ingredients for healthier options.
One of those cookbooks is still available from my affiliate partner and is even available now in a kindle version – the Silver Palate Cookbook. I like cookbooks that do not use exotic ingredients. After all, I have a budget to consider. And, in this day and age, whether you have a large family or a small one, that is definitely something to consider!
While I was looking through the Silver Palate, Salmon Mousse caught my eye for two reasons. First, I like salmon! Secondly, the recipe uses gelatin and I am always looking for ways to add good quality grass fed gelatin to our diet.
I like salmon because it tastes good and, the children all like salmon. In fact, one tradition that our family has each year is a trim the tree party with a buffet dinner. The menu always includes, among other favorites, a Salmon Ball which I have made for as long as I can remember! Maybe besides tasting good, there is just something special about dipping into a fancy looking appetizer that appeals to children, as well as, adults!
I guess I should also confess that I like salmon because of its nutritional value – fish is brain food and contains lots protein, vitamins B, D and omega 3 fatty acids. It is also affordable and when used in recipes like Salmon Ball and Salmon Mousse, the amount of salmon is stretched by good-for-you fats like cream and mayonnaise in the Salmon Mousse recipe and cream cheese in the Salmon Ball recipe. These fats not only nourish your body but also help digestion!
Still, there is one other reason this recipe caught my eye – I have an antique copper gelatin mold from John's mother that I have not used yet.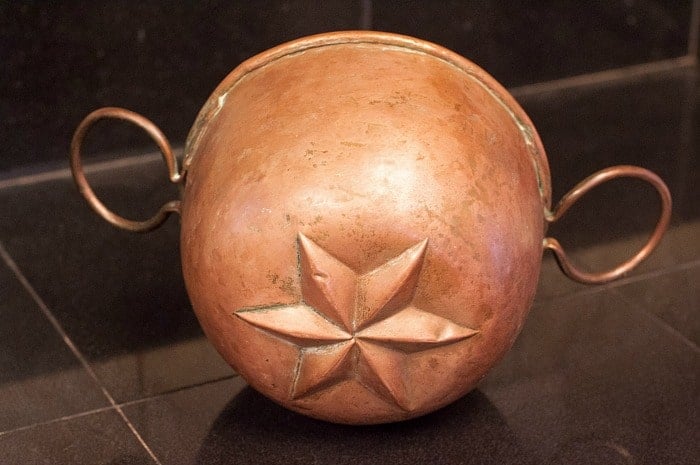 His mother died almost exactly a year ago and then his father less than 2 months later. They had 12 children, John is number 10 and believe me, Grammy did a lot of cooking! Several of her smaller pots were copper and when they were polished they really sparkled! There were certain pots she used for certain recipes but I never remember her using the gelatin mold – it always hung against the wall. When we brought it home, it found a place under the cabinet until now. I am pleased to say that it worked very well and I will be using it again!
When everyone saw me preparing the Salmon Mousse, they wanted to know what the occasion was! This is one of those recipes that is so easy but impresses everyone. I decided to serve it as a light supper and served it with Homemade Wheat Thins and Sourdough Bread – it was devoured quickly! Then again, with 9 people eating it, I should have expected it!
Salmon Mousse
Yield 1 ball
Ingredients
2 1/2 tsp grass fed gelatin (available from my affiliate)
1/4 c. cold water
1/2 c. boiling water
1/2 c mayonnaise (make your own!)
1 1/2Tbsp lemon juice
2 Tbsp grated onion
dash of hot sauce
1/2 tsp paprika
1 tsp sea salt
2 Tbsp dill
2 c. finely flaked salmon (I use canned with bones and skin removed)
1 c. heavy cream (preferably raw)
Instructions
In a mixing bowl, soften the gelatin in the cold water. Stir in the boiling water until the gelatin is dissolved and allow to cool to room temperature.
Stir in mayonnaise,lemon juice, onion, hot sauce, paprika, salt and dill. Stir until completely blended. Refrigerate for about 20 minutes - until the mixture begins to thicken.
Stir the flaked salmon into the thickened mixture.
In a separate bowl, whip the cream until peaks form and it is fluffy and thickened. Fold gently into salmon mixture.
Transfer the mixture into a 6 c. bowl or mold.
Cover and chill overnight.
Serve on crackers or bread.
Enjoy!
Related posts: