Scripture Writing has become my favorite Bible study method. Not only can I devote as much or as little time as I have each day to it, I learn so much by focusing on a few verses at a time. Faith is the focus for the Scripture Writing for July.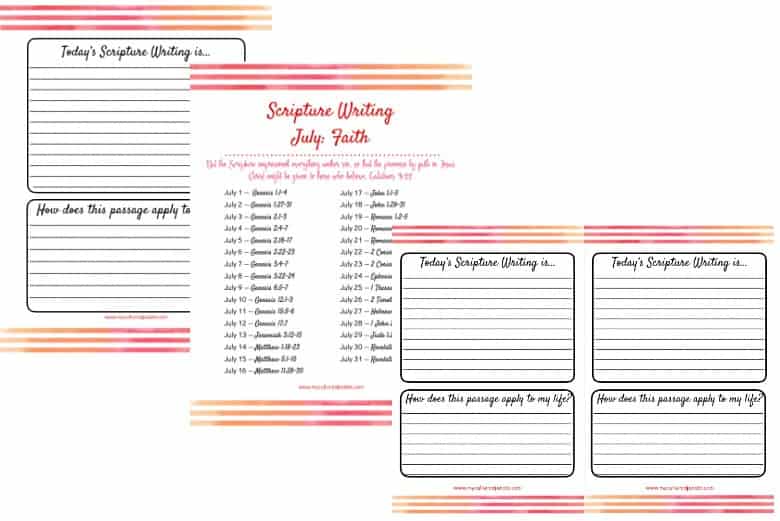 New to Bible Writing?
If you are not familiar with this type of Bible study plan, it is designed to get you into the Bible by actually writing verses. That is why it is called Bible or Scripture Writing!
The Scripture Writing for July focuses on faith so each day, you will have different verses centered around that theme to write.
Short on time? Don't panic! The verses in Scripture Writing for July are designed to take no more than 10 minutes.
Have more time? You can certainly spend as long as you want to on it. I like to read the verses in context, digging a bit deeper into their meaning. I also like to meditate and see how the verses apply to my life and my circumstances.
What you get with Scripture Writing for July
You will receive the verses for each day of the month along with coordinating lined paper to print for a 3 ring binder.
There are 2 options for printing the lined paper: full page or half pages for use in smaller notebooks.
Both have space for writing your thoughts about the verses and how they apply to your life. The lined half pages print two to a page so you can cut them in half and use in a smaller 3 ring binder notebook. You can see the small notebook I use here.

Want More? Get Bible Writing for a Whole Year!
You may find it more convenient to have 1 FULL YEAR of Scripture Writing Prompts. Both sets have different verses for each month: Binder Vol. 1 and Binder Vol 2.
Each set contains:
43 pages with different verses for each month's theme.
Binder cover
Binder spine with 3 size options (depending on what size notebook you use)
Prayer List printable
2 different Bible reading plans.
Have you tried Scripture Writing or is it new for  you?