I have started a new exercise – CrossFit! Now, maybe you wonder, what is CrossFit? I did, and if you search, you will find that folks either love or hate it. Here are my insights about CrossFit.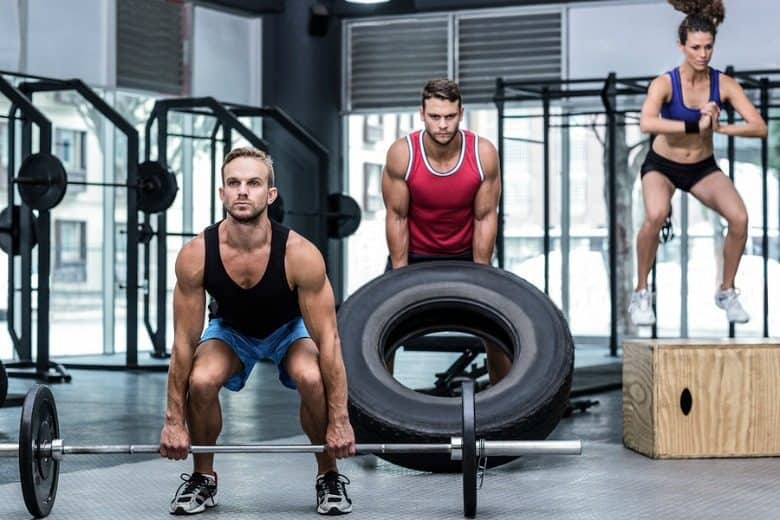 Everybody wants to be healthy!
While we all want to be healthy, many of us struggle with doing the things that will make us feel so much better. Some of those things that are important components to look at when we are trying to take better care of ourselves are:
Getting the right amount of rest
Sleeping the appropriate amount
Taking time to care for our mental health and spirituality
Exercise
Did you catch the last one? Exercise!
Many of us will have quiet times (like using the Scripture Writing), meditate, clear our schedules, and change our diets in an effort to become more health conscious.
But, when it comes to exercise, it is difficult to get us to participate consistently. I have used a mini-trampoline for years and also done exercise videos at home.
Why is it hard to exercise and stick to it?
Why do we struggle so much against the idea of exercising? Well for starters, it isn't very much fun to put a body that isn't very fit into motion.
That is what has motivated me to find out "what is CrossFit" and to give it a try. I am tired of being out of shape but don't want to hurt myself with an exercise that I'm not up to.
You know how it is, when you start exercising, your body aches, you feel tired and for what? A process that won't pay off for many weeks.
Enter CrossFit.
I began talking with our second oldest son who is into CrossFit to find out what is CrossFit all about. He was very encouraging that the benefits of CrossFit and a good diet would be seen quickly.
What is Crossfit?
Crossfit has been touted by many fitness gurus and slammed by others, but just like everything else, the answer lies somewhere in between. The CrossFit technique was developed by a man named Greg Glassman.
He took techniques he learned through many different areas of fitness like cycling, gymnastics and weightlifting. Then combined them all to create a total body technique that can make a person all around stronger and fitter.
The technique does this by using high-intensity training routines that push your body hard and produce faster results while making you more fit than you have ever been.
What is CrossFit? It is a unique workout that will push you to the limit, burn fat and keep things interesting. It is a great technique for you to try.
Another good part of CrossFit is that you are going to be joining a community that has a ton of enthusiasts. Especially if you choose to go to a gym, you will be able to find support and encouragement from the people there.
What Is CrossFit – Is it Safe for Beginners?
Everyone starts out at a different fitness level. CrossFit is intense, but do not count yourself out if you're out of shape.
When you hear about weight lifting and high-intensity workouts, the first thing you'd be tempted to believe is that this isn't for you.
Fortunately, you couldn't be further from the truth.
I have chosen to start at a CrossFit gym which is about 40 minutes away. Yes, it takes a lot of time. But, I want to have expert supervision to avoid injury.
CrossFit gyms have experienced coaches who are there to scale the workout. That means that they make the workout adaptable to people of all fitness levels.
In order for the technique to work, you must simply perform to the best of your ability. Your ability will not be the same as everyone else's and that is totally OK.
Give your body time to adjust to working at a high-intensity level, and learn the proper techniques. Using the proper techniques prevents injury and muscle strains.
We have several CrossFit gyms each about 40 mins from home. Each of these gyms gives 1 or 2 FREE classes. The free classes are regularly scheduled classes with people of all fitness abilities.
The free classes helped me decide which gym fit my needs and personality the best.
Although it was obvious that I was a beginner and not very accomplished, I was not made to feel inept. Quite the opposite – everyone was encouraging, helpful and friendly!
What is CrossFit – How do I get started?
While you can do CrossFit at home, I decided to begin at a gym. After I am comfortable with the moves and modifications, I will continue to do the workout of the day (WAD) at home.
You can find a local CrossFit gym, or "box" as they are called by doing an online search.
Be sure to talk with your instructors about your fitness level, what your limitations are, and about your particular goals. This does two things:
Helps the coaches to know how to modify your workouts properly
Ensures that you are progressing through your fitness program properly
One of the important things to remember as you are beginning your journey with Crossfit is that you are learning. That means you may not be perfect at each of these exercises right away.
You're not supposed to be perfect immediately, that's just not the way these things work. Give yourself the time and space you need in order to perform well, and you will be ripping through your Crossfit workout in no time.
Beginning any new fitness routine is intimidating, and CrossFit is no different.  CrossFit:
will not take up hours and hours of your time
is not boring like some conventional exercises can be
will produce the maximum results in the minimum time
has a community support system
trains coaches to help modify workouts as needed
If you are drawn to any of the above, CrossFit may be just the workout you have been looking for!
Now, I have 3 questions for you:
If asked the quetion, "What is CrossFit", what would you answer?
Have you thought about trying CrossFit?
If you've already tried it, how do you like it?