-
Beef Pho is a relatively simple dish to make, combining noodles with vegetables and beef in a soup base. It can be surprisingly difficult to get the right ingredients and the right quantities though. Here's our breakdown for a traditional vietnamese beef pho recipe.
Ingredients
You'll need:
Measuring Cup
Knife
Tongs
Cutting Board
Medium pot
Large pot
Plate
Colander
Plastic wrap
Pho is a great food, full of vegetables, protein, fats, carbs and sodium. Whether you're looking to warm up on a warm winter day, or re-hydrating after day of activity, it's a go-to food.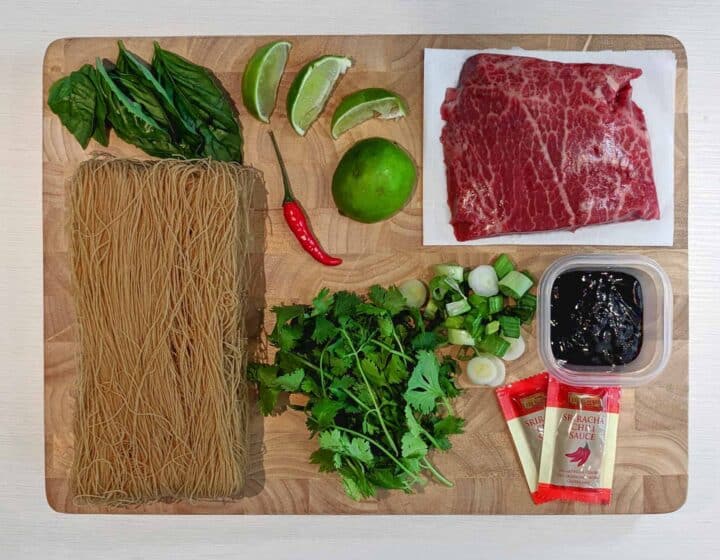 Cilantro (Coriander) adds a nice punch of flavor, but not everybody enjoys it. Actually, it can be very divisive, with people either loving it or hating it. Fresh is best here - use the real plant here rather than the processed stuff you find in tubes.
My personal favorite for a filler is the bean sprouts. Most pho will have both sprouts and noodles, but when low carbing or going paleo, you can actually substitute all of the noodles with bean sprouts. The crunchier texture is nice, and the mild flavor doesn't overwhelm the other ingredients. The downside is that they're stiff, so you usually get a few pieces dangling off your chopsticks or fork.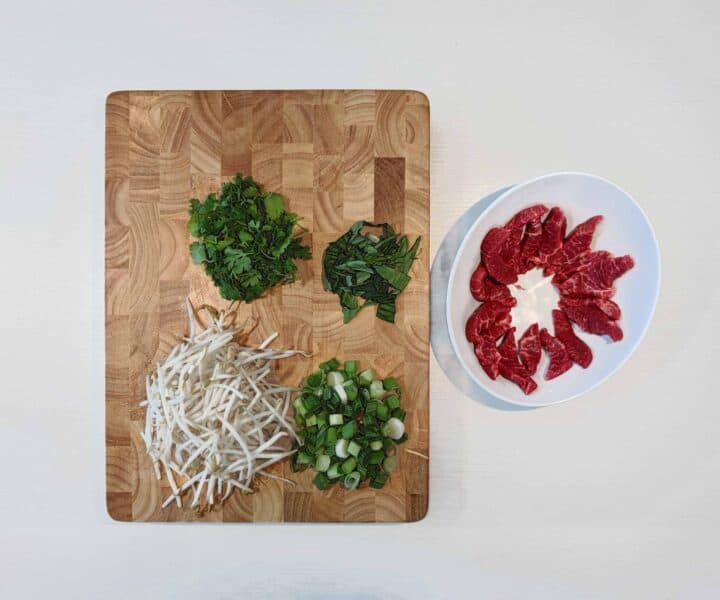 The green onion adds a nice compliment to the beef's flavor and cooks up well. I've even see recipes that add small amounts of fresh white onion, which has a distinctive taste that works well with the other ingredients.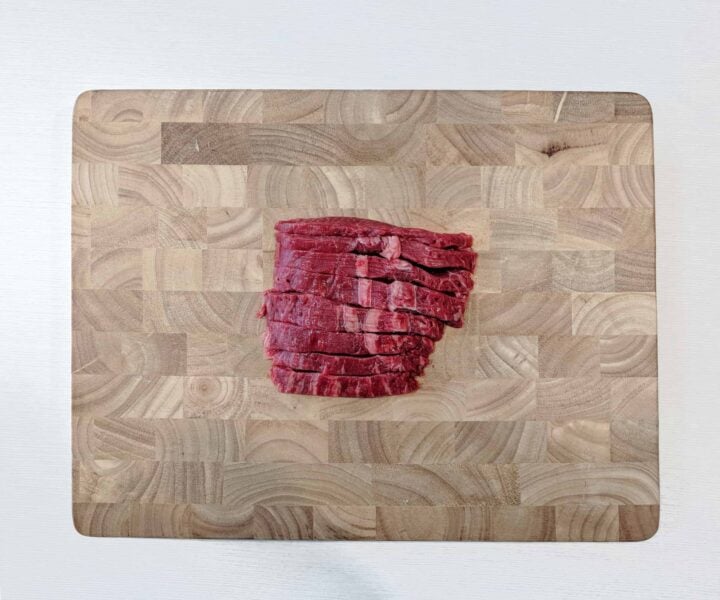 The basil is something you can technically do without, but it rounds out the overall flavor well.
Recipe
Beef Pho Recipe
This is a recipe for a classic beef Pho
Ingredients
200

g

Steak

flat iron

3

stalks

Green Onion

24

g

Beef Pho Concentrate

1

Lime

¼

cup

Basil

1

cup

Cilantro

1

Chilli Pepper

454

g

Bean Sprouts

200

g

Vermicelli

brown rice

14

g

Sriracha Sauce

14

g

Hoisin Sauce
Instructions
Plastic wrap the flat iron steak and stick it in the freezer to harden up (it shouldn't freeze) and make it easier to slice

Thinly slice the green onions and chili pepper, cut lime into wedges, and roughly chip the cilantro and basil

Prepare the broth by combining the pho concentrate with 4 cups of water and bringing the mixture to boil, then reducing to simmer

Remove the flat iron steak from the freezer and cut into thin slices, following the grain. Add steak slices to serving bowl.

Bring another pot of water to boil, add vermicelli and cook for 3 minutes (or until tender), then strain.

Add the noodles to the serving bowl with beef, top with bean sprouts, and pour the simmering hot broth on top of everything. The beef should cook within a few minutes, and will be done when it's no longer red.

Add the green onions, chili pepper, basil and cilantro as desired, and add lime. 

The soup can then be flavored with as much or as little sriracha and hoisin sauce as desired.
Notes
Traditionally, the broth is made from beef bone marrow, but to save time we'll use a concentrate.
The time it takes to cook the vermicelli depends on whether you're using thin or thick, but will generally by 3-5 minutes and can be done right at the end.
Nutrition
Calories:
684
kcal
Carbohydrates:
107
g
Protein:
32
g
Fat:
16
g
Saturated Fat:
7
g
Cholesterol:
61
mg
Sodium:
555
mg
Potassium:
861
mg
Fiber:
8
g
Sugar:
14
g
Vitamin A:
1183
IU
Vitamin C:
83
mg
Calcium:
95
mg
Iron:
6
mg