Want to make Homemade Sugar Scrubs but just aren't sure how? Let me help! Here is all the info you need to get started today! Whether for yourself or for friends, enjoy the spa treatment with these tips and the best DIY recipes for homemade sugar scrubs!

Why DIY?
I started making homemade sugar scrub because I wanted to not only save money but also control my ingredients. Let's face it, sugar is cheap! So, why are store-bought sugar scrubs so expensive?
I also like to know what I am putting on my skin and when I make it myself, I know exactly. There are NO artificial or unnecessary ingredients.
I use sugar scrubs on my face, hands, feet and as a body scrub. The results are silky smooth skin with very little effort or cost. Plus, there are endless variations in recipes!
Is refined sugar bad for you?
Refined sugar is bad for your intestines but turns out, it is a great exfoliant for your skin.
Sugar is also a good source of glycolic acid.
Glycolic acid is in many skin care products but is found naturally in sugar. It is a safe exfoliant and penetrates the skin cells leaving you looking fresh and rejuvenated. (1)
Since glycolic acid encourages cell turnover by breaking the "glue" that bonds skin cells together, it gives younger-looking skin. Glycolic acid is typically used to treat sun-damaged and aging skin. (2)
Uses
Sugar scrubs are used to exfoliate your skin or getting rid of the dead skin cells leaving your skin soft and glowing. Sugar is a safe and gently exfoliant and can be used on all parts of the body.
Frequency
This is completely up to you. If you do an online search, you will find sources that say anywhere from daily to a couple of times a week. I tend to use them more during the winter when my skin is especially dry.
Coloring
Remember, the skin is your largest organ and what you put on your skin can get into your bloodstream faster than the food you eat.
When it comes to colorants that I use for DIY sugar scrubs, I use India Tree because of their quality. They are vegetable colorings without any corn syrup or synthetic dyes.
Essential oils
Essential oils are extracted from plants and have the fragrance and benefits of the plant in concentrated form. They are often used to add the pleasant scent associated with sugar scrubs.
A wide variety of essential oils can be used in sugar scrubs and most are chosen based on fragrance or desired health benefits - think aromatherapy!
Remember that your skin is the largest organ of your body. And, what you put on your skin can get into your bloodstream faster than the food you eat.
So, be sure to invest in good quality essential oils. There are a lot of reputable essential oil companies and I am sure there is no one "perfect" company. They all have quirks and problems.
Just be sure to check them out and decide for yourself.
Personally, for myself and for my family, I use doTerra essential oils and am confident of their quality. I use them for all my DIY projects and diffusing.
Here are a few popularly used essential oils for homemade sugar scrubs and there are many others available:
Lavender - calming, soothing, supports skin regeneration
Peppermint - refreshing, calming
Wild Orange - energizing, invigorating
Lemon - energizing, cleansing
Frankincense - supports youthful healthy skin
Melaleuca - also known as tea tree oil is good for acne prone skin as it is known for its cleansing properties. Test on a small area of skin as it can also be irritating to some.
Combining oils
Even though single oils are great for sugar scrubs, don't be afraid to mix them to get an even better smelling scrub for aromatherapy at its best.
When adding essential oils, remember, they are concentrated so it will only take a few drops. For the following combinations, I would begin with 2 - 4 drops each and increase as desired.
Combos to try:
Lemon, Lavender
Orange, Lemon, Grapefruit
Orange, Peppermint
Lemon, Rosemary
Any citrus oil, Peppermint
Cedarwood, Lavender
Frankincense, Myrrh
Clove, Lemon, Cinnamon (or Cassia)
Sugar variations
A variety of sugars can be used for sugar scrubs so let's look at a few of the most popular:
Refined Sugar - It is a good source of glycolic acid which is a good, natural exfoliant. It is also readily available and inexpensive. Another plus to using white sugar is the final appearance of the sugar scrub if you choose to use colorant.
Brown Sugar - It is also hydrating and exfoliating. It is a bit softer than refined sugar making it a good choice for a face sugar scrub recipe. Homemade Sugar Scrubs made with brown sugar have a bit more of a "homey" or warm look to them. Brown sugar's color does affect the color of the final product when using colorants.
Raw Sugar or Turbinado Sugar can also be used but will yield a coarser sugar scrub. It is best used for hand and foot scrubs.
Coconut Sugar may also be used and is a good exfoliant. Keep in mind, that is will be more expensive.
Carrier oils
Carrier oils are the base oil used for homemade sugar scrubs. They are used as moisturizers and help "carry" the other ingredients into the skin.
Cold pressed oils mean they have not been heated and they retain their beneficial qualities.
There are a variety of oils that can be used. Typically, I use coconut oil or jojoba oil but, as you will see in recipes that are given below, other oils are easily substituted.
Coconut oil is my go-to oil. Coconut oil helps absorb the accumulated impurities from your skin, as well as, nourishes it. It keeps the skin moisturized, and this helps bring excess oil production under control. It is especially good for acne prone skin. Coconut oil is made up of medium chain fatty acids that act as an antimicrobial agent to help kill viruses and bacteria. It will be solid at temps under about 76F.This is the coconut oil that I use.
Jojoba is actually a liquid plant wax as opposed to an oil. It is a non-greasy carrier oil for homemade sugar scrubs that closely mimics collagen and your own skin's natural oil. It moisturizes without clogging pores. Since it is a bit darker, your sugar scrub will have a slightly darker color. Anti-inflammatory effects have been shown. (3) This is the jojoba oil that I have used.
Sweet Almond Oil is a moisturizing oil that goes on lighter and smoother than heavier oils like coconut. It has the reputation of not clogging pores. It's emollient properties help to improve skin tone and complexion. Sweet almond oil is especially good for dry and sensitive skin. This is the sweet almond oil I use.
Grape Seed Oil is a good moisturizing oil for matter skin but it is more expensive. I find Sweet Almond oil is a good, less expensive alternative.
Olive Oil - Olive oil is an excellent oil to unclog pores and balance the skin's oil production. It nourishes and moisturizes the skin, and this helps lessen the excess sebum or oil being produced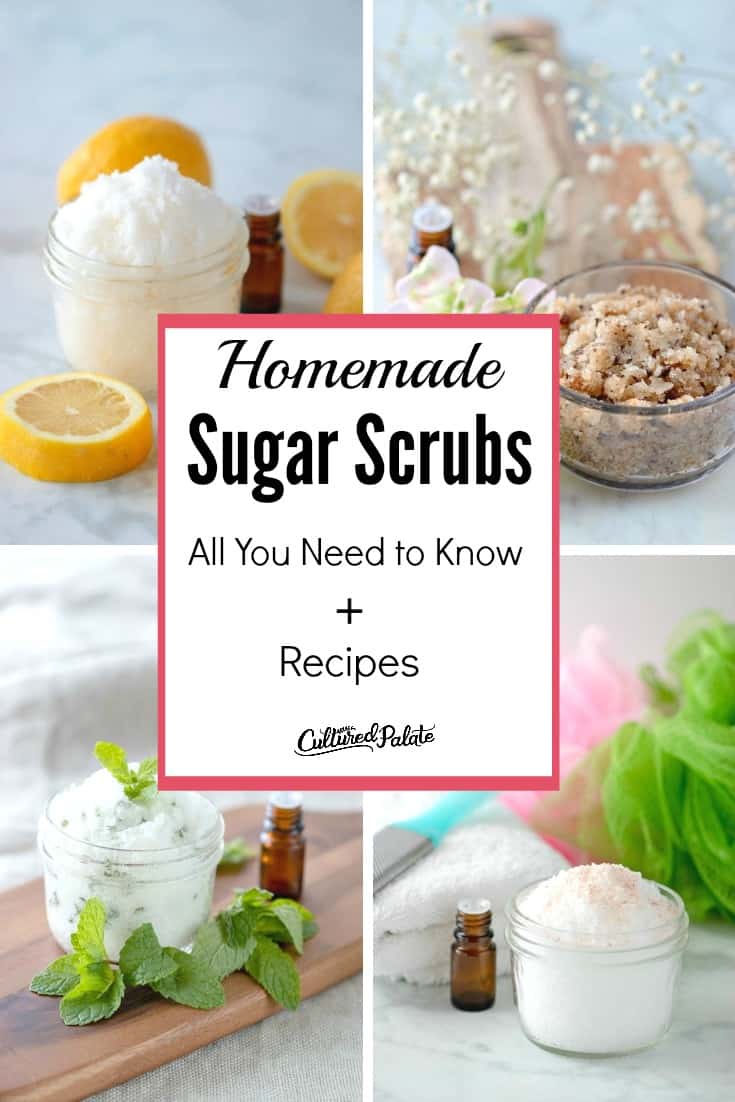 Additions
Fresh Herbs and Spices - These make great additions to scrubs adding not only the scent but also eye appeal and benefits of the herbs used.
Citrus Zest - For an added zing, try using lemon, lime, grapefruit or orange rind finely chopped or zested in your scrub. The natural AHA can be especially good for age/dark spots.
Oatmeal – Oatmeal can help breakout prone skin. It is naturally soothing and a great natural exfoliator. Oatmeal contains avenanthramides which are naturally occurring polyphenols that have been shown to have anti-inflammatory, antioxidant, anti-itch, and anti-irritant properties. (4) Often, oatmeal is ground by pulsing in the food processor before adding it to sugar scrubs.
Coffee Grounds - Fresh or used coffee grounds offer another wonderful exfoliant to add to your scrub.
Chocolate - The flavonoids and polyphenols found in chocolate are antioxidants that help protect your skin and help reduce lines and wrinkles. Try adding cocoa powder or a few squares of melted chocolate in your scrub.
Rice - Ground rice (pulsed in the food processor), another exfoliant, is gentle enough to use in scrubs whether for the body or face.
Raw Honey – Honey is amazing for leaving your skin silky smooth and moisturized! It is gentle enough to cleanse without stripping or drying out your skin. It is good for all skin types.
Vitamin E Oil - This is great way to add extra moisturizing to you scrubs. For the recipes listed here, start with about ½ tsp. You can add more sugar to sugar scrub recipes to get the right consistency.
Himalayan Salt - This yields a more coarse scrub and the salt crystals tend to be larger than sugar crystals.
Epsom Salt - Epsom salt is sometimes used in foot or body scrubs. It is a great source of magnesium sulfate and is known to help with detox.
Shelf life
Since sugar is antibacterial in nature, homemade sugar scrubs will last a long time. I have kept mine for 6 months but that is rare as I use them up! Stored in an airtight container, they should last 1 year or more.
If you add fresh herbs or citrus rinds, shelf life can be shorter.
Expiring
I have never had a batch go bad. Because of the antibacterial nature of sugar, you are protected from homemade sugar scrubs growing mold or bacteria. However, if you add fresh herbs or citrus rinds, over time, mold could grow on those.
Rancidity refers to deterioration of oils. If the oils you use as carrier oils are low quality and rancid - or become rancid over time, you will have an "off" smell to the sugar scrub.
Troubleshooting
While I have never, ever had a batch of homemade sugar scrub go bad, it could happen IF you have added other ingredients such as:
fresh herbs
citrus rinds
fresh fruits or vegetables (either pureed, shredded or chopped)
any other perishable addition
While these do make wonderful additions to any sugar scrub recipe, they may shorten the shelf-life of the homemade sugar scrub.
Don't let that stop you from adding them though! Again, sugar (and honey) are antibacterial in nature and help preserve the finished product.
Just be aware that the additions are made and you will smell an off-smell or see mold especially the fresh ingredients.
Refrigeration
Sugar scrubs do not need to be refrigerated since sugar acts as a preservative.
If you are using coconut oil and the temps are above about 76F, the coconut oil will be liquid. This means that your sugar scrub may be a bit more runny.
This can be remedied by refrigeration but will not affect the quality of the scrub.
Hardening
Coconut oil hardens when the temps are below 76F. That means that if your sugar scrub is made with coconut oil and you keep it in a cool place, it may harden.
Re-softening
To soften sugar scrub that has hardened, there are 2 methods.
Leave in the shower and let the steam of the shower soften the scrub.
Allow warm water to run over the jar until it is soft. Be sure the lid is on tight!
Storage
I love all the cute jars you can find to store sugar scrubs in. One of my favorite places to find jars if Hobby Lobby especially when they are on sale!
Here are some other jars that not only work great but make cute gifts:
4 oz jelly jars
8 oz mason jars
round jars with cork lid
squared jars with cork lids
and I saved my favorite for last - a glass jar with wooden spoon.
Budgeting
It literally costs pennies per batch to make sugar scrubs! Your actual cost will depend on where you live and what ingredient brands you buy.
I save more by buying in bulk.
For example: I purchase good quality, coconut oil in large containers so while the initial outlay of money is more, my batches of sugar scrubs cost less.
Quality
Your skin is the largest organ in your body! That means, that what you put, rub, or massage on your skin can reach your bloodstream faster than the food you eat!
Be sure to buy quality ingredients from trusted sources. When possible, I buy organic ingredients for sugar scrubs.
Whether it is essential oils or carrier oils and everything in between!
Separation
While homemade sugar scrubs may separate, it has not been a problem for me in my experience. If your sugar scrub separate, all you do is mix it back together.
Using a clean finger, spoon or spatula, give the sugar scrub a quick stir and enjoy!
Some suggest using an emulsifying wax in sugar scrubs to prevent separation. However, separation does not indicate a problem and has not happened often.
So, since the emulsifying wax is an unnecessary ingredient, I do not add it.
Gifts
People love getting homemade beauty and spa products as gifts. Not only for the product itself, but for the love, time and care you put into it.
Any of the following recipes make great gifts that are sure to please.
Don't forget gift tags to add that special touch to your gift!
12 Best Sugar Scrubs
Homemade Peppermint Sugar Scrub Recipe - This is the recipe that started my love of homemade sugar scrubs! Homemade Peppermint sugar scrub recipe has a video to show just how easy it is to make!
Wild Orange Sugar Scrub Recipe - Using wild orange essential oil, Wild Orange Sugar Scrub Recipe is another homemade bath scrub that will leave you energized and silky smooth!
Best Sugar Scrub for Hands - Whether it is dry winter hands or summer sun you are combating, this is the Best Sugar Scrub for Hands that I have found!
Mint Face Scrub - Using fresh mint or essential oil, this Mint Face Scrub is just the recipe to soothe and relieve not only sensitive skin but is good for all skin types.
Face Sugar Scrub Recipe - It can be difficult to find a face sugar scrub recipe that is gently enough for the sensitive skin of your face. This recipe is just gently enough while still exfoliating.
Coconut Body Scrub Recipe - While you can use a variety of oils in sugar scrubs, this Coconut Body Scrub Recipe uses only 2 ingredients and one of them is coconut oil! Get a wonderful spa experience for pennies a treatment!
Brown Sugar Body Scrub - Brown Sugar Body Scrub is my new go to scrub for my body and my face! Never used brown sugar in a scrub before? Hold onto to you hat because you are going to love it!
Peppermint Coffee Scrub - Who knew that coffee is for more than just drinking? With Peppermint Coffee Scrub, you will enjoy the exfoliation of coffee and the invigoration of peppermint.
Body Scrub Without Oil - Body Scrub Without Oil is, well a sugar scrub made without oil! You can use either aloe vera or honey for a fabulous scrub that will still leave you silky soft and moisturized.
Energizing Body Scrub - Ready to feel energized and raring to go? Then you gotta give this Energizing Body Scrub a go! Like all the homemade sugar scrubs, it is super easy to make!
Homemade Sugar Exfoliating Scrub - A sugar scrub is naturally exfoliating thanks to the sugar in a homemade sugar scrub recipe. Homemade Sugar Exfoliating Scrub uses both white sugar and brown sugar for the benefits of both.
Moisturizing Sugar Scrub - Perfect for the dry skin of winter (or anytime for that matter) whether on your body or your face, this Moisturizing Sugar Scrub uses brown sugar and leaves your skin soft and moisturized.
Bonus #13: Simple Foot Scrub Recipe - Want those pampered soft and silky feet that you have after a pedicure? Now you can have it naturally in the comfort of your own home!