Carrot Juice Recipe for Weight Loss is an easy to make juice recipe that will help you drop those unwanted pounds. Carrot juice recipes are a nutritional powerhouse!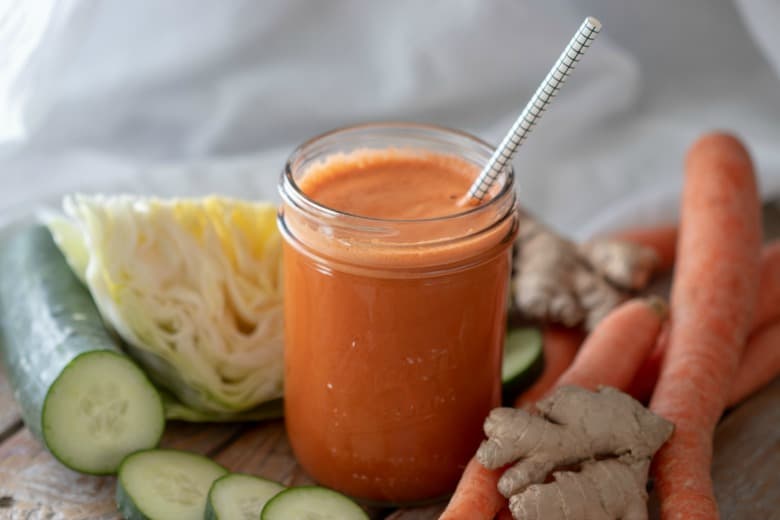 I know, you have heard so many weight loss claims from different products on the market that you are skeptical.
There is no magic pill to losing weight - you must take in fewer calories than you burn. That is why carrot juice can help - it is low in calories.
By using healthy ingredients in your carrot juice recipe, you will feel full longer and not be tempted to snack.
For the health benefits of carrots, carrot juice and some amazing recipes, be sure to check out the Carrot Juice Recipes page.
Can You Lose Weight Drinking Carrot Juice?
Yes and here's why - carrots are packed with nutrition but low in fat and calories. Juicing carrots removes the fiber and makes the nutrients more easily available for your body to use.
Carrot juice is also high in vitamins, minerals and helps you feel full longer. That means, you won't want to snack as much!
When Should I Drink This Carrot Juice Recipe for Weight Loss?
There is varied opinion as to when you should drink a carrot juice recipe for weight loss.
Some people say you should drink it in the morning on an empty stomach. Others say it doesn't matter, just drink it.
Since carrot juice is high in antioxidants and can help strengthen your immune system, adding it daily, anytime of the day, is a great addition to maintain health. (1)
I just drink it each day sometime (it doesn't matter when) during the day.
I do not drink it first thing in the morning because I like to make it fresh and to be honest, I am not going to get up and juice that early in the day!
How Do I Lose Weight Drinking Carrot Juice?
To lose weight, you need to take in fewer calories than your body burns.
Because carrot juice is so low in calories, but still has plenty of nutrition and helps keep you feeling full, you are not as likely to consume as many calories.
So, if you don't eat or drink as many calories, chances are, you will lose weight.
And, when you are actively taking steps to improve your health and lose weight, your mindset is such that you will not want to overeat and will have greater self-control.
Is Carrot the Best Juice for Weight Loss?
It is definitely at the top of the list! Carrot juice is full of nutrition, low in calories and fat but still high in fiber.
Drinking carrot juice will keep you feeling full longer, can be substituted for a meal and ward off those snack cravings.
Carrot juice is also known to increase bile secretion and this helps burn fat which equals weight loss. (2)
Why Add Cabbage to this Juice Recipe?
Cabbage is another nutrient dense vegetable. As part of the Brassica genus of vegetables, which includes broccoli, cauliflower and kale, it is low in calories but packs a nutritional punch! (3)
It is a good source of micronutrients, vitamins and mineral. (4)
The health benefits of cabbage comes from its nutrient profile that give us significant amounts of:
vitamin A
vitamin B6
folate
iron
riboflavin
Cabbage also:
improves digestion
may help lower blood pressure
can help lower cholesterol levels and keep your heart healthy
Why You Should Add Cucumber
Cucumber juice is especially good for hydration, fiber, as well as, the nutrients it contains.
Hydration is very important for weight loss and people who drink more and stay hydrated, have been shown to lose more weight. (5)
Adding cucumber juice also adds to your daily intake of vegetables which is important for healthy living.
Why You Should Include Ginger for Weight Loss
Ginger has been shown to help with fat burning, carbohydrate digestion and helps balance insulin secretion. It is also a natural appetite suppressant and anti-inflammatory.
All this adds up to the fact that ginger is good for you, helps weight loss and should be included in your diet. (6, 7)
Carrot Juice Recipe for Weight Loss
4 servings
6 - 8 carrots
¼ head of cabbage (small head)
½ cucumber
1 inch piece of ginger
If you've tried this Carrot Juice Recipe for Weight Loss or any other recipe on Cultured Palate please take a minute to rate the recipe and leave a comment letting me know how you liked it. I love hearing from you! You can also FOLLOW ME on PINTEREST, FACEBOOK, INSTAGRAM, YouTube and TWITTER.
📋 Recipe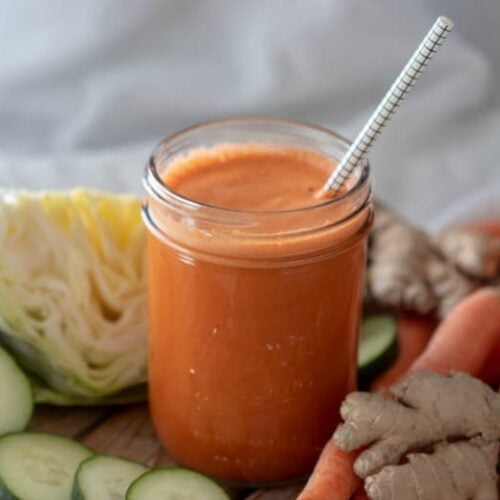 Carrot Juice Recipe for Weight Loss
This Carrot Juice recipe is not only delicious, but will help you shed those unwanted pounds.
Ingredients
6 - 8

carrots

¼

head of cabbage

small head

½

cucumber

1

inch

piece of ginger
Instructions
Juicer Instructions
Wash and prepare all ingredient. Cut into smaller chunks if needed.

Run all ingredients through juicer.
Blender Instructions
Place in blender and blend until smooth.

Place blender contents in a muslin cloth or nutbag, placed over a container to catch the juice.

Squeeze the juice through the cloth or nutbag.
Notes
For a spicy option, add ¼ - ½ teaspoon cayenne pepper.
More ginger may also be used for a spicier juice.
Nutrition
Calories:
93
kcal
Carbohydrates:
22
g
Protein:
2
g
Fat:
1
g
Saturated Fat:
1
g
Sodium:
148
mg
Potassium:
734
mg
Fiber:
6
g
Sugar:
11
g
Vitamin A:
35695
IU
Vitamin C:
13.8
mg
Calcium:
76
mg
Iron:
0.7
mg
Do You Drink a Carrot Juice Recipe for Weight Loss - Leave a Comment, I Would Love to Hear About It!
Pin It!