Smoked Mozzarella Spread is the perfect dish whether you are entertaining or just want a little something special! It can be paired with bread or crackers as an appetizer or make it a meal in itself!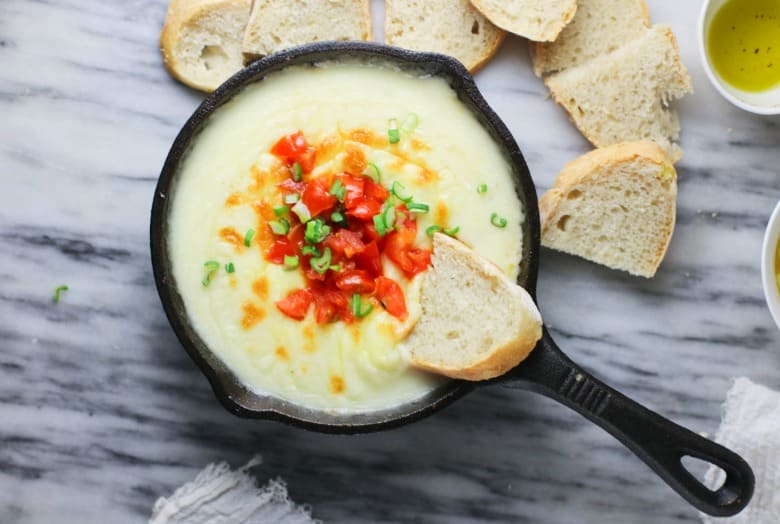 Smoked mozzarella spread is made with a combination of smoked mozzarella, parmesan, provolone, and soft cream cheese with spices added. You won't believe how easy it is to make!
The flavor from the combination of these four cheese is something you have to taste to believe - it's indescribably delicious.
You may know already, but I love everything cheese and I even made an e-Book for anyone wanting to learn the art of cheesemaking.
Head over here to grab your copy to learn how to make Homemade Mozzarella Cheese and other types of cheese at home.
How Long Does Smoked Mozzarella Spread Take to Make?
This recipe only takes about 25 minutes total time to prepare.
I do like to add the optional garnish for a touch of color to my spread with red pepper, parsley and tomato.
Mozzarella - Homemade or Store-bought?
For many people, cheese is not 'authentic' unless you make it yourself from scratch using whole milk.
To make this spread, it does not matter if you want to make the mozzarella yourself or purchase it from the store. I have used both and both have delicious results.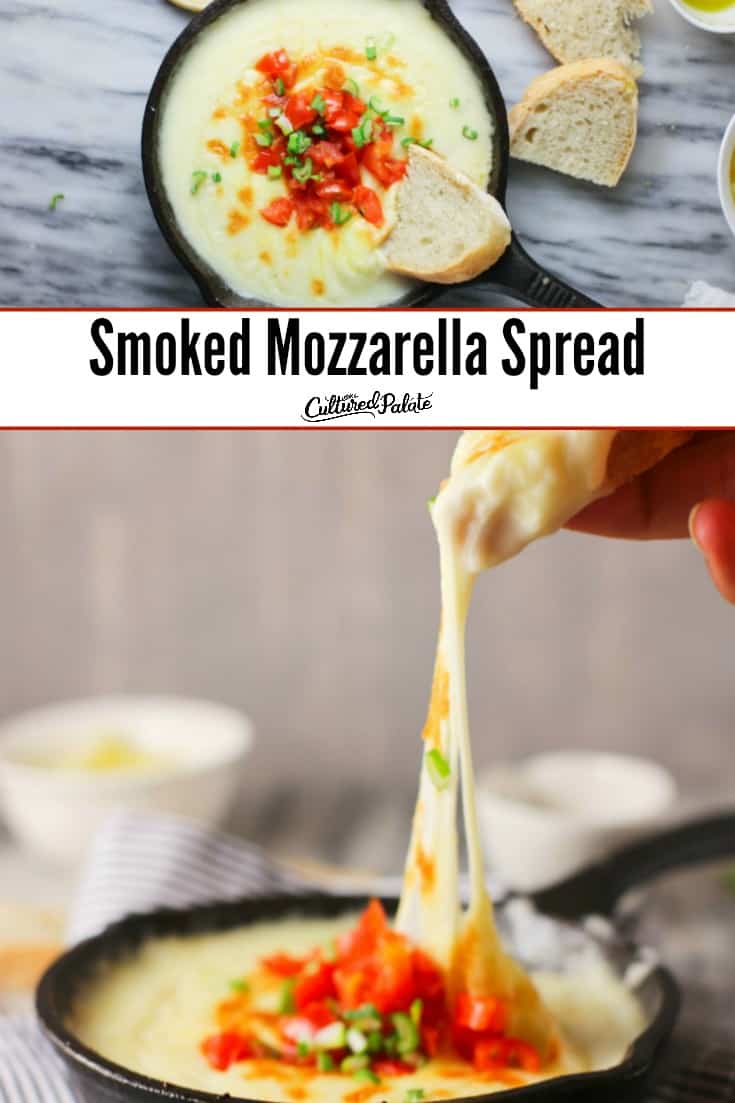 Is Cheese Healthy?
Cheese is one of the dairy foods which is highly nutritious and packed with calcium, protein, and vitamins that are important to our body.
Here are just a few reasons that you should try the smoked mozzarella spread:
1. It is a good source of protein
Mozzarella, parmesan, provolone, and creamy soft cheese are excellent sources of protein and can be substituted for red meat. Protein generally aids the formation and repair of the cells that are responsible for the growth and protecting your immune system. A protein-deficient diet results in fluid retention problems and shrinkage of muscular tissues.
2. It contains calcium
Smoked mozzarella spread is one of those recipes that contain a high calcium value. For example, Mozzarella alone contains 14% calcium recommended for daily intake. Calcium is needed for the growth of bones and strong teeth and can prevent osteoporosis. The calcium in the main ingredients - the quarantine cheese, also helps to stimulate salivation, which in turn helps with the PH levels of the mouth and rinses bacteria and sugar from the teeth.
3. It contains helpful fat
Cheese is that one food that when incorporated in diets that helps to maintain weight. Although cheese contains fat, research claims that the fats in cheese are beneficial because they contain Conjugated Linoleic Acid (CLA), which helps with cancer prevention, weight loss, increased immunity, and reduced inflammation.
4. It supports heart health
As opposed to the belief that saturated fats in cheese are unhealthy for our heart health, new studies have emerged. These proclaim cheese as one of the heart-healthy foods to be consumed to improve the heart condition.
One study claims that 40 grams (or 1.41 ounces) of cheese every day could help to reduce the risk of heart disease and stroke. (source)
Another study indicates that eating rich potassium food as well as low sodium cheese like parmesan and provolone can lower your blood pressure and reverse hypertension. It is also helpful in treating preeclampsia among pregnant women. (source)
In addition to the health benefits of cheese which is the main ingredient for this recipe, styling the spread with parsley is medicinal.
Parsley, like cheese, provides high nutritional value, acts as an antioxidant to free radicals from the body, improves eye health and a general immune booster.
Looking for Other Delicious Cheese Recipes?
I know you love healthy recipes, so here are a few of my faves that also uses cheese as the star:
Classic Cheese Fondue - brought to you from our 4 years living in Switzerland!
Sour Cream Cheesecake - Enjoy cheesecake as a dessert
Creamy Macaroni and Cheese - For breakfast, lunch and dinner.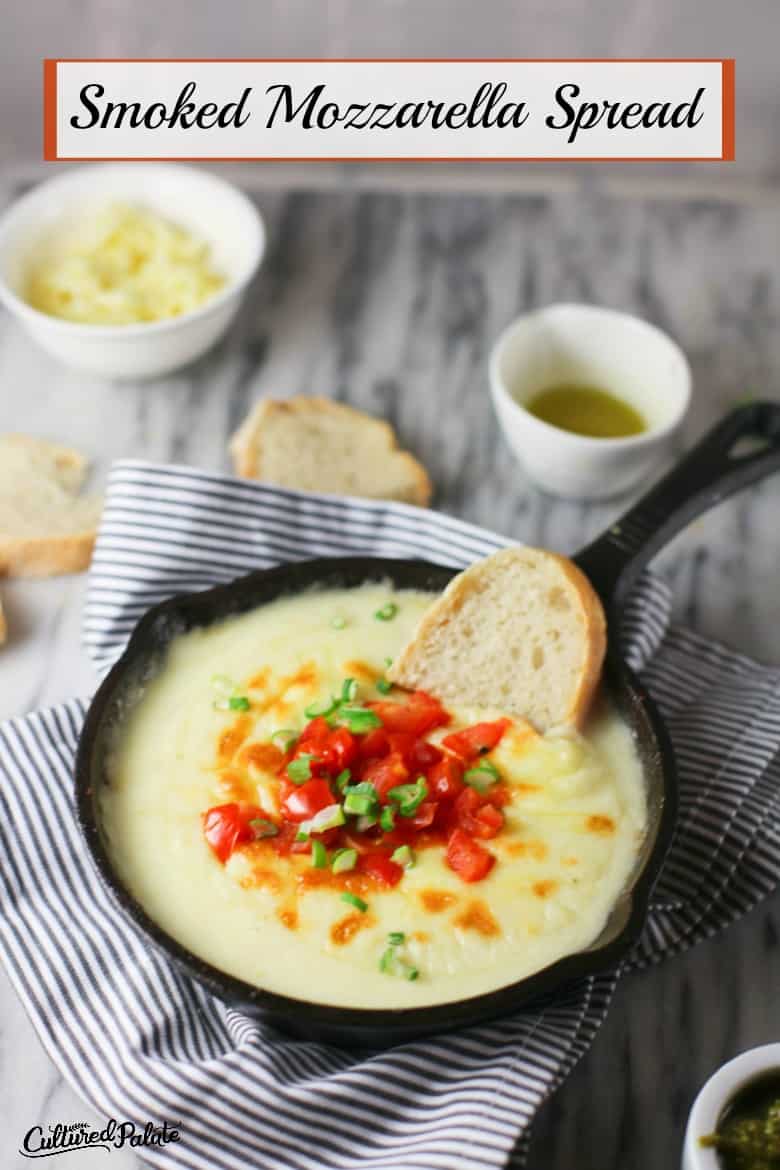 If you've tried Smoked Mozzarella Spread or any other recipe on Cultured Palate please take a minute to rate the recipe and leave a comment letting me know how you liked it. I love hearing from you! You can also FOLLOW ME on PINTEREST, FACEBOOK, and YouTube.
📋 Recipe
Smoked Mozzarella Spread
Smoked Mozzarella Spread is the perfect appetizer paired with bread or crackers for entertaining or why not make it a meal in itself!
Ingredients
8

oz

smoked mozzarella cheese

shredded

8

oz

provolone cheese

shredded

½

cups

Parmesan cheese

finely grated

1 - 8

oz

package cream cheese

softened

1

teaspoon

Italian seasoning

⅛

teaspoon

crushed red pepper flakes

- if you like it spicy add ¼ tsp

1

loaf Italian bread or crackers cut into ¼" slices or crackers
Optional garnish:
1

Roma tomato

diced

1

tablespoon

fresh parsley

chopped

2 -3

tablespoon

tomato pesto
Instructions
Preheat oven to 450ºF.

In a large bowl, combine the first 6 ingredients

Prepare a 1 ½ qt baking dish or pie pan with nonstick cooking spray.

Pour the cheese mixture into the dish.

Bake 15 minutes until all the cheese is melted and slightly browned on top. It should be bubbly.

Prepare the bread by slicing and placing on a cookie sheet in a single layer. Toast the slices for the last 5 mins that the spread cooks.

Garnish the dip with diced tomato, parsley and tomato pesto, if desired, and serve immediately. Spread or dip onto the toast or crackers.
Notes
Serve immediately or store in the refrigerator. This is delicious left-over as the flavors of the ingredients have a chance to meld and enhance the taste!
Nutrition
Calories:
252
kcal
Carbohydrates:
3
g
Protein:
19
g
Fat:
18
g
Saturated Fat:
11
g
Cholesterol:
58
mg
Sodium:
631
mg
Potassium:
120
mg
Fiber:
1
g
Sugar:
2
g
Vitamin A:
837
IU
Vitamin C:
1
mg
Calcium:
548
mg
Iron:
1
mg
How Do You Serve Smoked Mozzarella Spread - On Bread or Crackers?
Leave a comment - I would love to know!
Pin It!