You can't get much easier than this Simple Guacamole Recipe. Also known as an Avocado Dip recipe, it is delish with chips, veggies and more! And, beside being a real food recipe, my Simple Guacamole Recipe is also GAPS diet, Keto, Paleo legal.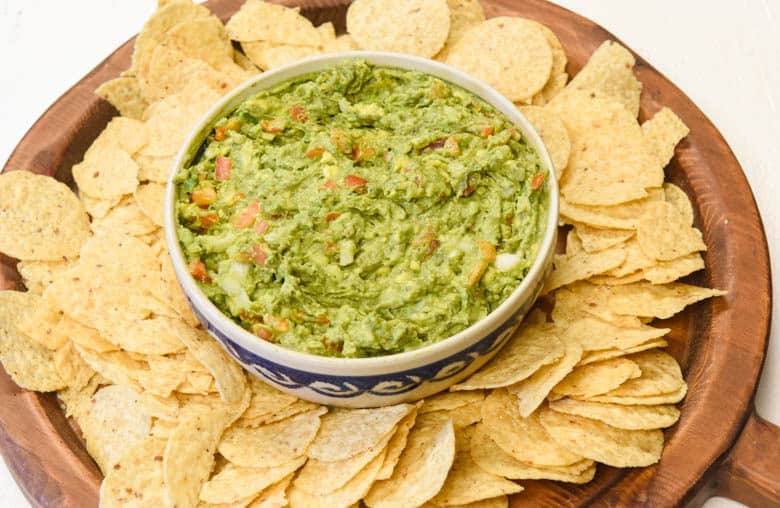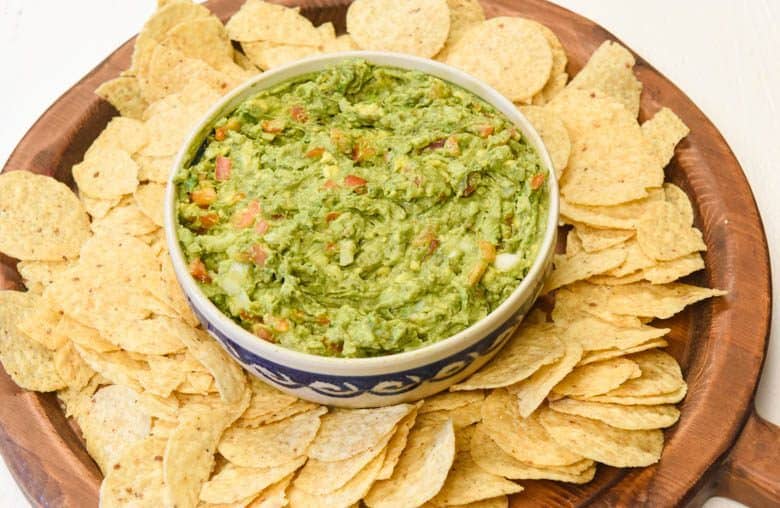 I'm not sure anyone needs convincing of the health benefits of avocados but if so, check out the Health Benefits of Avocados and you will be convinced!
Ok, just to give a the highlights, Avocados are high in good-for-you fats, vitamins, potassium, fiber, and a whole lot more!
What is the Difference Between Green Avocados and Purplish Black Ones?
The green, smooth skinned avocados are usually Florida or Dominican avocados.
The bumpy skinned, dark green avocados that turn purplish black when ripe are normally from California and are the Hass variety.
The Hass avocado contains more good-for-you fats that are typically considered good not only for your heart but also your skin.
According to the AICR, the big difference is the amount of fat.
Florida avocados are the larger, smooth-skinned choices. California avocados sold in supermarkets are the Hass variety, and are smaller and have a pebbly skin that turns from green to a purplish-black when ripe. The biggest nutritional difference between California and Florida avocados is their fat content. For each golf ball-sized portion (two tablespoons, or two to three thin slices), a California avocado such as Hass contains 4.6 grams of fat and the same portion of a Florida avocado averages 3 grams of fat.
This is echoes by AvoSeedo who goes on to say,
If you eat an entire Florida avocado, you'll be consuming many more calories than you would with one Hass avocado. Bite for bite, the Florida variety has a bit fewer calories.
Here's how the nutrition breaks down

One cup of Florida avocado has 276 calories and 23 grams of fat.
One cup of Hass avocado has 384 calories and 35 grams of fat.

Not too much difference there, right? Except that you may end up eating a larger portion of the Florida avocado because it lacks the richness and taste. That can mean more calories yet fewer healthy fats.
What Can I Eat Guacamole With?
Normally, avocados are used for making a guacamole dip for chips. And, this recipe is delicious as a dip with chips. But, there is so much more to eat it with!
This simple guacamole recipe is also delicious spread on:
fresh vegetables - carrot sticks, baby carrots, celery, bell peppers (red, green, orange) grape tomatoes...
pork rinds
apple chips
pretzels
rice cakes
crackers
bread
And, don't forget, it is delicious eaten right off a spoon!
Is this Simple Guacamole Recipe Whole 30 Approved?
Yes, easy Guacamole recipe is Whole 30 approved. Just be sure to use either fresh lemon juice or make sure your bottled juice contains only lemon juice.
Is Guacamole Good for Weight Loss?
Many people would say no, Guacamole is not good for weight loss. But, because the avocados are filled with healthy fats, it may actually help you lose those extra pounds.
So, yes, Guacamole is a good snack to reach for if you are trying to lose weight.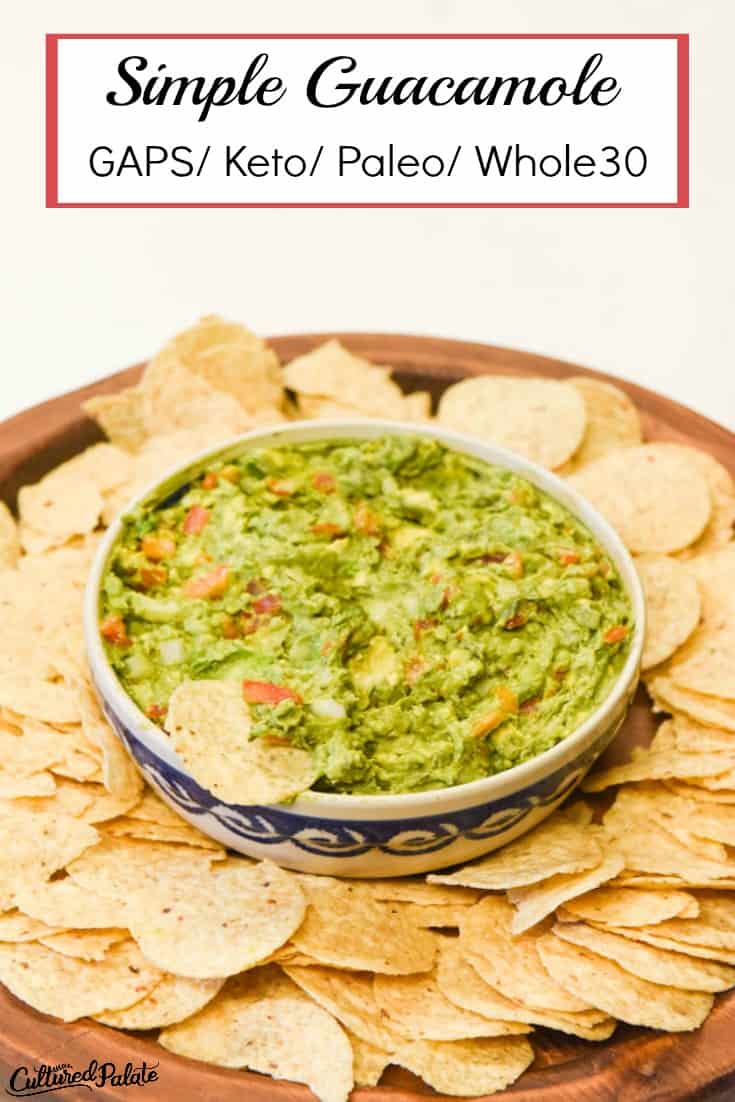 How Can I Thin Homemade Guacamole?
Sometimes, after sitting in the fridge, Guacamole can thicken up. Don't worry, it can be fixed!
Guacamole can be thinned by two ways:
Place guacamole in a blender and slowly add water to thin to desired consistency.
Slowly add water to the bowl of guacamole and stir until desired thickness is achieved.
Can I Use Frozen Avocados?
Since freezing avocados changes their texture, it is nice to have a recipe that you can use them with.
This simple recipe for Guacamole is great to use frozen avocados. Texture is not an issue since you are mashing them up well.
I have Fresh Avocados, How Can I make Them Ripen?
Avocados ripen well if placed in a brown paper bag in a cool place, like a closet, for a few days. Just don't forget about them as they can ripen quickly.
I have also had good success ripening hard avocados by spreading them out on a cookie sheet and leaving them for a few days on a table. Again, check them daily!
How to Make Avocado Dip AKA Simple Guacamole Recipe Step by Step
This is an unbelievably easy avocado dip recipe!
Scoop the meat out of the avocado shell and place in a bowl. Photo 1
Mash with a fork. Photo 2
Add remaining ingredients. Photo 3-5
Stir well, serve and enjoy! Photo 6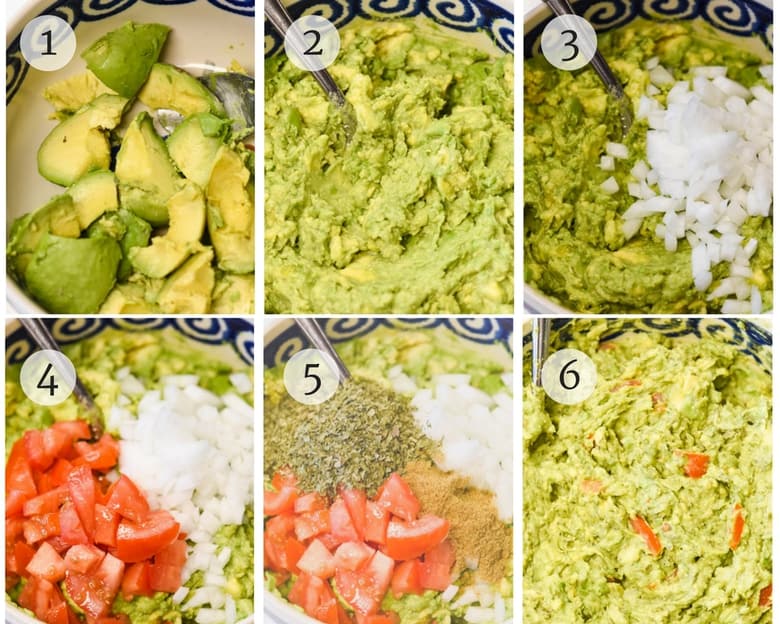 If you've tried this Simple Guacamole Recipe or any other recipe on Cultured Palate please take a minute to rate the recipe and leave a comment letting me know how you liked it. I love hearing from you! You can also FOLLOW ME on PINTEREST, FACEBOOK, INSTAGRAM, YouTube and TWITTER.
Simple Guacamole Recipe
Some may call it an avocado dip but this is the best guacamole recipe ever!
Ingredients
8

avocados

½

onion

finely chopped

1

tomato

finely chopped

1

tablespoon

cumin

3

tablespoon

cilantro

fresh or dried

½

teaspoon

salt

1

tablespoon

lemon juice
Instructions
Cut avocados in half and scoop out the meat into a bowl.

Mash avocados with a fork.

Add remaining ingredients and stir well.
Notes
Fresh or dried cilantro may be used. It is especially delicious with fresh!
Serve guacamole with:
fresh vegetables - carrot sticks, baby carrots, celery, bell peppers (red, green, orange) grape tomatoes...
pork rinds
apple chips
pretzels
rice cakes
crackers
bread
Nutrition
Calories:
330
kcal
Carbohydrates:
18
g
Protein:
4
g
Fat:
29
g
Saturated Fat:
4
g
Sodium:
161
mg
Potassium:
1034
mg
Fiber:
13
g
Sugar:
2
g
Vitamin A:
440
IU
Vitamin C:
23.4
mg
Calcium:
34
mg
Iron:
1.6
mg
What do you like to eat Guacamole with?
Pin It!
Other easy avocado recipes and info:
Looking for other dip recipes?