Learn the lost art of cheesemaking with Simple Cheesemaking.  Use this step by step guide which includes 32 recipes to learn how to make your own cheese. Be sure to watch the overview video below!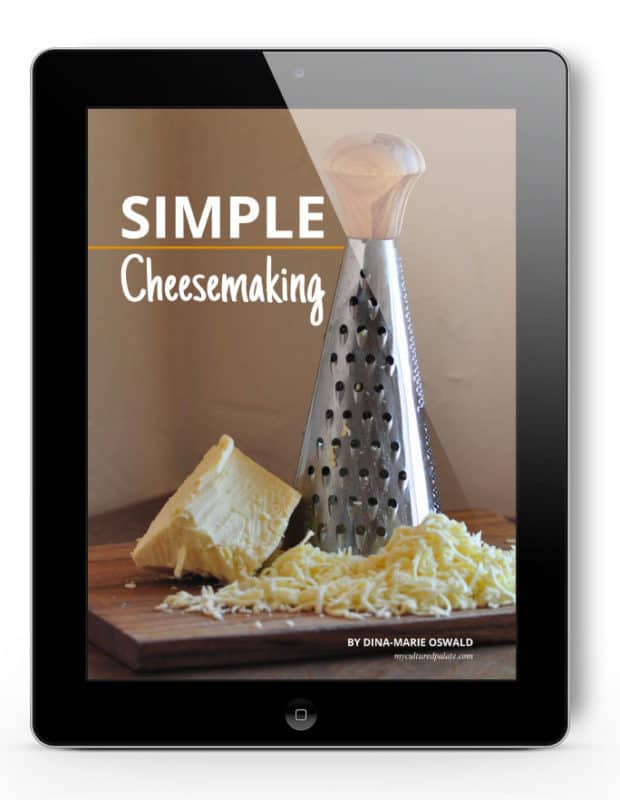 I have shared several cheesemaking recipes here on Cultured Palate, and now, after working for months, the book is ready! I'm so excited for you all to try all these recipes!!
You can now have the recipes for cultured dairy products, soft cheeses (Mozzarella, Mascarpone...) and hard cheeses (Monterey Jack, Parmesan, Swiss…) that I have found to produce consistent results all in one place.
You can rest easy that all of these have been tried by me and have been found to be reliable. No effects from weather or the cow mooing at the wrong time. That was a complaint of mine when I tried to replicate lots of recipes from vintage or even modern cookbooks. There was just too much to account for! So I took care to test everything that went into this book.
Plus, you have information on the basics of the process, ingredients, and supplies I use. I included a list of suppliers that I use personally, but of course, you can replace anything that doesn't work for you. My goal is to make this process easier for all the newcomers out there!
There's even a troubleshooting guide for help with common problems during the process (because goodness knows I wish I had had one when I first started working with cheese at home). I researched and answered all the questions I had when first starting out, so you all could benefit and not have to go through the trouble I did when I first ventured into the world of cheesemaking.

You might wonder how I began making cheese. Well, it started when we moved to West Texas in 2008 to begin our vineyard...
The first couple of years were very difficult financially - grapevines take three years to produce the first crop! We wanted to make this vineyard a reality more than anything. So we were looking for any way we could think of to save money.
In trying to cut the budget, I noticed that a large portion of our monthly grocery expense was spent on dairy products. At this time, I was a vegetarian and dairy was a major source of protein. Even the meat eaters in the house were eating cheese and using milk. I began to put the pen to the paper and realized that we could keep a family milk cow for a bit less than what I was spending monthly on dairy and have way more dairy products to boot. Working directly from raw milk opens up so many possibilities!
But, the only way having our own milk cow would be more economical was if I began making cheeses. So, my journey in learning to make cheese began!
Trust me, there has been a lot of trial and error. There were successes and failures with every step. But now I work at making cheese regularly and am quite happy with the results. Our fridge is stocked with many different kinds of cheese on a regular basis.
If possible, I want to help shorten the learning curve for you! In this book, I have taken the guesswork out of the cheesemaking process. You can start working on your own delicious cheese without having to research everything from scratch like I did. There were a lot of tiny, not-well-maintained websites where I had to look for important details!
Starting with the basics of the process, Simple Cheesemaking explains the cheesemaker's vocabulary, equipment, and ingredients. The goal is to equip you to be ready to make cheese on your own as if you were learning how to do this at a cooking school. It's all about learning the mindset!
I'm also giving you 32 cheese and dairy based recipes to help you start out. They're at varying degrees of difficulty, so you can try your hand with lots of different recipes as time goes by. Things start out easy, trust me. Or you can be like me and skip around to whatever recipe you feel like making that day! (Though you may want to be careful with that attitude early on... you might make a mess in the kitchen...)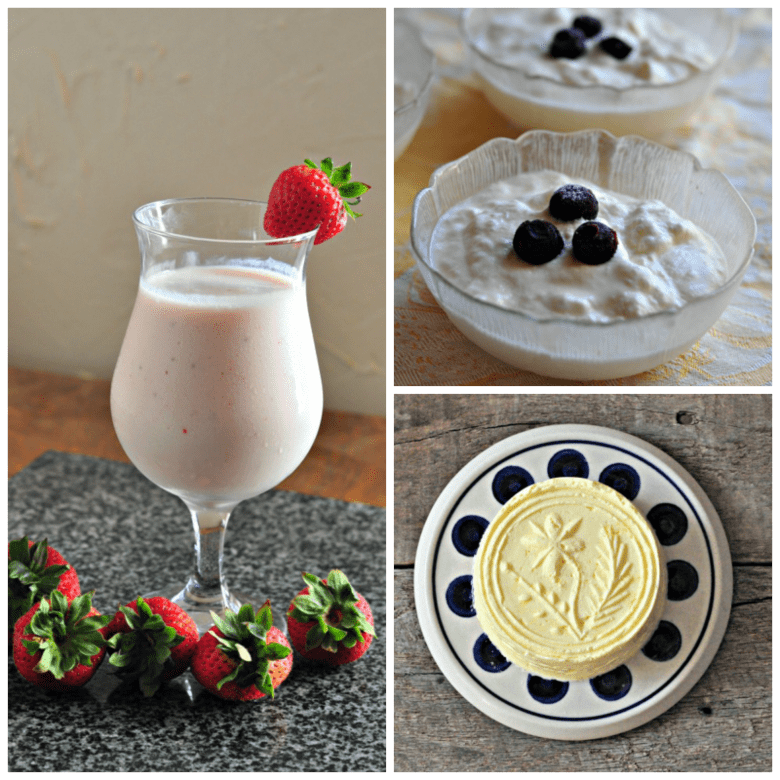 Simple Cheesemaking brings the lost art of cheesemaking to life in an understandable, easy-to-follow book. This book is exactly what I wanted back when I was first learning how to make cheese. You will learn skills and techniques to make you a successful cheese maker in everyday life!
There's no limit to what kind of cheese you can make if you have quality milk on hand. Whether you homestead, have a family milk cow, milk goats or buy your milk, you can be a successful cheese maker right in your own kitchen! I love our fresh raw milk, but I understand that that's not feasible for everyone. Simply do the best with the ingredients you have. And of course, play around with different recipes until you find a favorite.
You will be surprised at just how easy the process of cheese making is! And, once you taste the homemade goodness of cheese, you will not want to settle for the store-bought versions again.
Simple Cheesemaking includes
Detailed explanations of the cheesemaker's vocabulary, equipment, and ingredients
32 Recipes progressing through the book in complexity
Hyperlinked Table of Contents to make navigation easy
Beautiful Photographs
Step by Step Instructions
A Supplier's list that I have used personally
A Troubleshooting guide to help identify and fix common mistakes