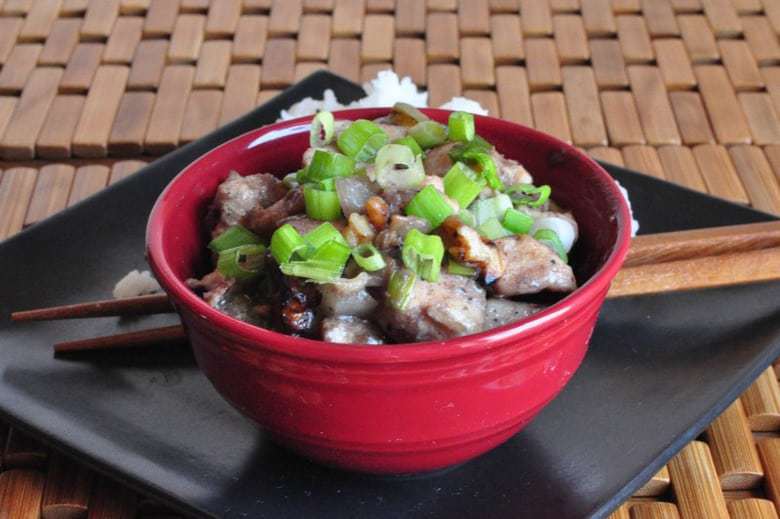 Our family loves Chinese food and Chinese Chicken with Walnuts was one of the first authentic Chinese dishes I tried.
My love of Chinese cooking or stir frying began when we lived in Switzerland. While there, a friend at the church we attended was a Chinese-American gal who had married a Swiss man. She had our whole family (at that time we had 6 children) over for a Chinese meal and boy, was it amazing. It was 8 courses – and, each and every course was delicious! We also had a culture lesson – she explained that in the Chinese culture, it was polite for the males to let go with a belch to show their appreciation for a good meal! Needless to say, that was all the encouragement the boys needed – the appreciation shown was profuse   😉
After that meal which included many stir fry dishes, she graciously gave me her recipes which we have enjoyed frequently since that time. Having never stir fried anything before, I used my 6 qt. stainless steel boiler which worked well. Since that first attempt at stir frying, I have purchased from my affiliate partner, a large wok and I use a wok ring to stabilize it on my gas stove (since it has a rounded bottom). I must say, that while the boiler worked, the wok makes stir frying much simpler and faster – more authentic.
The trick to successful stir fry is to have all ingredients prepared beforehand including sauces along with all meat and vegetables chopped. Be sure to use high heat, stir frequently and cook quickly. Your vegetables should be cooked but slightly crunchy – not limp. I also use peanut oil for stir frying since it has a high smoke point.
Please see Stir Fry Basics for more tips and how-to's!

I buy all my herbs, spices and real salt from Wilderness Family Naturals because they are organic, natural and excellent quality.
Chinese Chicken with Walnuts
Ingredients
1

lb

chicken breast

3

green onions or 2 large onions

chopped

2

green peppers

1

red hot pepper

optional

15

slices

ginger or 1/4 tsp ginger powder

2/3

c.

walnut halves

4

c.

oil to stir fry

The original recipe calls for this amount but I use just enough to stir fry each step.
Seasoning:
2

Tbsp

liquid aminos

1

Tbsp

wine

I use dry red wine

1/2

Tbsp

vinegar

1

tsp

cornstarch

1/2

tsp

salt

1

tsp

raw sugar
Instructions
Cut chicken into walnut size pieces - Mix marinade and pour over chicken - Let stand at least 30 min.

Cut green onions into 1/2 inch long pieces or chop 2 large onions. I usually use the regular onions since I have them on hand. Cut green pepper, red pepper (if using - I don't because I am a wimp when it comes to hot and spicy!) and ginger slices (if not using powder) about the size of a quarter.

Fry the walnuts in oil. Set aside.

Prepare seasoning sauce.

Stir fry the chicken in oil. Remove from wok.

Fry ginger in 2 Tbsp oil.

Add the onions and stir quickly.

Add the green pepper. If you like it spicy, now add the red pepper.

Add the chicken and seasoning sauce. Stir until thickened.

Turn off the heat and add the walnuts.

Serve over rice.

Enjoy!
Nutrition Facts
Chinese Chicken with Walnuts
Amount Per Serving
Calories 544
Calories from Fat 252
% Daily Value*
Total Fat 28g 43%
Cholesterol 48mg 16%
Sodium 804mg 34%
Potassium 1509mg 43%
Total Carbohydrates 51g 17%
Protein 26g 52%
* Percent Daily Values are based on a 2000 calorie diet.
Join the newsletter
Join and get my Top 10 GAPS RECIPES FREE!