I love my morning coffee. In fact, everyone around here knows that as soon as I get out of bed in the morning, I'm headed to the coffee pot. And, you better not get in this momma's way! Flavored coffee is always good but, there is just something special about Cinnamon Coffee.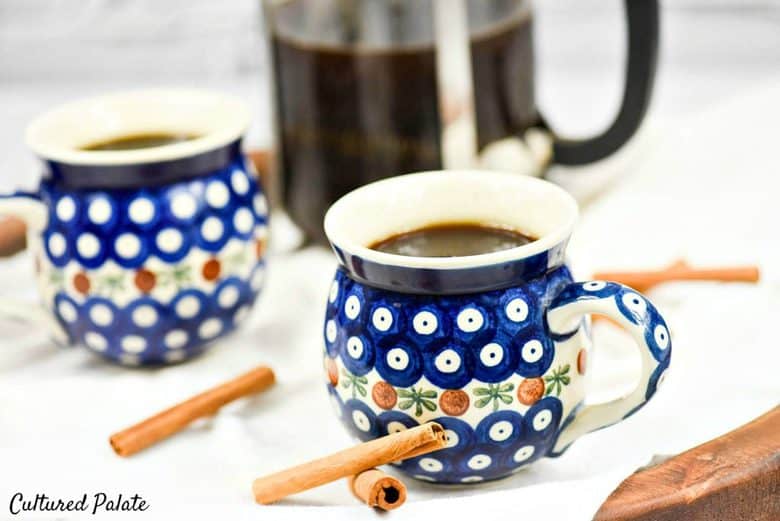 Call it fall. Call it the holiday season. Whatever you call it, there is just nothing like cinnamon and pure maple syrup together.
I love the fall season and especially moving toward the holidays. The music, the smells, the decorations - I love it all!
One of my favorite smells this time of year is cinnamon. It just screams HOLIDAY TIME!
As if the smell and taste were not enough - did you know that cinnamon is actually good for you?
Yep, I am going to give you reasons that you should stop right now and go make yourself some flavored coffee and not just any flavored coffee - Cinnamon Coffee!
Did you know that cinnamon is
High in Antioxidants
Encourages a Healthy Heart
Helps Fight Diabetes
Helps Fight Inflammation
May Help Lower the Risk for Cancer
Helps Fight Infections
May Help Prevent or Inhibit Candida Growth
Helps Fight Allergies
Protects Brain Function
Encourages Dental Health
Besides all that....
"In addition to being an antioxidant, anti-inflammatory, anti-diabetic, antimicrobial, anticancer, lipid-lowering, and cardiovascular-disease-lowering compound, cinnamon has also been reported to have activities against neurological disorders, such as Parkinson's and Alzheimer's diseases." ncbi
Now you have a reason to make yourself a cup of Cinnamon Coffee or even a Cinnamon Latte!
How to choose your coffee
The quality of the coffee you buy has a big impact on how it tastes. This comes down to choosing a good single origin or blend, and getting it fresh roasted.
I prefer single origin coffees, which vary more in flavor from country to country than a blend. The flavors are also less predictable, since
My favorite is the Sumatra Mandheling in the morning because of the robust spice flavors, but I'll take a milder Colombian coffee for my afternoon cup.
You always want to buy fresh-roasted coffee, and ideally, you'll grind it the day that you brew it.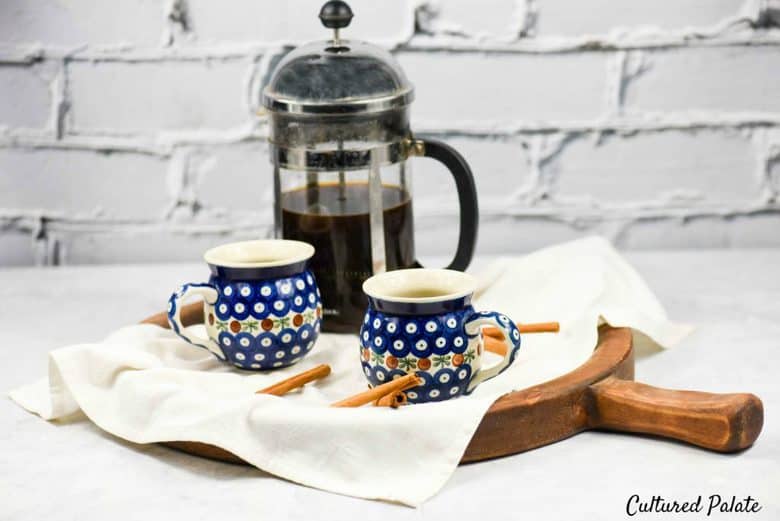 Don't buy pre-flavored coffee
Pre-flavored coffee beans use a combination of natural and artificial flavors, but the artificial falvors are more common. These concentrated flavors are mass produced and suspended in oils and solvents designed to make coating the bean easy for the roaster.
They're not at all good for you.
Making your own flavored coffee with natural cinnamon is the only way to get the health benefits of cinnamon.
Flavored Coffee: Cinnamon Coffee or Latte
I have tried many different ways of making a cinnamon flavored coffee. And, you are free to try any of them - adding cinnamon to your cup of coffee, using an immersion blender, mixing the cinnamon and syrup first...
But, if you just add the cinnamon to the cup of brewed coffee, you will end up with a thick sludge in the bottom of your cup. Its not the best way to end a great tasting cup of coffee!
In fact, it is just plain yuck!
So, after trial and error, I finally found that if you add ¼ teaspoon cinnamon to the coffee grounds for each cup of coffee you plan to make and then brew it, the sludge is greatly reduced if not done away with all together - depending on your coffee maker.
This amount can be adjusted for your personal taste. I add 1 teaspoon pure maple syrup to each cup before pouring the coffee in, stir and enjoy!
Alternatively, you could mix it in with a non-dairy alternative like oat milk and steam both together - as it steams, the cinnamon dissolves into the hot oat milk more easily. Then you just pour the milk into the coffee.
As a bonus, you can make it in bulk and use it to flavor other drinks.
Specialty coffee has never been so delicious, economical or healthy!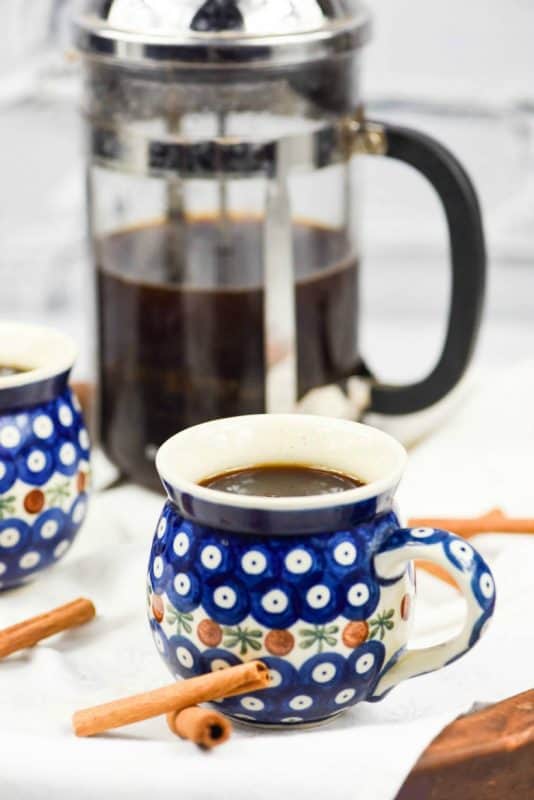 If you've tried this Cinnamon Coffee or any other recipe on Cultured Palate please take a minute to rate the recipe and leave a comment letting me know how you liked it. I love hearing from you! You can also FOLLOW ME on PINTEREST, FACEBOOK, INSTAGRAM, YouTube and TWITTER.
Now, for the recipe...
📋 Recipe
Cinnamon Coffee or Latte
Cultured Palate
Move over specialty coffee shops, homemade is here!
Ingredients
6

tablespoon

coffee or coffee grounds to make the desired number of cups

6

cups

water  or water for the desired amount of coffee

1 ½

teaspoons

cinnamon or ¼ teaspoon cinnamon per cup of coffee to be made

6

teaspoons

pure maple syrup or 1 teaspoon pure maple syrup per cup
For a Latte:
¾

cup

milk

you can use any milk and even almond milk works
Instructions
Add coffee grounds and cinnamon to brew basket and brew coffee.

Add 1 teaspoon pure maple syrup to each coffee cup.

Pour hot coffee in each cup over maple syrup.
To make a Latte:
Pour milk into a mason jar, put the top on and shake until a foam begins to form.

Remove the top and heat milk in the microwave for about 30 - 45 seconds. It should be hot to the touch but not boiling. Watch it carefully to prevent it from bubbling over.

To each cup, add maple syrup, coffee and top with foamy milk. You can spoon the foam on top or pour it on.

Sprinkle with cinnamon and serve.
Notes
Adding the cinnamon to the coffee before brewing prevent sludge at the end of your cup.
Nutrition
Serving:
1
cup
Calories:
212
kcal
Carbohydrates:
39
g
Protein:
6
g
Fat:
3
g
Saturated Fat:
2
g
Cholesterol:
14
mg
Sodium:
164
mg
Potassium:
385
mg
Fiber:
2
g
Sugar:
34
g
Vitamin A:
180
IU
Calcium:
342
mg
Iron:
0.3
mg