This Cottage Cheese Recipe makes a delicious soft cheese that is very easy to make in your own kitchen. It's normally thought of as a diet food but that is about to change! Learn how to make cottage cheese at home.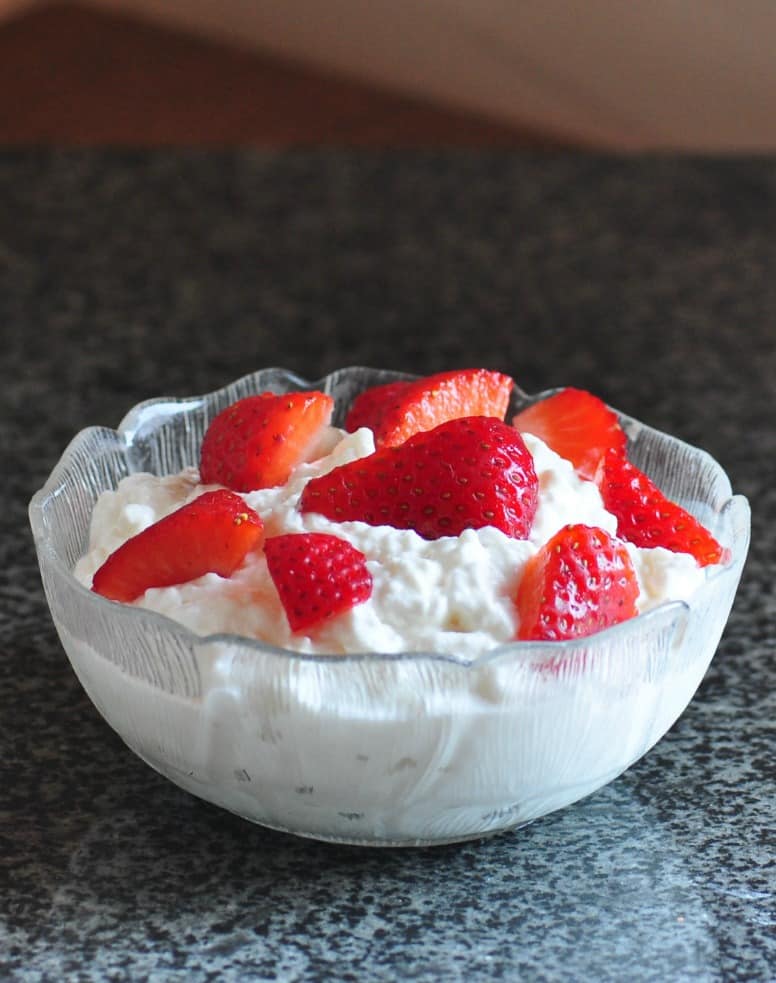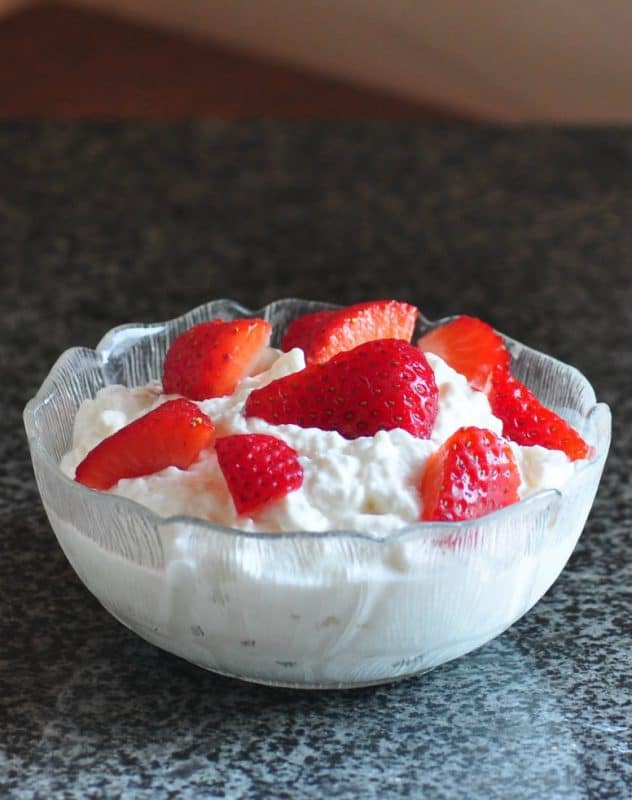 Like mozzarella and ricotta, cottage cheese is another soft cheese - and it is just as easy to make as those two!
Cottage cheese originated in eastern and central Europe.
Pot Cheese, cottage cheese, Dutch cheese, and Schmierkase are all the same cheese by different names. Cottage cheese, like many of the other soft cheeses, is normally eaten fresh and often with the addition of herbs or fruit. I personally haven't tried it with herbs. But if you have, please tell us about it in the comments!
Cottage cheese has the unfortunate reputation of being a diet food.
This may be due to the fact that cottage cheese is traditionally made with skim milk. It's still delicious and has the texture and taste of milk. But it certainly doesn't have most of the calories milk can contain.
In colonial America, raw milk was used and the pot of milk was set by the wood burning stove.
In a few days, thanks to the bacteria present in raw milk, the lactic acid level would cause the milk protein to precipitate out into a soft curd. These curds were then used to make a variety of cheeses including cottage cheese. That's where the expression "curds and whey" comes from. So Little Miss Muffet was based on something real!
How To Make Cottage Cheese - What's in It?
Here is a list of the 5 ingredients used to for this cottage cheese recipe.
Milk
Heavy Cream
Cheese Salt
Calcium Chloride
1 Packet Mesophilic Culture
Long before I even thought of trying a cottage cheese recipe and making it myself, I began eating it. And, yes, it was in an effort to lose baby weight after one of the children.
I actually found that I liked it! It can take a lot for me to try something new, especially with cheese. Because I make it myself, I can sometimes get stuck in my ways.
Served with pineapple chunks, it tasted like anything but a diet food. That is still my favorite way to eat cottage cheese - with pineapple - crushed or chunks, it doesn't matter. But, it is also delicious with strawberries, blueberries, and almost any fruit.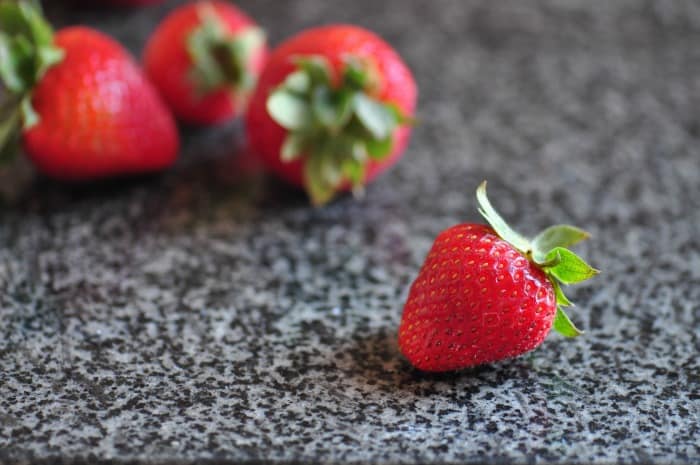 It is funny how different people eat different foods
John grew up with cottage cheese being served with cinnamon and sugar! I have to admit, this is not appealing to me but, I guess it is all about what you grow up with!
Me, I just love cottage cheese and strawberries. That's the reason why they're the fruit featured in the picture! But I've heard of people having them with blueberries and all kinds of other fruits. One classic pairing that I want to try is cottage cheese and peach slices. Doesn't just sound delectable?
Now, that I have learned how to make cottage cheese using the following cottage cheese recipe, it is part of our everyday diets.
I make ours from whole raw milk that our family milk cow, Emme, gives. Well, she doesn't exactly "give" it, we "take" it at milking times twice a day. But, for all practical purposes, I guess we will just leave it as she "gives" it!
Before getting started, be sure to check out Cheese Making Basics for helpful tips and supplies.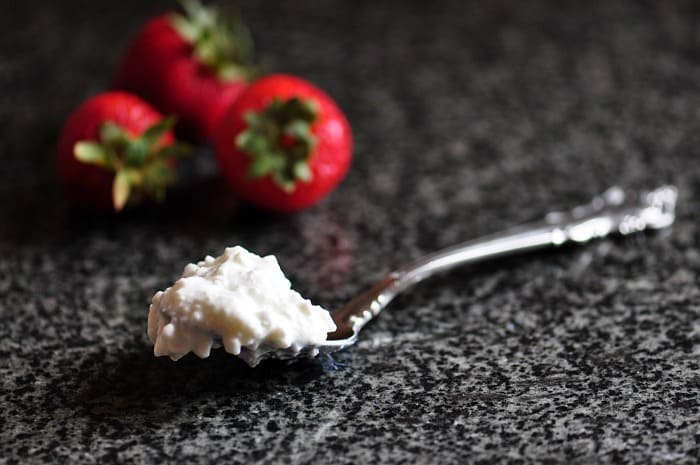 Ways To Serve Homemade Cottage Cheese;
Serve with cinnamon and sugar for a sweet treat
Serve with fresh fruit
Cottage cheese makes a great topping for baked potatoes (sweet and regular)
If you've tried this cottage cheese recipe for how to make cottage cheese or any other recipe on Cultured Palate please take a minute to rate the recipe and leave a comment letting me know how you liked it. I love hearing from you! You can also FOLLOW ME on PINTEREST, FACEBOOK, INSTAGRAM, YouTube and TWITTER.
📋 Recipe
How To Make Cottage Cheese
Cultured Palate
An easy recipe for how to make cottage cheese at home, delicious and creamy!
Ingredients
1

gallon

whole or skim milk - preferably raw

⅛

teaspoons

calcium chloride diluted in ¼ c. water - if using store-bought milk

1

packet mesophilic direct-set culture

heavy cream - a few tablespoons to moisten the cottage cheese

optional

Cheese salt

optional
Instructions
Heat the milk to 72 F. Add calcium chloride now if using it.

Add the starter and stir thoroughly. Cover and allow the milk to ripen for 16 - 24 hours at room temperature.

After the curds have set, cut them into ¼ inch cubes and let rest for 15 minutes. I use a wire whisk to cut the curd and it gives smaller curd cottage cheese.

Put the pot on the stove and heat the curds to 100 F very slowly - this should take about 20 minutes. Stir gently once in a while to prevent the curds from matting.

Once the curds reach 100 F, keep them at 100 F for 10 minutes and stir occasionally.

Slowly increase the temperature of the curds to 112 F - this should take about 15 minutes. Hold the curds at this temperature for 30 minutes.

After 30 minutes at 112 F, check the consistency of the curds. To do this, take a few curds between your fingers and squeeze them. They should feel firm - if not and they are still custard-like, the curds need to cook a little longer. Continue checking until they are firm.

Once the curds are firm, allow them to rest for 5 minutes - they will settle to the bottom of the pot.

Pour the curds into a cheesecloth-lined colander. Gather the corners of the cheesecloth and tie the cloth into a ball. Allow the curds to drain for a few minutes and then dip the bag several times in cold water. This is to rinse any residual whey out of the cottage cheese that could cause it to sour.

Let the cheesecloth bag drain for several minutes and then dip again in ice water - place the bag in the colander and allow it to drain for 5 minutes.

Open the cheesecloth bag and break up any large curds. For a creamier texture, add a couple of tablespoons of heavy cream.

Salt to taste.

Place the cottage cheese in an airtight container and refrigerate.

Enjoy!
Notes
Ways To Serve Homemade Cottage Cheese;
Serve with cinnamon and sugar for a sweet treat
Serve with fresh fruit
Cottage cheese makes a great topping for baked potatoes (sweet and regular)
Add to salads as a side
Nutrition
Calories:
201
kcal
Carbohydrates:
15
g
Protein:
9
g
Fat:
11
g
Saturated Fat:
6
g
Cholesterol:
34
mg
Sodium:
136
mg
Potassium:
416
mg
Sugar:
15
g
Vitamin A:
550
IU
Calcium:
358
mg
Iron:
0.1
mg
Have fun making this cottage cheese recipe!
How do you like your cottage cheese? Do you like it with cinnamon and sugar like my husband? Or do you prefer it with fruit? Tell us all about it in the comments!