Mozzarella Quesadillas are delicious, crispy, and good any time of the day. Mozzarella recipes are easy to make and the melted cheese with all its stringy goodness just can't be beat!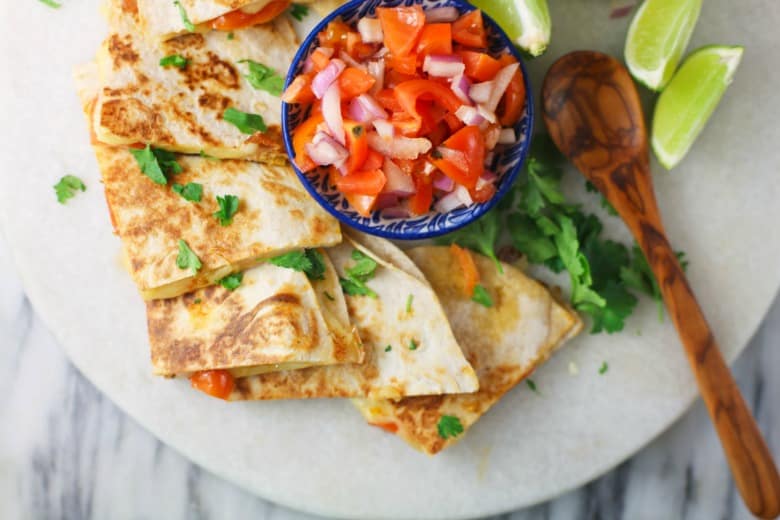 Have you tried making my homemade mozzarella cheese recipe yet? There's a video so you can see just how easy it is to make!
Or, if you have gotten my Simple Cheesemaking ebook, you'll realize that mozzarella cheese is one of the easiest cheeses to make!
While homemade mozzarella only takes 30 minutes to make, don't feel bad if you want the ease of store-bought cheese. This recipe works great no matter what type of mozzarella cheese you use!
Mozzarella is probably one of the most popular cheeses for making quesadillas for a couple of reasons.
It melts wonderfully and becomes stringy as it cools.
It is healthy and often made low-fat or part-skim.
A good source of protein, calcium, and vitamins.
Is easily attainable at most grocery stores.
If you love quesadillas, then you will probably also enjoy Easy Spinach Quesadillas. They are a great way to get those veggies in and your family will not mind at all!
Jump to:
History of Quesadillas
Part of the Mexican culinary tradition, quesadillas are primarily made by folding tortillas (cooked and softened corn masa) into halves and filling them with Oaxaca cheese.
Traditionally, quesadillas are served with colorful salsa - red or green, chopped onion, and guacamole.
Today, in most parts of the world, especially the US, quesadillas have been modified to include local ingredients.  For this recipe, mozzarella cheese has replaced the Oaxaca cheese. Flour tortillas have replaced corn tortillas.  
So, we have Mozzarella Quesadillas—Italian-Mexican Combo.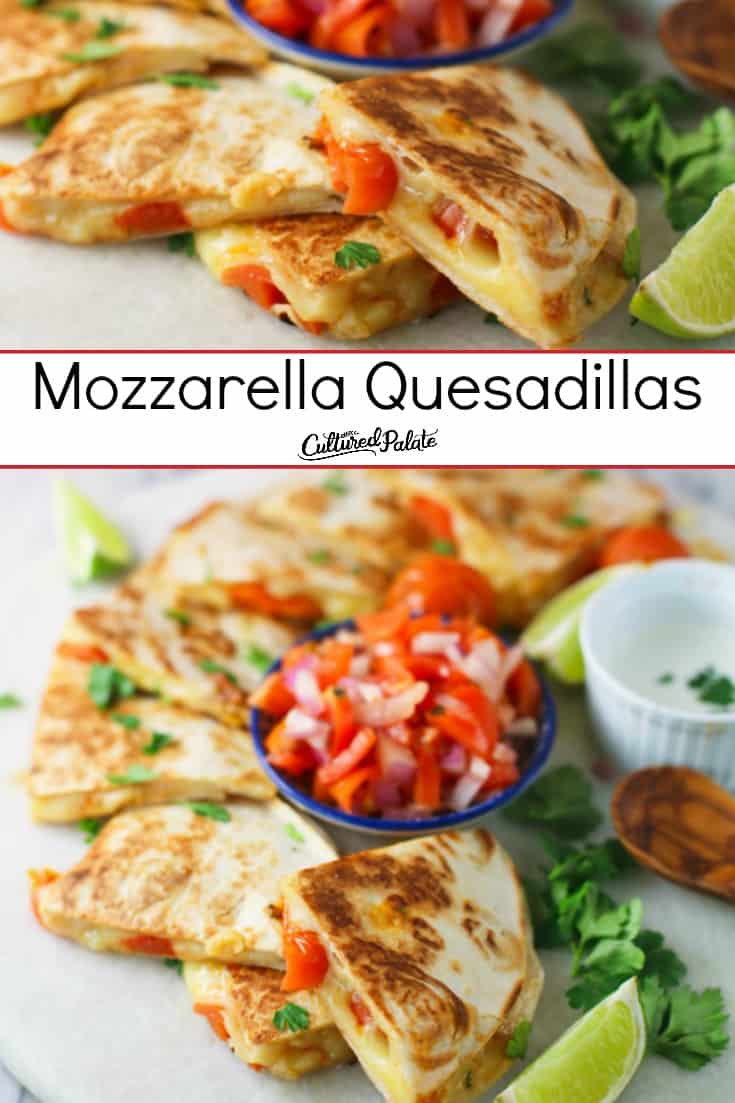 Serving Suggestions
While these are delicious eaten on their own, a few condiments really take the meal up a notch!
Serve with any or all of the following:
pico de gallo made with fresh tomato, diced red onion, salt, pepper
a squeeze of lime or lemon juice
sour cream
Variations
While these Mozzarella Quesadillas are easy and quick to make here are some alternative ways to cook them.
To make it spicy add in some pickled jalapeno and/or swap out the mozzarella cheese with pepperjack cheese.
For a gluten-free version of quessadillas use corn tortillas in place of the flour tortillas.
Make a delicious breakfast quesadilla by adding bacon, egg and mozzarella cheese.
Make some scrumptious dessert quesadillas by using sweet ingredients like chocolate chips, peanut butter, honey, or whatever you find in your pantry.
Frequently Asked Questions
These Mozzarella Quesadillas are so easy to make and incredibly delicious whether you use flour or corn tortillas, or even a different type of cheese!
Are Quesadillas Healthy?
Tortillas are a healthy source of macronutrients and rich in vitamins and minerals. Homemade tortillas provide a healthier option as there are no unnecessary ingredients. 
Gluten-free tortillas are also available making it convenient for those on a gluten-free diet.
How Can I Make Quesadillas Crispy?
Quesadillas are best enjoyed when crispy. Steam from hot fillings is one of the factors responsible for soggy quesadillas.
To avoid soggy quesadillas, serve immediately after cooking while they are still hot. When cold, the cheese becomes hard and won't have the crispiness of fresh tortillas.
Corn or Flour Tortillas?
Traditional quesadillas are made with corn tortillas and those work well and fit into a gluten-free diet. However, I prefer using flour tortillas. 
Flour tortillas are pliant, and the mozzarella (or other fillings) won't make it fall apart. Plus, flour tortillas add to the crispness of the quesadillas that I have not been able to get with corn.
How Do I Prevent Quesadillas From Burning?
Quesadillas are easy to cook and take not more than one minute for each side of the tortilla to cook.
It is a common thing to worry about quesadillas burning when using a stove pan. You can avoid this by cooking on medium heat.
Whether you're using the grill, oven, or stove pan method, be attentive and close at hand because quesadillas can burn easily, very quickly.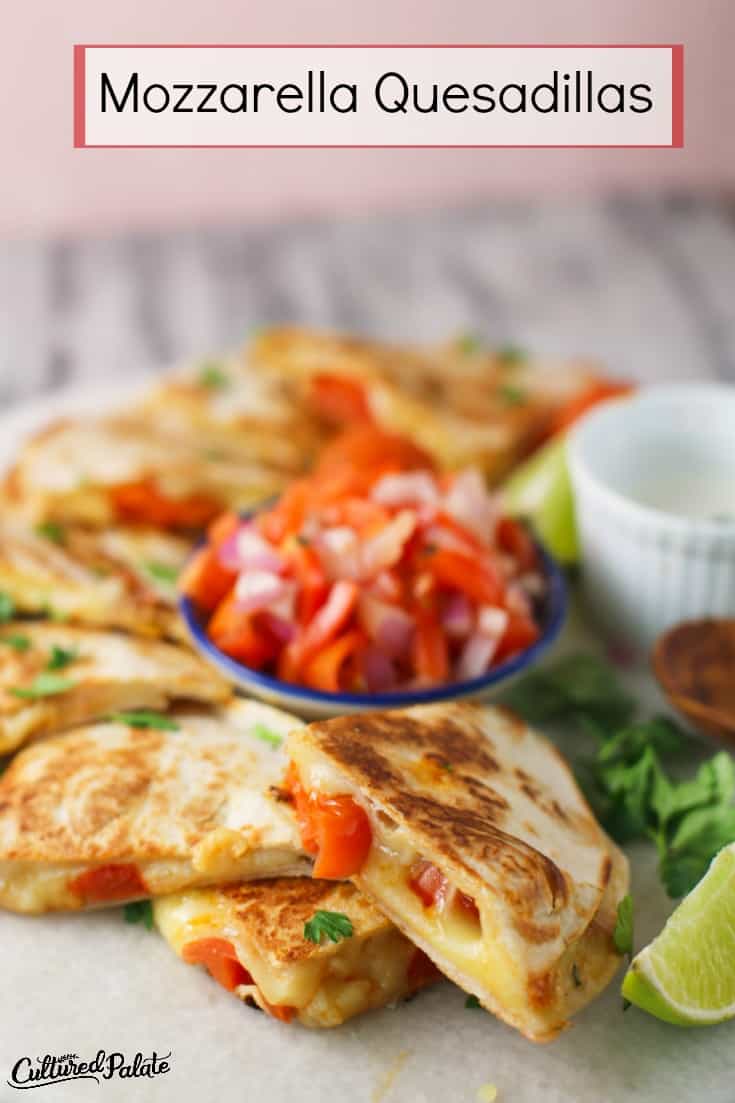 If you've tried these Mozzarella Quesadillas or any other recipe on Cultured Palate please take a minute to rate the recipe and leave a comment letting me know how you liked it. I love hearing from you! You can also FOLLOW ME on PINTEREST, FACEBOOK, and YouTube.
📋 Recipe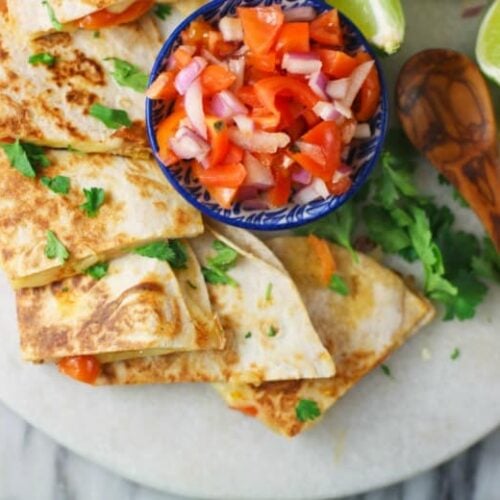 Mozzarella Quesadillas
Crispy and filled with melted mozzarella cheese with all its stringy goodness, this is a dish that just can't be beat!
Ingredients
8

8 inch

flour tortillas

12

ounce

mozzarella

grated or sliced

2

tomatoes

cut into ¼-inch-thick slices (optional but delicious!)

½

teaspoon

salt

½

teaspoon

freshly ground black pepper
Instructions
To Grill:
Preheat grill to medium heat.

Arrange 4 of the tortillas on a cutting board.

Arrange the mozzarella and tomatoes, leaving a border around of about 1 inch to allow for the cheese to melt.

Season with ½ teaspoon of the salt and the pepper and top with the remaining tortillas.

Cook the quesadillas on the grill until the cheese melts and the tortillas are crisp and golden - about 2 - 3 minutes per side. Serve Immediately.
To Broil:
Preheat the broiler. Place tortillas on a baking sheet and broil, turning once, until the cheese melts and the tortillas are golden brown.
On Stovetop:
Add a pat of butter to a skillet and allow to melt.

Place tortillas in skillet and allow to cook over medium heat until golden brown and the cheese is melted. Turn once.
Notes
Serve with any or all of the following:
salsa
pico de gallo made with fresh tomato, diced red onion, salt, pepper
guacamole
a squeeze of lime or lemon juice
sour cream
Nutrition
Calories:
573
kcal
Carbohydrates:
56
g
Protein:
28
g
Fat:
26
g
Saturated Fat:
13
g
Cholesterol:
67
mg
Sodium:
1527
mg
Potassium:
366
mg
Fiber:
3
g
Sugar:
7
g
Vitamin A:
1087
IU
Vitamin C:
8
mg
Calcium:
544
mg
Iron:
4
mg