Turns out the saying, "An apple a day keeps the doctor away" is true! The health benefits of apples may surprise you. Here are 10 reasons to start eating an apple a day!
Most people think of apples as a convenient snack food especially for lunches or on the go. And, they are. But, there is a lot more to an apple than meets the eye.
Jump to:
Apples are...
1. High in fiber
Let's start with what everyone knows about apples. Apples are high in fiber because of all the pectin they contain, which is a soluble fiber that helps with elimination. In order to get the most bang for your buck, consume the peel, but that means you might want to go organic to avoid any pesticides and other chemicals. Makes sure and wash well whenever you are consuming the peel of produce.
High fiber diets have been found helpful in preventing colon cancer and other digestive issues like constipation.
2. High in Antioxidants
Most people credit berries with being the fruit of choice when it comes to getting antioxidants but apples are actually very high in antioxidants and phytochemicals. These have been shown to help reduce the incidents of cancer and chronic diseases.
A common antioxidant that apples are high in is vitamin C - an apple supplies 14 percent of your recommended daily intake of this important vitamin. Vitamin C is necessary for a healthy immune system, eyes, skin and brain.
3. An aid in digestion
The pectin can also help you keep things moving. Apples are perfect to help relieve constipation. Besides eating them raw in-hand, you can receive the same benefits when you add them to a smoothie or even juice them. Just be sure you are consuming fresh juice and not any from the store with added sugar. Dried apples, when they don't have added sugar, may hold the same benefits.
4. Good to fight brain disease
If you have a family history of Alzheimer's or Parkinson's, you might think about the apple a day adage. Apples have been shown to help your brain stay in peak form. They may reduce oxidative stress in the brain, as well as, help fight free radicals with their antioxidants.
5. Heart healthy
Eating lots of fresh fruits and veggies can keep your heart healthy. Apples play a big role in this as well. The pectin helps reduce inflammation, which in turn keeps your heart from being inflamed.
It may also help reduce your bad cholesterol levels as well as keep lipids liquid and moving through your system. This, in turn, also puts less stress on your gallbladder, thus helping to prevent gallstones.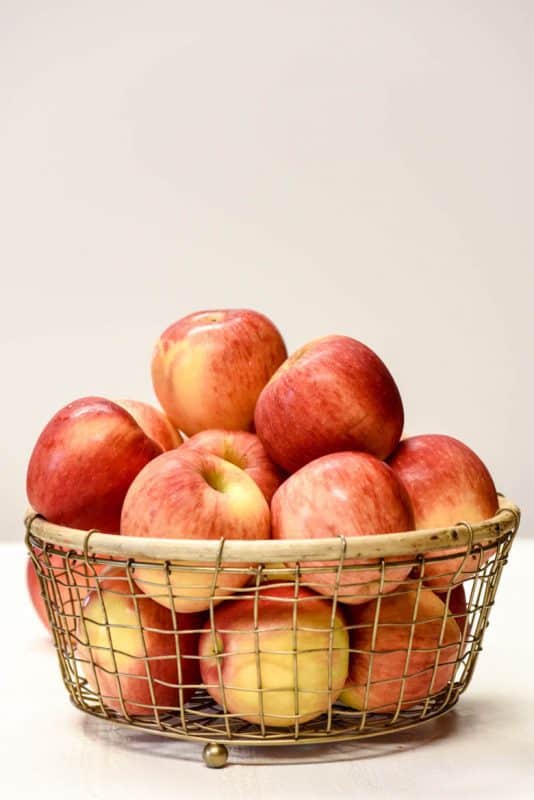 6. Weight loss aid
The fiber and natural sugars can help your blood sugars stabilize, and keep you fuller longer. Adding an apple to your meal may help you consume fewer calories and also keep you fuller until your next meal. An apple is a perfect snack as well, to bridge the hunger gap between meals. Much like when we discussed bananas, apples are a great fruit for on the go.
7. May help prevent diabetes
A diet with healthy fruits and vegetables can significantly reduce the incidence of diabetes and weight gain. The flavonoids present in apples (and other fruits) improve insulin sensitivity.
While you may think they are high in sugar, they are also high in fiber which helps make apples a low glycemic index food. This means that the sugar found in apples enters the bloodstream slowly so blood sugar levels are more stable. It is the high fluctuations in blood glucose levels that may lead to insulin resistance.
The other antioxidants and fiber found in apples also play a role in their anti-diabetic effects.
8. Helpful in preventing aging
Ladies, we all want our skin to stay younger longer, right? Apples are a big part of that. They contain high amounts of vitamin A, as well as, boost your collagen production. These are key to keeping skin from sagging and showing wrinkles.
9. Good for respiratory health
Apples aren't unique in containing phytochemicals. But what is interesting is that the phytochemicals seem to interact with flavanoids to keep your lungs healthy. Consuming at least two apples a week might help reduce the symptoms of asthma.
10. Helpful in brightening your smile
Especially when eaten raw, all that chewing gets your saliva flowing. Saliva is key in reducing the amount of bacteria in our mouths, which in turn leads to healthier teeth.
Plus, a raw apple provides a scrubbing action that helps clean teeth making them brighter when you show your pearly whites!
Summary
Now that you know the health benefits of apples - go grab an apple!
Now that you know how good eating apples are for you, it is time to grab one and get to chewing! Red, green or yellow, they are delicious to eat and a nutritionally packed fruit for good health.
What is your favorite way to eat apples?
Looking for more health benefits?
Check out the Health Benefits Series and find more healthy foods to eat!
Find out the Health Benefits of: