Healthy chocolate covered bacon. An unusual yet absolutely delicious combo that is great for snacking on. Salty, sweet and so easy to make, don't knock it 'til you've tried it!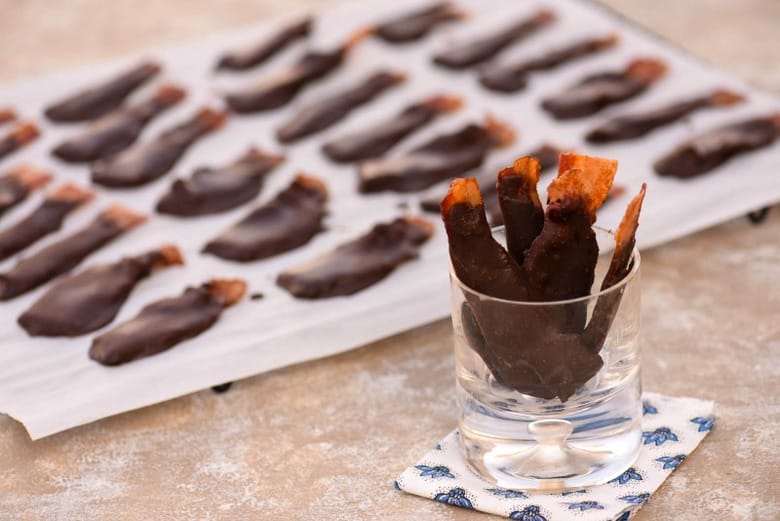 Are you a bacon lover? How about chocolate? Have you ever thought of putting the two together?
I know, I can hear your groans from here! Who would have thought that chocolate and bacon would taste so good?
I would never even have thought about it but I saw and sampled a maple flavored mini chocolate bar from Chuao Chocolatier. WOW - was it good!
Making Chocolate Covered Bacon Healthy
That little mini chocolate bar got my wheels a-turnin' and I thought if it is that good, think how good the real thing would be. While it was purported to be 100% natural, it was sweetened with sugar and other ingredients that could be improved upon. So I set out to make it healthier.
I have to admit, Healthy Chocolate Covered Bacon was met with skepticism by my crew.  For the life of me, I can't imagine why.
Maybe you agree and maybe you don't. But I had a couple of boys say that they would rather just have bacon - GASP! My one requirement is that you not pass judgement too fast - don't knock it till you try it!
Yes, it is different. Maybe even a bit odd. But just think what a fabulous cook everyone will think you are when you serve chocolate covered bacon at your next gathering.
Plus, it is not just any ol' chocolate that covers that there bacon! It is chocolate made with coconut oil. Isn't this a great way to get your daily dose of coconut oil?
Still not sure? OK, how about this argument - Coconut Oil is Good for You!
I started taking coconut oil daily to help balance hormones and give my metabolism a boost (read: I wanted to shed a few pounds - let's keep that between us!). But, there is a lot more to coconut oil than just that.
Regular intake of coconut oil:
helps speed up metabolism and can lead to weigh loss
improves the body's immune system and helps fight off viruses and bacteria
may help stabilize blood sugar
helps stabilize hormone levels
helps boost thyroid levels to increase metabolism, energy and stamina
improves digestion and helps absorb fat soluble vitamins
decreases cholesterol levels. Coconut oil has a saturated fat called lauric acid which has been shown to increases the good HDL cholesterol in the blood to help improve cholesterol ratio levels.
If you are looking for a dependable source of coconut oil check out my affiliate partner - click here.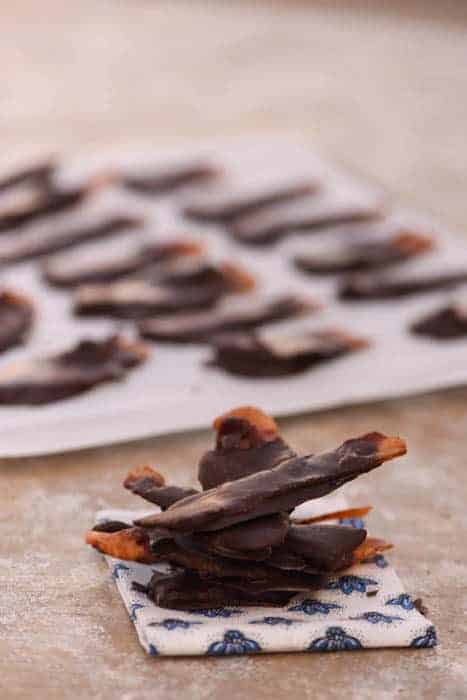 Now that you are convinced - here's the recipe....
📋 Recipe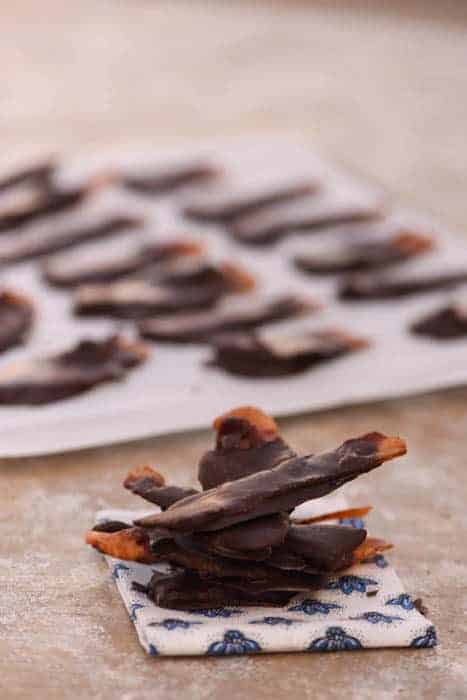 Healthy Chocolate Covered Bacon
Cultured Palate
Salty and sweet - don't knock it until you've tried it!
Ingredients
1

lb

bacon

1

cups

coconut oil

1

teaspoon

vanilla

¼

teaspoon

sea salt

2

tablespoon

espresso coffee

optional

1

cups

cocoa powder

⅓

cups

honey or maple syrup
Instructions
Place bacon on foil lined cookie sheet and bake in preheated oven at 375 F for 15 - 20 minutes or until done - remove from oven and allow the bacon to cool.

While the bacon is cooking, mix the coconut oil, vanilla, espresso and honey (or maple syrup) together. If the coconut oil is solid, melt in the microwave (or oven).

Blend the remaining ingredients into coconut oil mixture - sea salt, cocoa powder. I used an immersion blender.

Cut each slice of bacon in half and holding one end, dip the bacon into the chocolate.

Place on parchment paper lined cookie sheet.

Allow the chocolate to dry - I put it in the freezer for about 5 minutes.

You may dip the bacon again if desired.

Store in the refrigerator.
Notes
Try dipping the chocolate covered bacon in chopped nuts for more texture and crunch!
Nutrition
Calories:
147
kcal
Carbohydrates:
6
g
Protein:
3
g
Fat:
14
g
Saturated Fat:
8
g
Cholesterol:
9
mg
Sodium:
113
mg
Potassium:
142
mg
Fiber:
2
g
Sugar:
2
g
Vitamin A:
5
IU
Calcium:
10
mg
Iron:
1.1
mg