Keto Peppermint Brownies is one of those healthy brownie recipes that alleviates guilt and allows you to indulge at will knowing that they are good for you!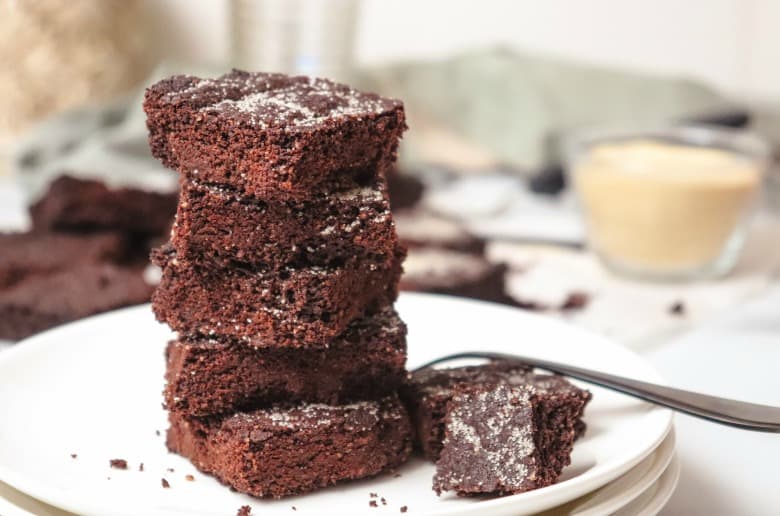 Peppermint and chocolate is one of those combinations that just goes well together.
The combination can remind you of different seasons, special memories and often, happy holidays.
However, because Keto Peppermint Brownies are healthy, you can make and enjoy them anytime!
What Makes a Healthy Recipe?
I know, a healthy recipe can mean different things to different people. And, we are all in different stages on our journey to health add what we consider to be healthy.
So, when I say it is a healthy recipe, at the least I mean that it is made from scratch with wholesome ingredients.
Golden Monk Fruit Sweetener vs. Classic Monk Fruit Sweetener
Monk fruit sweetener is commonly used with delicious results in keto recipes. Here is the difference and while you may be able to tell, if you palate is cultured, don't feel bad if you use one and stick to it.
But, you might want to experiment!
Golden Monk Fruit Sweetener is your brown sugar substitute with a deeper, richer sweetness. Classic Monk Fruit Sweetener is more like your granulated, white sugar.
Cooking with Essential Oils
Cooking and baking with essential oils has a variety of benefits, but the main one in this recipe is flavor.
You'll want to make sure that you are using 100% food grade essential oils and use them more as an accent to main flavors.
Think of them like you would a spice or zest.
While there are many good brands on the market, this is the peppermint oil that I choose. After much research, I feel that it is good quality for myself and my family.
Peppermint Oil and Digestion
Did you know that peppermint essential oil can aid in digestion? That means, including it as a flavoring in recipes can lessen your chances of ending up with indigestion or even more bothersome tummy troubles.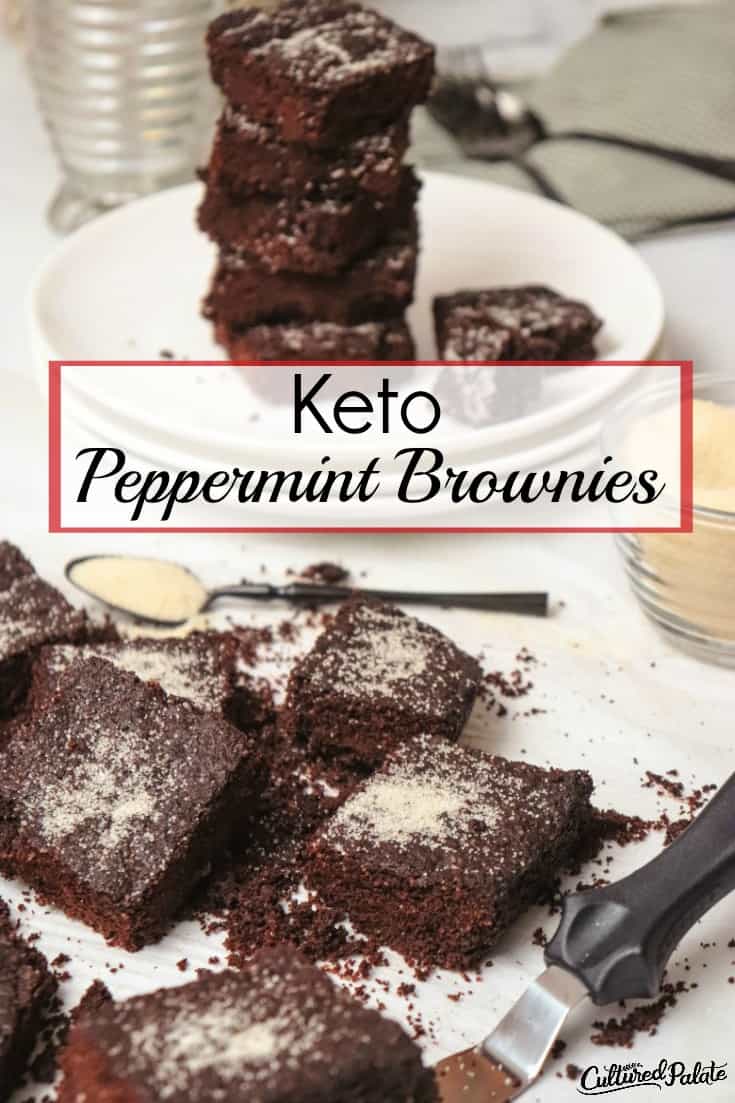 Optional Topping for Keto Peppermint Brownies
These are delicious as is or you can make them a bit fancier with the following optional topping.
Using a blender, pulse 2 tablespoon of Monk Fruit Sweetener to a powder like consistency and dust the top of brownies before cutting. I use a small tea strainer to dust the brownies.
Or, you can just sprinkle the sweetener on top if you are in a pinch for time.
Chewy Vs. Cakey Brownies
Brownie batter is one of those magical concoctions that can yield many different results, depending on the recipe.
Most think of a chewy brownie as being moist and a fudgy brownies as being more fudgy or gooey. Here are a few things I have found that can make the difference between a chewy and a cakey brownie:
More brown sugar (

or brown sugar substitute

) increases moistness due to the addition of molasses.

The addition of oil helps keep the brownies super moist.

This recipe has fewer eggs than the cakey version which helps create fudge-like texture.

The baking time is slightly less than for a cakey brownie. Underbaking keeps the brownies soft and chewy.
How Do You Make Brownies Less Fudgy?
Fudgy brownies rely on a high fat to flour ratio, so if you want your brownies to be less fudgy and cakey, you'll need to up the flour and leavening.
Why Are My Brownies Flat?
Beating the batter adds are into the batter and the flour stabilizes it as it bakes. However, it will collapse and fall in on itself as it cools because it loses all of those air bubbles.
Why Are My Brownies Too Gooey?
There are 3 reasons brownies are too gooey in the center.
Undercooking can cause brownies to be too gooey. Be sure to insert a fork in the middle and it should come out just clean.
Not allowing the brownies to cool and cutting them too soon. I know, it is

tempting to dig right in, but set the pan on a cooling rack and wait for at least two to four hours before cutting brownies. When cool, the brownies harden slightly and also taste better.

Storing brownies in the fridge especially if put in while still warm, can also cause a gooey center.
If you've tried these Keto Peppermint Brownies or any other recipe on Cultured Palate please take a minute to rate the recipe and leave a comment letting me know how you liked it. I love hearing from you! You can also FOLLOW ME on PINTEREST, FACEBOOK, and YouTube .
📋 Recipe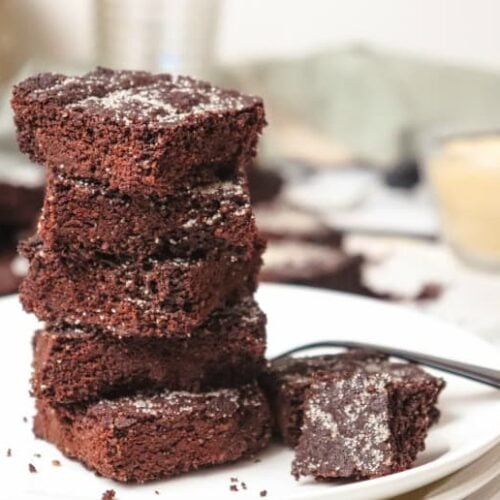 Keto Peppermint Brownies
Keto Peppermint Brownies combine the great taste of peppermint with chocolate into a delicious keto treat!
Ingredients
⅔

cup

coconut oil

¾

cup

almond flour

1

cup

monk fruit sweetener

I use golden but classic works well

1

cup

unsweetened cocoa powder

1

teaspoons

baking soda

2

teaspoons

cream of tartar

½

teaspoons

salt

2

eggs

beaten

2 - 3

drops peppermint essential oil
Optional topping
2

tablespoon

monk fruit sweetener
Instructions
Preheat oven to 350 degrees

Line a 8 x 8 baking pan with parchment paper (be sure to have  enough parchment paper so the edges fold up and over the edge of the pan.

In the microwave, melt coconut oil.

Combine the dry ingredients in a mixing bowl and whisk until well-combined.

Add melted coconut oil and beaten eggs to the dry ingredients and mix well using an electric mixer.

Add almond flour slowly and continue to mix with mixer until mixed well.

Scrape the mixture using a spatula into prepared baking pan.

Bake for 20-25 minutes.

Check for doneness - toothpick or fork should come out of the center clean.

Allow to cool before removing the brownies from the pan. To remove from pan - use the edges of parchment paper to lift them out.

Cut and enjoy.
Notes
For a sweet dusting topping:
Using a blender, pulse 2 tablespoon monk fruit sweetener to powder consistency and dust the top of brownies before cutting.
I use a small tea strainer to dust the brownies.
Nutrition
Calories:
172
kcal
Carbohydrates:
6
g
Protein:
4
g
Fat:
17
g
Saturated Fat:
12
g
Cholesterol:
27
mg
Sodium:
214
mg
Potassium:
202
mg
Fiber:
3
g
Sugar:
1
g
Vitamin A:
40
IU
Calcium:
28
mg
Iron:
1.4
mg
More brownies!
Because you can never have enough
Do You Eat Keto Peppermint Brownies By Themselves?
Leave a comment - I would love to know!
I like mine with a hot cup of coffee!
Pin It!