Comforting and warming are the best words to describe this Moroccan Carrot Soup Recipe. This soup is packed full of delicious, warming spices and topped with sour cream. Serve with some crusty bread for dunking.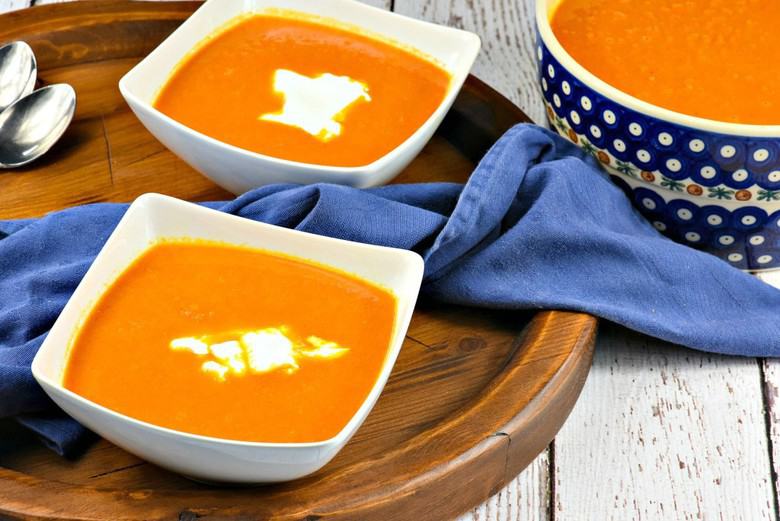 I don't know about you, but in west Texas, we have been having huge weather swings! One day it is warm enough for shorts and the next day coats, hats and gloves are needed!
I have been saving a bag of carrots for a Moroccan Carrot Soup recipe in hopes of taking advantage of a cold day. After all, there is nothing as comforting on a cold day as a hot bowl of soup - especially when you have been out in the cold pruning the vineyard!
This particular Moroccan Carrot Soup recipe has been in my folder of recipes to-try for who knows how long! It is about time I tried it - right?
Not only did we finally have a couple of perfect-for-soup, cold weather days but, we also just watched the movie Sabrina with Harrison Ford.
If you have seen it, you will know the line that Linus (Ford) says to Sabrina (Julia Ormond) when they are at the Middle Eastern restaurant and eating with their fingers - "I'll have to try this sometime with soup!" I know that Moroccan cuisine is not technically Middle Eastern but it did remind me of the soup recipe waiting to be tried.
While the Moroccan Carrot Soup recipe I am about to share bares little resemblance to the original clipping - I add this and that and taste then, add more or maybe even something else and taste again - you get the picture! Anyway, the finished product was definitely a hit and is now on the perpetual menu plan!
Why Do I Love This Moroccan Carrot Soup Recipe?
It is so quick easy and still packed with nutrition! If you have leftover cooked carrots, the soup would be even faster to throw together. But, I didn't so, from washing and cutting the carrots (I put them through the food processor) to soup on the table, was less than an hour! Now, that is MY kind of meal - quick and easy!
I keep a pot of beef bone broth simmering on the stove which made cooking time for the carrots a bit less - I didn't have to wait for it to heat up. I ladled out the amount of broth I needed, added the carrots along with the spices, cooked until tender and blended it all together with my immersion blender and voila - a delicious soup was created!
The spices in Moroccan Carrot Soup are very different from the ones I normally use - that made the dish even better and not just the same ol' same ol'!
For example, coriander. How many of you have coriander among your spices? I have and rarely use it! John made a beer with coriander and that is one of the few times it has been used! But, that has changed since it adds such a delicious flavor to Moroccan Carrot Soup!
I wondered how the children would receive it. And, even they agreed that we should add this to our regular menu. It may have had something to do with the fact that each bowl was served with a generous helping of cultured sour cream! Sour cream makes everything taste better - doesn't it?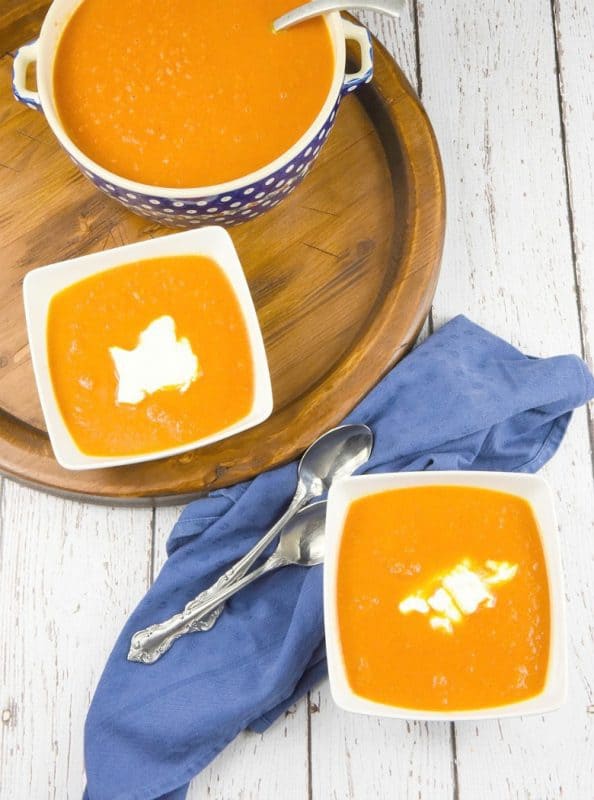 If you've tried this Moroccan Carrot Soup Recipe or any other recipe on Cultured Palate please take a minute to rate the recipe and leave a comment letting me know how you liked it. I love hearing from you! You can also 
FOLLOW ME
 on 
PINTEREST
, 
FACEBOOK
, 
INSTAGRAM
, 
YouTube
 and 
TWITTER
.
📋 Recipe
Moroccan Carrot Soup
Cultured Palate
Wonderful flavors in this soup. Give it a try and see what you think.
Ingredients
5

cups

broth (beef or chicken)

1 ½

lbs

carrots

1 ½

teaspoon

salt

1

teaspoon

ground cumin

¾

teaspoon

coriander

½

teaspoon

cinnamon

¼

teaspoon

allspice

½

teaspoon

pepper

1

cups

cultured sour cream for topping
Instructions
Slice the carrots in a food processor.

In a large pot add the carrots, broth and spices. Stir and cook over medium high heat until the carrots are tender.

Using an immersion blender (or transferring the soup to a blender) blend until smooth.

If necessary, thin with water until the desired consistency is reached.

Ladle soup into serving bowls and top each bowl with a generous dollop of sour cream.

Enjoy!
Notes
Tips
Replace the bone broth with vegetable broth/stock and omit the sour cream for a completely vegan and vegetarian meal.
Nutrition
Calories:
61
kcal
Carbohydrates:
14
g
Protein:
1
g
Sodium:
1660
mg
Potassium:
368
mg
Fiber:
3
g
Sugar:
7
g
Vitamin A:
19475
IU
Vitamin C:
7.1
mg
Calcium:
43
mg
Iron:
0.6
mg