Knowing about passing kidney stones naturally was one of those natural remedies that was a life-saver. Talk about pain! That is what having a kidney stone is - it is no laughing matter!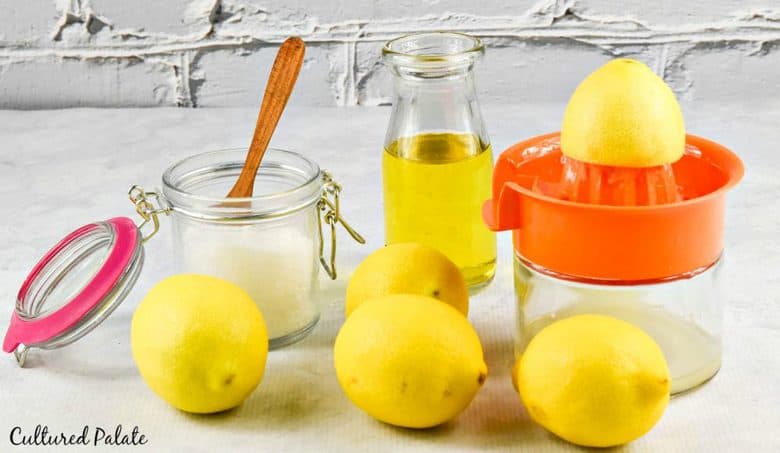 Having given birth to 10 children, I can say with confidence that having a kidney stone is the closest a man can come to childbirth! Passing kidney stones naturally is possible and it can be painless.
Passing my first kidney stone while we lived in Switzerland was quite a surprise. After all, I had never had any problems with them before.
My father was very much into natural solutions and natural remedies that work.
The recipe found here (like the one used to pass gallstones) is one that he had typed on a piece of paper with no reference as to where it came from. But, both work!
It was interesting to me that there is a familial tendency to kidney stones. My father had them and so have I. (NCBI)
Doing more research, I learned that they could be caused by diet! I'll get into that more in a bit. First, let's talk about what kidney stones are...
Kidney stones are hard deposits made of minerals and salts that form in your kidneys.
You may not even know that you have one until it begins to move around which causes the pain many experience with kidney stones. They can be found in any part of the urinary tract. (Mayo Clinic)
The urinary tract is composed of the kidneys, ureters and bladder.
The kidneys (your body's filter system) make urine from water and your body's waste. The urine then travels down the tubes called ureters into the bladder, where it is stored. Urine leaves your body through the urethra.
As kidney stones move through the urinary tract, pain is experienced and may change from being in the low back to another location. It may also become more intense and then ease off or visa versa.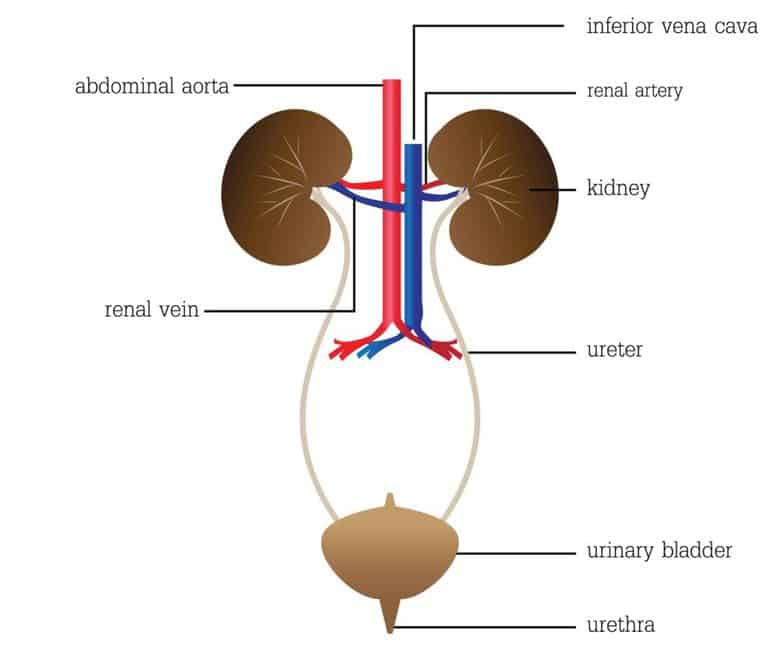 Signs and Symptoms of Kidney Stones
Severe pain in the side and back, below the ribs, lower abdomen and groin
Pain that comes and goes and varies in intensity
Nausea
Painful urination
Blood tinged urine - either pink, red or brown
Cloudy urine
Frequent urination similar to that of a bladder infection
Fever and chills if an infection is present
See more at Urology Health, Medical News Today,
Cause of Kidney Stones
Dehydration - not drinking enough water. When the urine is concentrated, minerals are allowed to crystallize and stick together forming larger crystals or stones.
Changes in the normal balance of water, salts, minerals and other substances found in urine
Family history of kidney stones can predispose you to having them
Diets high in proteins, salt and sugar
Too much salt in the diet increases the amount of calcium the kidneys must filter
Weight gain, large waist size and high BMI (body mass index)
Surgery and digestive disorders can cause changes affecting your absorption of calcium and water which increases the levels of stone-forming substances in your urine. Examples include gastric bypass surgery, gout, chrohn's disease and inflammatory bowel disease
Other medical conditions
More information at Urology Health, Medical News Today
Types of Kidney Stones
According to UrologyHealth.org:
Calcium stones- this is the most common type of stone and is in the form of calcium oxalate or, less commonly, calicum phosphate
Struvite stones- formed in response to an infection - most commonly a chronic urinary tract infection. Some bacteria make urine less acidic and more alkaline (basic). Magnesium ammonium phosphate (struvite) stones form in alkaline urine.
Uric acid stones - commonly found in people who do not drink enough, have a high protein diet or have gout
Cystine stones - form in people with an inherited metabolic condition that causes too much cystinuria (an amino acid) to be excreted
Preventing Kidney Stones
Drink plenty of fluids. The normal recommendation is 8 - 10 glasses per day. A good way to be sure is the color of your urine - it should be clear to light yellow. Dark yellow urine means you are not drinking enough!
Avoid foods high in oxalate. There is no need to completely avoid them but decrease them. These foods include dark green vegetables (like spinach), chocolate, nuts, cola, black tea.
Eat a balanced diet - not too much protein or salt
Drink lemonade made from real lemons. They contain citrate which may help prevent kidney stones.
The recipe found here in Passing Kidney Stones Naturally has worked for me and for others.
According to Healthline:
The best home remedy to encourage the stone to pass is to drink lots of fluids, especially plain water and citrus juices such as orange or grapefruit. The extra fluid causes you urinate more, which helps the stone move and keeps it from growing.
Healthline goes on to say this about lemon juice:
You can add freshly squeezed lemons to your water as often as you like. Lemons contain citrate, which is a chemical that prevents calcium stones from forming. Citrate can also break up small stones, allowing them to pass more easily.
A friend of my sister also used this effectively when other treatments had failed. He was nauseated, vomiting and just plain sick. After visits to his doctor, they did not want to do surgery and opted to wait. He tried this cleanse and it worked!
If recognized in time, they can be passed without any difficulty. Doctors will normally give pain medication and tell you to drink plenty of water - causing you to pass the stone. (MedicineNet.com)
If stones become lodged in the urinary tract, they can obstruct the flow of urine creating a urinary tract infection which will result in fever, chills and acute pain.
I am sharing what has worked for me and do not claim to give medical advice. I know from experience that kidney stones are painful but this cleanse has worked for me!
That being said, you are responsible for your health so, if you are concerned and especially if you have fever or chills, please see a doctor.
Passing Kidney Stones Naturally - The Recipe
Days 1 - 6:
First thing each morning, squeeze the juice of one whole lemon into a pint of warm water and drink it right down. DO NOT ADD SUGAR!
This is important because the drink goes straight to the kidneys and starts its purifying and healing process.
Also On Day 6:
Do not eat anything after 6 pm.
At 6 pm, take 1 Tbsp Epsom salt with a full glass of water. Mix the Epsom salt in the water - it takes a bit of stirring. I take a big breath and down it quickly!
At 8 pm repeat 1 Tbsp Epsom salt with a full glass of water.
At 10 pm - mix and drink quickly, 4 oz. olive oil and 4 oz. lemon juice.
After this, I go to bed. This will enable you to pass the kidney stones and I also, normally have varying sizes of bright green gallstones visible in the toilet. The Epsom salt acts as a laxative to quickly remove them from the intestinal tract.
Notes:
This part of the cleanse (day 6) is identical to the gallbladder cleanse found in How to Get Rid of Gallstones Naturally and is used for passing kidney stone also.
Here is a link to the products that I use for this natural solution.
Epsom Salt
Olive oil
Lemon juice - Fresh lemon juice is needed for the first 6 days to drink in the morning but then bottled may be used for the evening dose which is mixed with olive oil.