Easy Crockpot Meals are perfect for dinner and are the reason that I love crockpot cooking! It is just that – easy peasy! Most anything can be cooked, hands-free, in a crockpot which is also known as a slow cooker.
Crock pot cooking or slow cooking is the method of cooking food (many times complete dinners) in one pot over a period of 4 – 10 hours.
What are Easy Crockpot Meals?
What do you think of when you hear an "easy crockpot meal"?
When I hear "easy crockpot meal" I think – ohh, a one dish meal that need few if any side dishes to be a complete meal.
Are Easy Crockpot Meals the Same as Easy Slow Cooker Meals?
Yes! A crockpot is a slow cooker so the recipes are the same and the terms are used interchangeably.
Why is it Called a "Crockpot"?
A crock is an earthenware pot made of clay. The crock is placed inside a housing unit that has a self-contained electrical unit that can heat up and maintain the heat to cook foods.
A crock holds heat and distributes it evenly thus providing a constant and thorough heat distribution. It is ideal for long, slow cooking times which use low to medium heat.
Recipes for Easy Crockpot Meals
Here is a list of my favorite easy crockpot or slow cooker meals that need few if any side dishes.
Easy Crockpot Chicken Parmesan – This recipe is one of my first crockpot meals that sold me on the ease and deliciousness of crockpot cooking! You will not be disappointed!
Baked Potatoes in Crock Pot – Think, baked potato bar! This is a fun and super easy way to serve a delicious economical meal that pleases everyone.
Easy Crockpot Chili Recipe – I used to call this "Farmer's Supper" because, well, we are farmers (rather work a commercial vineyard) and this is hearty enough to satisfy even my farm boy's appetites.
Crockpot Chicken Pot Pie – This is a new take on a old family favorite for me and as usual, even this classic is delicious when made in the crockpot!
5 Super Easy Crockpot Recipes – I know, this says "5" recipes but I couldn't help myself and gave you 2 bonus recipes!
White Chicken Chili Crockpot Recipe – If you have never tasted White Chicken Chili, you are in for a treat. And, as you know, you can't get easier than a crockpot meal!
Crockpot Chicken Spaghetti Recipe – Definitely one of our family's favorites! You can even cook the pasta in the crockpot!
Minestrone Soup in the Crockpot – Minestrone Soup in the Crockpot is one of those easy crockpot meals that just needs a salad and maybe some bread. Then again, you can just eat the soup for a delicious meal.
Crockpot White Chicken Enchilada Casserole – All you need here is to add some salsa, sour cream and maybe a salad if you are feeling especially generous!
30 Pasta Crockpot Meals – 30 wonderful crockpot meals that contain pasta. The beauty of these meals are that no sides are needed. Just load the crockpot, cook and dinner is ready when you are!
Complete Chicken Dinner in Crockpot is just like the name states – a complete dinner. Add your favorite veggies and chicken, set it and go – dinner is ready when you are!
Crockpot Bone Broth – Talk about easy – that is what making bone broth in the crockpot is all about! This may just become your new favorite way to make it.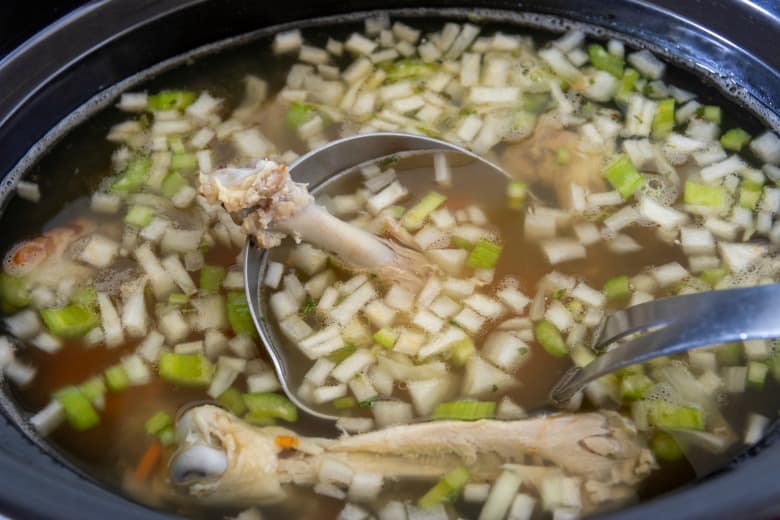 30 Easy Crockpot Dinners for Two is a roundup which gives you great ideas for easy crockpot meals to have ready when you are. Made for two and easily scaled up for larger families, you are in for a treat!
Crockpot Stuffed Peppers gives that fresh garden-picked stuffed pepper delight even if you don't have a garden! Easy as mixing the filling and cooking in the slow cooker. As with many of the other recipes, if you desire, you can add a salad and maybe some bread – or not!
More to come each week!
Why is a Crockpot So Useful?
A crockpot allows hands-free cooking over long periods of time. You can leave it unattended for hours.
It is perfect for easy crockpot meals that are perfect for dinner. Simply, place ingredients in the crockpot in the morning, turn it on and dinner is ready in the evening!
What Can You Use a Slow Cooker For?
To cut down on time spent in preparation.
Meal prep can be done the night before, saving time in the morning.
Allows for the use of cheaper cuts of meat since it cooks slowly and helps make them tender.
Stretches meat and saves on your grocery budget. – The flavors of the meat are enhanced with slow cooking so, a less amount of meat is needed to flavor the whole dish.
Decreases the need to add extra liquid since it is sealed and there is not the evaporation as with traditional cooking.
How Long Should I Cook a Crockpot Recipe?
According to BBC Good Food, if a dish usually takes the following length of time in the oven:
15-30 mins, cook it for 1 1/2 – 2 1/2 hours on High or 4 – 6 hours on Low
30 mins – 1 hour, cook it for 2 – 3 hours on High or 5 – 7 hours on Low
1-2 hours, cook it for 3 – 4 hours on High or 6 – 8 hours on Low
2-4 hours, cook it for 4 – 6 hours on High or 8 – 12 hours on Low
Root vegetables like potatoes can take longer than meat and other veggies so put these at the bottom of the pot. (Source)
What Temperature is Low and High on the Crockpot?
The "Low" temperature on a crockpot is about 200F and the "High" temp is about 300F.
A rule of thumb is cooking on "Low" takes twice as long as cooking on "High"
Safety Precautions When Using a Crockpot
While cooking with a crockpot or slow cooker is completely safe and convenient, there are some safety precautions to keep in mind:
Follow the manufacturer's directions and recommendations.
Fill your crockpot between one-half and three-quarters full.
Place the unit on a hard flat surface.
Have the crockpot away from the edge of counters and out of reach of young children as the unit gets hot.
Keep the power cord away from the edges of their surface area
Check power cord for any fraying or tears.
Use the lid or side handles when touching the crockpot to prevent burns.
How Do You Clean a Crockpot?
Once you are finished cooking, unplug the slow cooker and allow it to cool completely before cleaning.
I serve the crockpot meal right from the crock and any leftovers are transferred to a smaller container then, I allow the crock to cool completely and wash with warm soapy water.
Filling the hot crock with cold water immediately after cooking can cause it to crack.
For the housing unit, allow it to cook and wipe with a warm damp cloth – do not submerge in water.
What is the Best Crockpot or Slow Cooker on the Market?
I use this 6 qt Crockpot which works very well and has a dial control. I also use this 6 qt Programmable Crockpot and really like it.
If you will be leaving the crockpot for long periods of time, a programmable one is a good investment because it can be set for the length of time and either "Low" or "High" heat.
After the time is complete, the programmable crockpot clicks to "Warm" which keeps the food hot and at a safe temp until you get home.
The Instant Pot also can be used as a crockpot and works very well. So, if you are short on space, that is the way to go! I use the 8 qt and love it.
Can I Cook Freezer Meals in the Crockpot?
Yes, but it is recommended to thaw the frozen meal the night before in the fridge or in the microwave first. It is important for all ingredients to reach 140F within about 2 hours for food safety.
The crockpot is not designed to bring a block of ice (like a frozen freezer meal) to boiling which means the food may spend too long in the danger zone – 40F – 140F. (Source)
Should I Preheat My Crockpot Before Cooking?
A case can definitely be made for the benefit of preheating the crockpot before cooking. Especially if you have seared meat before adding it to the crockpot – you are not adding hot meat to a cold crock.
Preheating can also cut down on cooking time because it can take 15 – 20 mins for the crockpot to heat up. And, can help preserve the aromatics and flavors of food.
How to Preheat a Crockpot
Preheating a crockpot is easy, can cut down on cooking time and preserves flavors especially of seared meat.
Preheat by pouring into the crockpot, very hot or boiling water, turn on high and allow it to preheat. Pour the water out before adding the ingredients of your recipe.
Should Food Be Covered With Liquid in a Crockpot?
It is not necessary for food to be covered when cooking in the crockpot. Braising is cooking food not covered with liquid and simmering is cooking food covered with liquid.
Both work equally well.
What is the Best Size Crockpot?
That will depend on your family size. But, most recipes are meant for the average sized slow cooker which is a 6 qt.
How Long to Cook Potatoes in a Crockpot?
Crockpot Baked Potatoes are super easy to make and take about 7 hours to cook.
You can check the recipe linked above for details but cooking potatoes in the crockpot gives a deliciously moist and creamy potato ready to top with your favorite toppings.
Think – Baked Potato Bar!
Can I Leave a Crockpot on Low Overnight?
Yes, it is perfectly safe to leave your crockpot on overnight. I have left mine on low and on high at different times.
For safety, periodically exam the cord of the crockpot to make sure there are no splits or fraying.
Is it Safe to Leave a Crockpot on All Day?
Yes because a crockpot uses low wattage electricity. According to a representative from the Crockpot company and also found on the FAQ's, Aileen Fanjul states,
"It is safe to leave your Crock-Pot® slow cooker on while you are out of the house," she states. The slow cooker runs on very low wattage, allowing you to cook a meal over an 8-10 hour period of time. (Source)
Can I Put My Crockpot in the Oven?
Because the "crock" part of the crockpot is clay and made for cooking, yes, you can place the crock in the oven and cook a dish in it.
But, do not place the heating unit (the part you put the crock into) in the oven or it will melt. The crockpot (the housing unit and crock) is meant to be used as a stand alone appliance for cooking.
Can I Put Raw Meat in the Crockpot?
Yes! In fact, cooking raw meat as in roast, brisket, ribs, chicken etc., is one of the best ways to cook meat so it will be tender and delicious.
The meat is cooked over a long period of time at low heat which helps keep in the juices and make the meat moist and tender while developing the flavors.
Can I Use Parchment Paper in the Crockpot?
Yes, parchment paper can be used to line the slow cooker. This makes it easier to lift an entire dish out of the crockpot by the edges of the paper.
Use parchment paper when cooking dishes like cakes, pizza or quiche.
Do You Use the Liners Sold for Slow Cookers?
I have not personally used the crockpot liners but my daughter-in-law does and loves them because they make cleanup so easy.
They are not meant to use in the oven.
The liners are BPA free and FDA compliant.
What is Your Favorite Crockpot Meal?
Leave a comment I would love to know!