Easy Crockpot Chili Recipe is hearty enough to satisfy even a farmer's appetite but it is not just for farmers! Easy crockpot meals can be served alone, with bread or salad.
I love one dish dinners!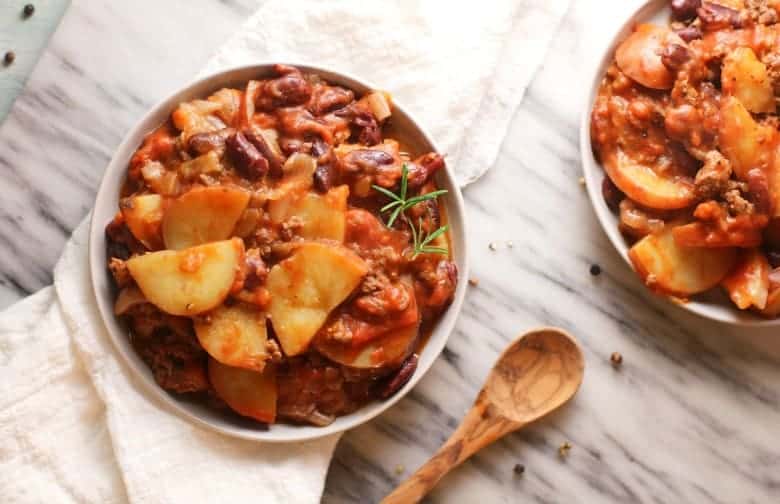 Using A Crockpot Is Great During The Summer Months
If you are like me, you love meals that keep the kitchen cool in the hot summertime. With temperatures in the high 90's and over 100 F, I find myself using the crock pot more often.
For our family size, my good old standby Hamilton Beach crock pot is just not large enough even though it is 6 quarts. Remember, we still have 6 of our 10 children at home and 4 of them are boys – farm boys with BIG appetites!
So, I found that if I triple or even quadruple recipes, I can use my 22 qt roaster! Not only do I keep the kitchen cool, I often have enough leftovers for another meal – YEAH!
I further keep the kitchen cool by placing the roaster outside. We have an outlet right by the backdoor so I can quickly check on it and stir if necessary. I love it when I am creative. ;)
OK, I cannot go on without confessing, it was John who suggested placing it outside, but I did it!
Easy Crockpot Chili Recipe Step by Step
Brown the ground beef – I do not drain mine. (Not shown)
Layer in the slow cooker in this order – onion, ground beef, sliced potatoes and beans. (photo 1 – 3)
Add to the tomato sauce the flour, salt, pepper, oregano, garlic and mix well – pour over the layers in the slow cooker. (photo 4)
Cover and cook on low 8 hours or high 4 hours – the potatoes should be tender. (photo 5)
Stir, Serve and Enjoy! (photo 6)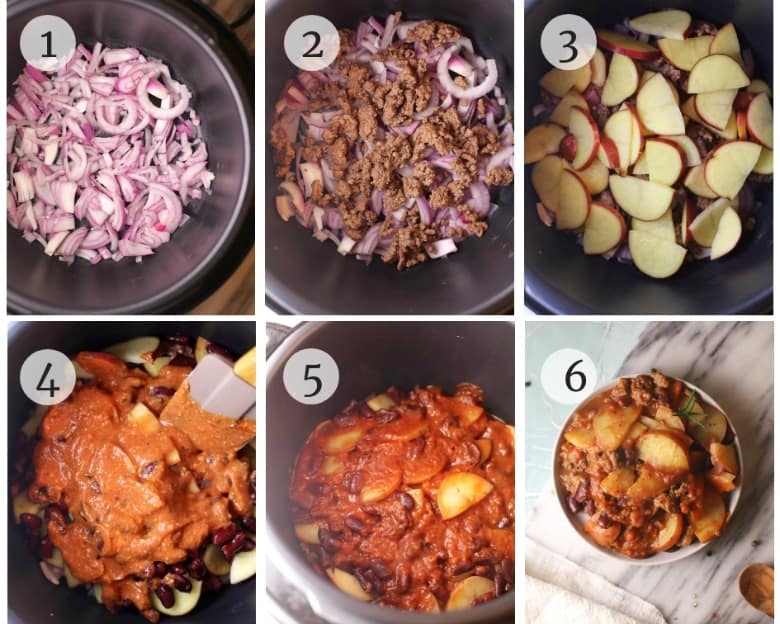 What To Serve With This Easy Crockpot Chili Recipe?
This Crockpot Chili Recipe is a one dish meal unless you want to add a side vegetable. Here are some suggestions for some additions:
1. Salad – Try making your own salad dressing for an extra special treat! Here are some to get you started:
2. Don't forget the Sourdough bread! The link given is the recipe I use with my whole wheat sourdough starter and it is delicious.
Crockpot Chili Recipe – For Family and Friends
While this crockpot chili recipe helps keep my kitchen cool, it is also hearty enough to serve and satisfy even my farm boys.
Yes, it is basically a meat and potatoes meal but being made in the crock pot (or roaster), all the preparation is done ahead of time.
This makes this easy chili crockpot recipe the perfect meal for entertaining – just add a salad and bread!
The night before I want to serve it, I cook dried beans that have soaked throughout the day, I also brown the ground beef and chop the onions.
We are still enjoying the beef from the steer we butchered but, if you are looking for quality grass fed beef, try my affiliate US Wellness Meats.
They also carry grass fed lamb, poultry, bison, pork, duck, tallow and more.
In the morning, all I have to do is slice the potatoes, season the tomato sauce and put it all in the crock pot/roaster and let it cook!
Why Do People Love Crockpot Chili So Much?
You may be wondering why chili is such a good dish to serve to the people you love. Chili is one of those meals that people love because they're so easy to make.
As you can see from this recipe, you simply put it in the crockpot and you're good to go in no time.
Another reason people are loving chili is because it's a good way for people to get in their nutrients.
In a world where everyone eats fast food so much of the time, it's nice to know you can sit down and eat a dinner that has all the nutrients you could desire.
Even if you're on a low carb or Keto diet, you can leave out the beans and potatoes while still having a nice, hearty meal.
Is Chili a Soup?
Some of you may be sitting down right now wondering if Chili is a soup. Some people would consider chili a soup and others may not. It just depends on where you're from.
Honestly, chili could be considered a stew or a chili by definition. It depends on what you want to call it and what your family is content calling it.
Either way, everyone can agree that chili is delicious and something that should be served at the next family gathering.
Is Chili Healthy?
The age old question is… is Chili healthy?
The average amount of calories in a cup of chili is 247. This means that the caloric part of chili makes it pretty healthy.
Eating a bowl of chili will fill you up and keep you full for a few hours, which is nice. Some other reasons to consider chili healthy includes the following:
Protein. If you're putting beans in your chili or any kind of meat, then you're a good dose of healthy protein which is always a plus.
Fiber. Although, this can be hard to talk about and embarass some, your body needs fiber and chili is full of it.
Boosts the Immune System. In the dead of winter, when it's time to avoid the sicknesses that go around, chili can help boost your immune system.
So, if you're looking for a meal that can help your body in more ways than you can imagine, it's time to make chili just a little more often.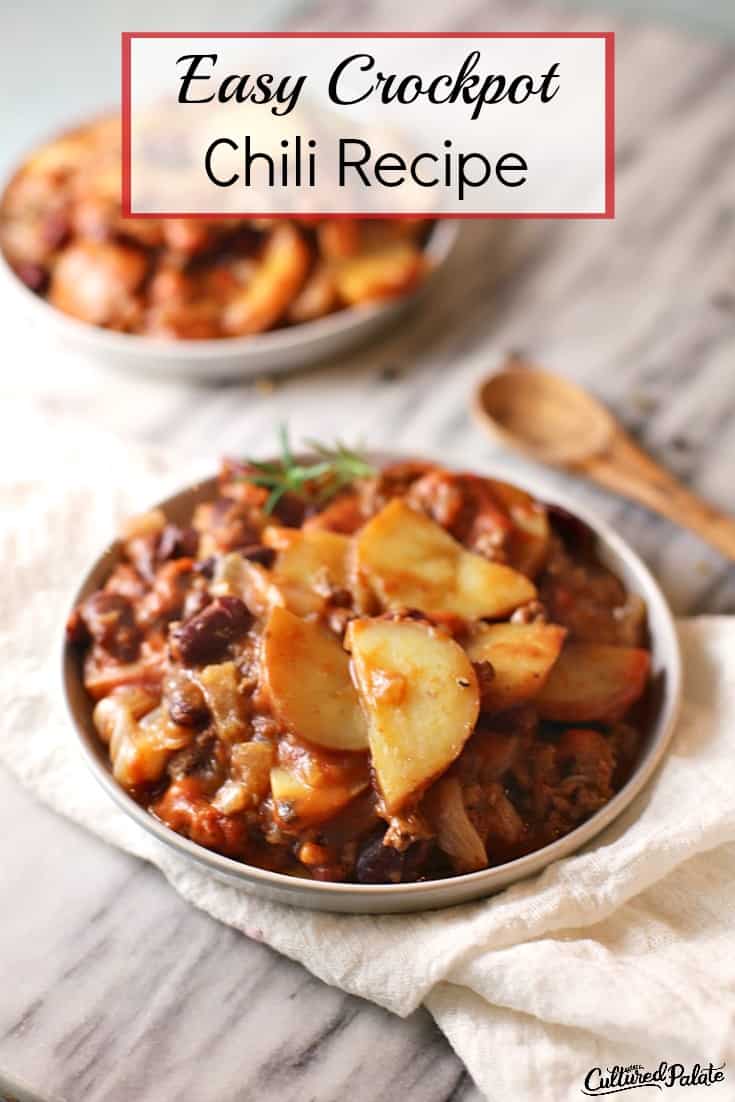 If you've tried this Easy Crockpot Chili Recipe or any other recipe on Cultured Palate please take a minute to rate the recipe and leave a comment letting me know how you liked it. I love hearing from you! You can also FOLLOW ME on PINTEREST, FACEBOOK, INSTAGRAM, YouTube and TWITTER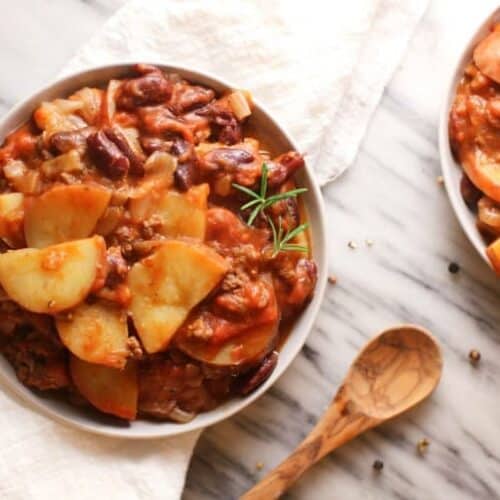 Easy Crockpot Chili Recipe
Have you had chili with potatoes? It's very hearty.
Keyword:
bulk cooking, crockpot, crowd pleaser, easy, Easy Crockpot Chili Recipe
Ingredients
1/2

lbs

ground beef

6

medium potatoes sliced

unpeeled

2

medium onions

chopped

1

can kidney beans

drained (or dried beans cooked)

32

oz

tomato sauce

3

Tbsp

flour

1

Tbsp

salt

2

tsp

black pepper

1

Tbsp

oregano

2

tsp

garlic powder
Instructions
Brown the ground beef - I do not drain mine.

Layer in the slow cooker in this order - onion, ground beef, sliced potatoes and beans.

Add to the tomato sauce the flour, salt, pepper, oregano, garlic and mix well - pour over the layers in the slow cooker.

Cover and cook on low 8 hours or high 4 hours - the potatoes should be tender.

Stir, Serve and Enjoy!
Recipe Notes
To Serve
Enjoy as a hearty meal all on its own OR
Serve with a side salad
Serve with sourdough bread
Nutrition Facts
Easy Crockpot Chili Recipe
Amount Per Serving
Calories 291
Calories from Fat 72
% Daily Value*
Fat 8g12%
Cholesterol 26mg9%
Sodium 2004mg84%
Potassium 1567mg45%
Carbohydrates 42g14%
Protein 15g30%
Vitamin A 670IU13%
Vitamin C 37.5mg45%
Calcium 115mg12%
Iron 9.9mg55%
* Percent Daily Values are based on a 2000 calorie diet.
What Do You Serve With Chili?
Pin It!