Fruit Punch Carrot Juice is the way to make carrot juice taste even better! Carrot juice recipes are popular because they taste good to you and are healthy for you.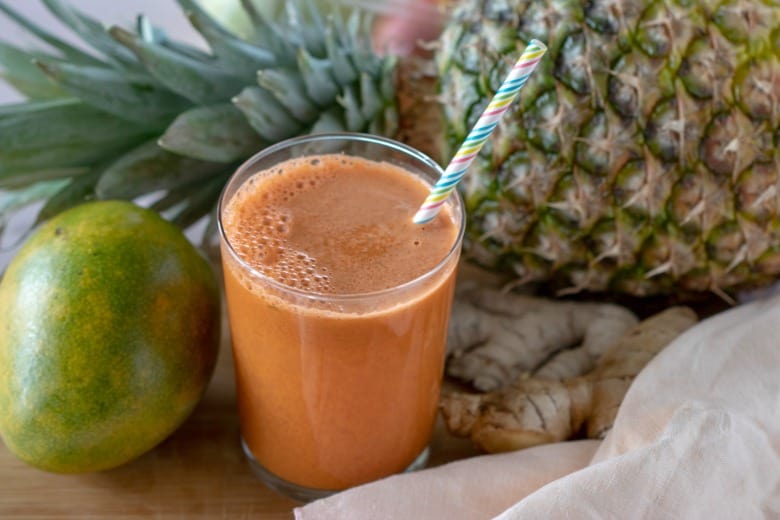 Emphasis on both - taste and good for you!
I'm all about healthy living but, just because something is "healthy" does not mean it tastes good. If I am going to eat or drink something, it is gonna taste good.
This Fruit Punch Carrot Juice is not only good, it is delicious! And, not just to me but to my family too.
This juice recipe, as with all recipes found Cultured Palate, has to pass the approval of my family. And, with 6 of our 10 children still at home, that is quite a test panel!
How to Make Carrot Juice Taste Better
If you have ever wondered how to make carrot juice taste better, this recipe is what you have been looking for!
I get it. Sometimes, you juice a bag of carrots and the carrot juice tastes bitter - ugh!
There can be several reasons for this including:
the carrots were picked before ripening
the makeup of the soil they are grown in
lack of water while they are growing
Never fear, help is on its way. By adding other ingredients that are naturally sweet, you carrot juice can taste better.
Why is Fruit Punch Carrot Juice Healthy?
Like all carrot juices, the health benefits come from the ingredients. With this fruit punch, you are not only getting all the benefits of the carrots but the fruit as well.
You can find more about the healthy benefits of carrots on my Carrot Juice Recipes page.
A few of the highlights are that carrot juice can help lower blood pressure, decrease the risk of diabetes, and helps support a healthy immune system.
This juice recipe is especially good for your immune system. Most people think of citrus fruits as a great source of vitamin C. Think oranges, lemons...
But, did you know that mango and pineapple are also have significant amounts of vitamin C?
Yep, and they are all in this Fruit Punch Carrot Juice recipe, which means, you have a freshly juiced punch recipe and now know how to make carrot juice taste better!
Benefits of Juicing
The main benefit of juicing comes from the fact that you are separating the fiber (pulp) from the nutrients. This makes the nutrients easier for your body to absorb and use.
So, this recipe is a "punch" in 2 ways - a nutritional punch or boost and a fruity punch drink! ;)
Don't you love how I did the play on words there?
Besides the concentrated nutrition that comes in a glass of carrot juice, you also have the nutrient profile of the ingredients noted above.
How Many Carrots Do I Need for 1 Cup of Juice?
Depending on the size of your carrots, it can take from 3 - 6 carrots to make one cup of juice.
What About the Leftover Pulp?
I never waste the leftover pulp! I love to add my vegetable juice pulp to spaghetti sauce for added flavor.
Since the pulp from this recipe has so much fruit in it, I ususally give it to my pets or compost it for rich garden soil.
Some say their cats and dogs enjoy it but our cows and chickens absolutely love the leftover pulp from juicing.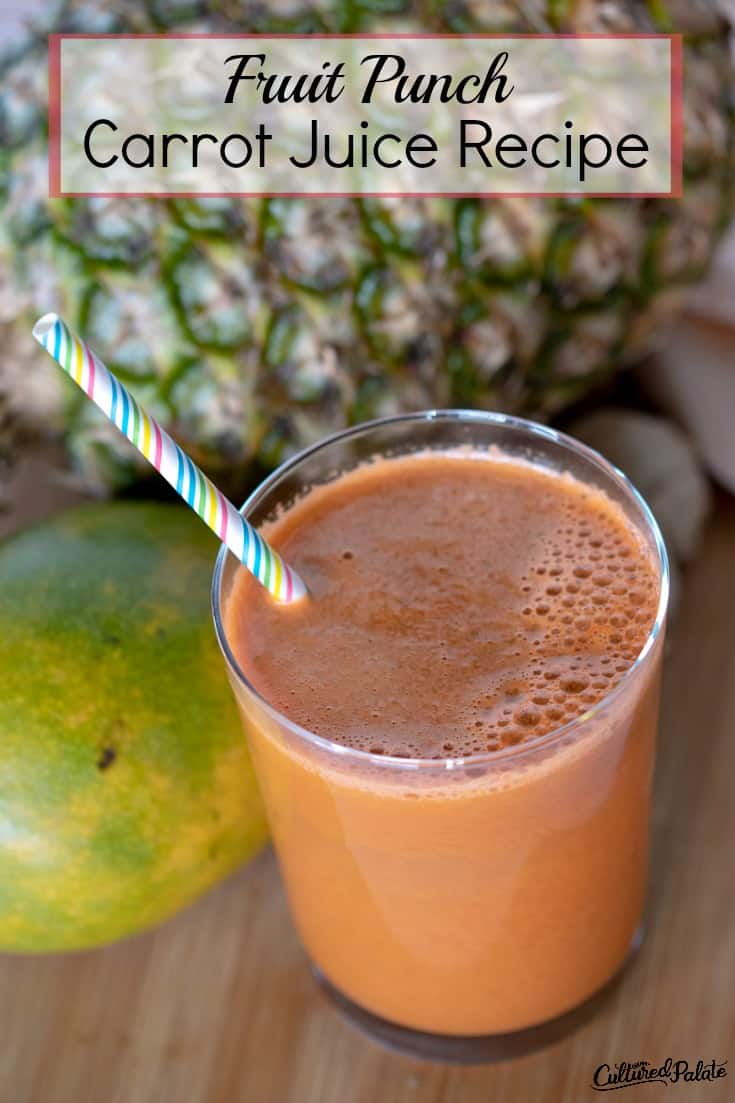 If you've tried this Fruit Punch Carrot Juice or any other recipe on Cultured Palate please take a minute to rate the recipe and leave a comment letting me know how you liked it. I love hearing from you! You can also FOLLOW ME on PINTEREST, FACEBOOK, INSTAGRAM, YouTube and TWITTER.
📋 Recipe
Fruit Punch Carrot Juice
A healthy punch recipe that tastes good to you and is healthy for you!
Ingredients
6

carrots

1

mango

1

cup

pineapple fresh or canned in juice

2

oranges

½

lemon

½

inch

piece ginger
Instructions
For Juicer:
Wash and prepare all ingredients.

Process ingredients through juicer and catch the juice.
For Blender:
Wash and prepare all ingredients cutting them into chunks.

Place ingredients in the blender and blend well on high. You may need to add ¼ cup or more of pineapple juice to blend well.

Position a muslin cloth or nut milk bag over a container.

Pour blender contents into cloth or bag and squeeze as much juice out as possible catching the juice in the container.
Notes
For more sweetness, add 1 -2 more oranges and more pineapple.
Serve immediately or chilled.
Nutrition
Calories:
118
kcal
Carbohydrates:
29
g
Protein:
2
g
Sodium:
64
mg
Potassium:
544
mg
Fiber:
5
g
Sugar:
20
g
Vitamin A:
15905
IU
Vitamin C:
82.2
mg
Calcium:
70
mg
Iron:
0.6
mg
Do You Have Any Recipes That You Use Leftover Pulp In?
Pin It!