Gluten Free Chicken Pot Pie is a healthy way to put a smile on your face - you will be transported back to days of old and little tins filled with pot pies!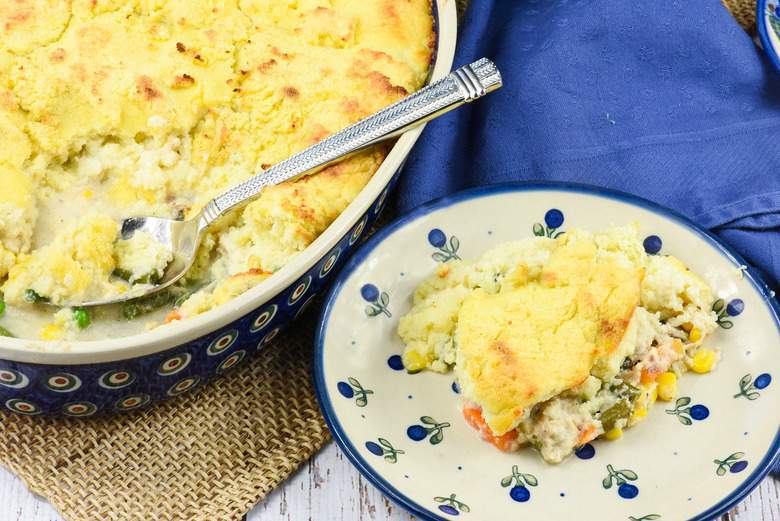 I have shared several recipes that I consider to be in the comfort foods category. If I had to pick one recipe to top the list, I think it would be Mom's Chicken Pot Pie!
I remember as a little girl loving those little tins of store-bought chicken pot pies! Not only does everyone get their own tin of pie, but we usually ate them in front of a television show!
As good as those memories are, they do not compare to the taste of the homemade version- the way my mom made it.
My children had no clue what a store bought chicken pot pie was like until a few months ago when I bought a box for them to try.
Store Bought Chicken Pot Pies = Disappointment
What a disappointment! To start with, I remembered those little tins being a whole lot bigger than they are now.
The boys (and their farm boy appetites) looked at the individual pies on their plates and asked, "are there more?" Secondly, the ratio of crust to filling is way off!
When making Homemade Chicken Pot Pie, I always have lots of filling with chicken and veggies in it. To me, the crust was the best part, but it obviously is not to them!
Being on a gluten-free, grain-free diet means that when I make Homemade Chicken Pot Pie, I would miss out on one of my favorite comfort foods - unless, I came up with a gluten-free version.
After a bit of trial and error, I have created a delicious, Gluten Free Chicken Pot Pie.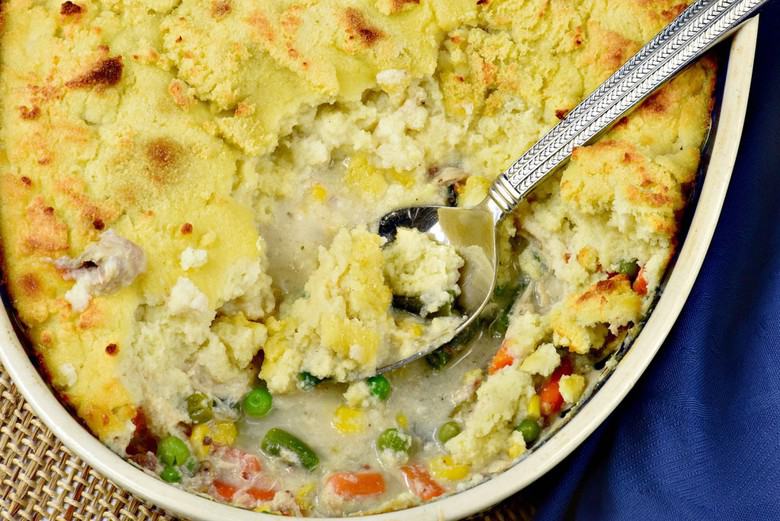 Homemade Gluten Free Chicken Pot Pie Is Healthy And Delicious!
Do I still make regular Homemade Chicken Pot Pie? Yes.
The difference is that now, I also make a dish of Gluten Free Chicken Pot Pie for myself - I get to eat the whole thing myself!
It is so much better than those little tins - it is bigger, has no unnecessary ingredients and it is healthy! It's a win-win.
If you are looking for ways to incorporate healthy chicken bone broth into your diet, this is a great recipe. I like to start with a whole chicken - place it in the crock pot, fill with water and cook overnight on high- this gives a lot of delicious homemade chicken broth.
In the morning, it is ready to strain, de-bone and get on with the gluten free Chicken Pot Pie recipe. I put the bones back in the crock pot, refill it with water (plus a tablespoon of vinegar) and cook it for 24 hours on high to make a rich bone broth.
Tips For Making Gluten Free Chicken Pot Pie:
For an even healthier version - make your own cream of chicken soup
Feel free to add extra veggies to the filling to use up any leftovers
You can freeze this pie once completely cooled
Try using homemade bone broth to make is healthier and more nutritious
If you've tried this Gluten Free Chicken Pot Pie recipe or any other recipe on Cultured Palate please take a minute to rate the recipe and leave a comment letting me know how you liked it. I love hearing from you! You can also FOLLOW ME on PINTEREST, FACEBOOK, INSTAGRAM, YouTube and TWITTER.
📋 Recipe
Gluten Free Chicken Pot Pie
Cultured Palate
A gluten-free take on a traditional favorite.
Ingredients
Filling
2

cups

boned chicken

1 ½

cups

chicken broth

2 ½

cups

frozen mixed vegetables
Crust
½

cups

coconut flour

1 ½

teaspoon

baking powder

¼

teaspoon

salt

½

cups

butter

melted

2

cups

milk

3

eggs
Instructions
For Filling
Mix all ingredients and place in a 9 x 13 greased dish.
For Crust
Mix the flour and baking powder.

Melt the butter and add it to the flour mixture along with all the other ingredients - mix well.

Taking handfuls of the batter, gently pat flat and lay over the top of the chicken pot pie mixture.Bake at 375 F for 45 mins or until the crust is browned.
Notes
Tips For Making Gluten Free Chicken Pot Pie;
Feel free to add extra veggies to the filling to use up any leftovers
You can freeze this pie once completely cooled
Try using homemade bone broth and/or homemade cream of chicken soup to make is healthier and more nutritious
Nutrition
Calories:
532
kcal
Carbohydrates:
29
g
Protein:
26
g
Fat:
34
g
Saturated Fat:
18
g
Cholesterol:
189
mg
Sodium:
667
mg
Potassium:
672
mg
Fiber:
10
g
Sugar:
5
g
Vitamin A:
5810
IU
Vitamin C:
15.8
mg
Calcium:
203
mg
Iron:
2.8
mg