Thick creamy and delicious homemade cream of chicken soup. This cream of chicken soup recipe has so much flavor and is surprisingly easy to make. You'll never buy store bought again!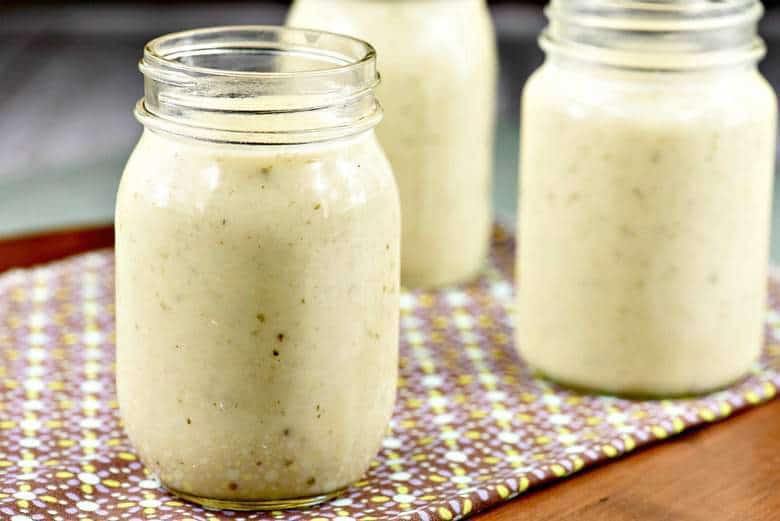 I have to be honest about something, dear readers: I sometimes buy store-bought ingredients.
Yes, it's true! On occasion, I won't have the time or the proper ingredients to make a fully natural version of something. So I'll spring for the store bought version of it and do my best to make a more natural version the next time.
If I keep getting a certain food over and over again, I'll start trying to think of ways I can make it myself. Because if I'm needing to buy it over and over again, it's a staple in my pantry.
If it's a staple in my pantry, that means we are eating if a lot and I want it to be as healthy as possible!
I don't know about you but, every time I buy a can of Cream of Chicken Soup, I think to myself, "You should try to make a homemade version and get rid of all the unnecessary ingredients!"
But then, I buy that can, make the recipe that calls for it and forget about it until the next time.
This scenario is especially repeated with traditional family recipes like Broccoli Nut Casserole and Mom's Chicken Pot Pie!
The last time I made Mom's Chicken Pot Pie, I reached for the can of Cream of Chicken Soup and thought, "This is ridiculous - you know the unhealthy ingredients so, now it's time to make a cream of chicken soup recipe!"
How is this Homemade Cream Of Chicken Soup Recipe So Much Healthier?
Let's talk about what is left out of this homemade version. Here are a few ingredients listed on the last can I have in my pantry: modified cornstarch, soybean oil, MSG, soy protein concentrate, natural flavors, yeast extract, autolyzed yeast extract, disodium phosphate...UGH!
My inspiration came from this recipe by Raising Generations Nourished. I changed it just a bit to fit my taste and to use ingredients that I normally have on hand. I have to say that this is a keeper of a recipe.
In fact, I will never buy another can of Cream of Chicken Soup!
Homemade Just Tastes Better
As is true of most recipes, the homemade version is more flavorful and, of course, healthier. When added to Mom's Chicken Pot Pie, no one guessed that the difference was Homemade Cream of Chicken Soup! It blended in well with the rest of the ingredients and tasted great.
I tend to be a by-the-seat-of-my-pants type of gal! I write out a menu plan so, I do plan ahead to some extent. But, while the following recipe is easy to whip up (only 20 minutes.), I don't always have time to make it, put a recipe together using it, cook it and get it on the table by mealtime! That is where the larger batch comes in.
When I have extra time, I make the large batch. Once made, I let the soup cool completely and freeze it. Then, Homemade Cream of Chicken Soup is ready to thaw and use - just dump it out as you would if you had opened a can.
Fewer Ingredients
Besides the different spices in this cream of mushroom soup recipe, it only contains five ingredients. That is a big difference since I did not even list all the ones on the store-bought can!
This is not something just for master chefs - there's a trend of making your creamy chicken sauce like the 5-ingredient sauce from this creamy chicken casserole recipe.
So, by making using this cream of chicken soup recipe and making the homemade version, we are eliminating unnecessary and unhealthy ingredients and adding nutrient dense ones.
Making such healthy changes makes me feel so happy and fuzzy inside - doesn't it you?
I make this Cream of Chicken Soup recipe using my immersion blender (affiliate link) and blend it right in my boiler. If you don't have an immersion blender, just transfer it to your blender and then return to the boiler to heat if necessary.
Wondering how to substitute homemade for the cans of Cream of Chicken Soup? 2 cups (1 pint) of soup = 1 can of Cream of Chicken Soup.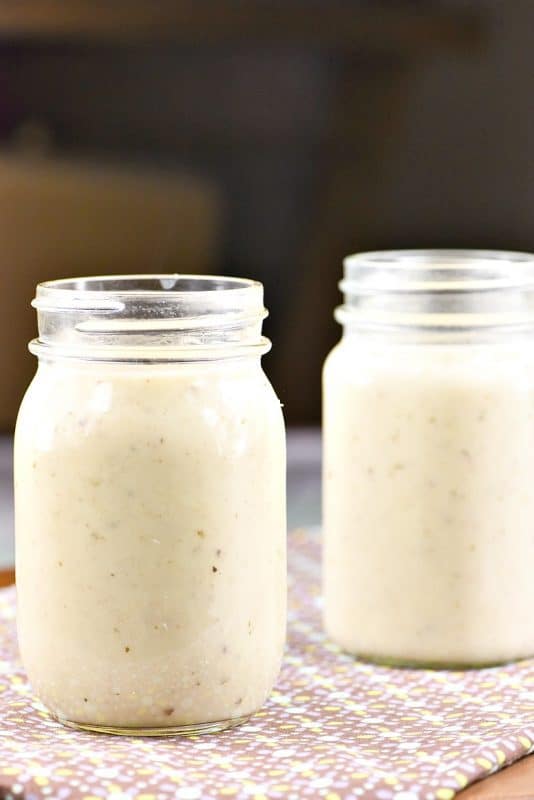 If you've tried this Homemade Cream of Chicken Soup Recipe or any other recipe on Cultured Palate please take a minute to rate the recipe and leave a comment letting me know how you liked it. I love hearing from you! You can also 
FOLLOW ME
 on 
PINTEREST
, 
FACEBOOK
, 
INSTAGRAM
, 
YouTube
 and 
TWITTER
.
Now for the recipe...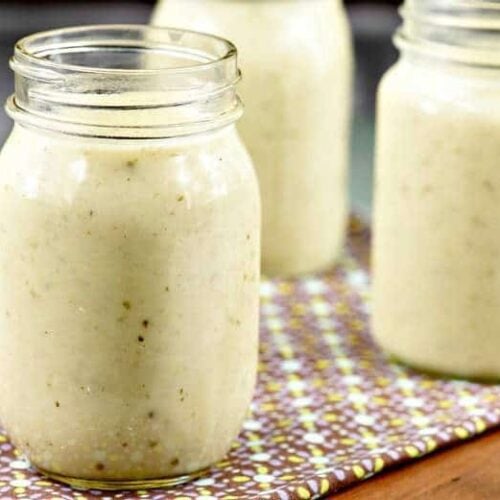 Homemade Cream of Chicken Soup
Cultured Palate
Great replacement for a can, and you can make a batch ahead and freeze.
Ingredients
For 2 cups
1

onion

chopped

1

c.

chicken broth

1

c.

milk

¼

c.

flour or white rice powder for gluten-free

2

tablespoon

butter

1

teaspoon

parsley

½

teaspoon

salt

¼

teaspoon

pepper
For 12 cups
3

onions

chopped

6

c.

chicken broth

6

c.

milk

1 ½

c.

flour or white rice powder for gluten free

4

tablespoon

butter

2

tablespoon

parsley

1

tablespoon

salt

1 ½

teaspoon

pepper
Instructions
Saute the onions in butter until translucent.

Add the broth, spices and bring to a boil.

Using an immersion blender (or blender), blend until smooth.

Return to heat and keep the broth mixture simmering.

Whisk the milk and flour (or rice powder) together in a mixing bowl.

Pour the milk and flour mixture into the simmering broth whisking as you pour.

Continue to cook over medium-high heat until thickened - about 10 minutes or longer depending on the quantity of soup being made.

Adjust salt and pepper to taste.

Use as desired - Store in the refrigerator - Freezes well.
Notes
2 cups (1 pint) of soup = 1 can of Cream of Chicken Soup
* Please note that this recipe is used as a substitute for the canned, store-bought version. And it is great! The broth gives a wonderful flavor and you will not be able to tell the difference.
If I were serving this alone as a meal, I would add some cooked chicken to it.
Nutrition
Calories:
148
kcal
Carbohydrates:
17
g
Protein:
4
g
Fat:
7
g
Saturated Fat:
4
g
Cholesterol:
19
mg
Sodium:
587
mg
Potassium:
186
mg
Sugar:
4
g
Vitamin A:
240
IU
Vitamin C:
6.2
mg
Calcium:
81
mg
Iron:
0.9
mg
Note: Nutritional information includes the information for white flour.