Green Carrot Juice Recipe is a delicious healthy drink that entices you with its taste and color! Carrot Juice recipes are a great way to get your veggies!
If you are new to juicing and need some inspiration, how-to's, answers to frequently asked questions and other delicious recipes, be sure to check out my Carrot Juice Recipes page.
Wondering where that beautiful green color comes from? This green juice recipe gets its color from kale. But, as you will see in the optional ingredients, you can also add spinach, as well, as broccoli.
There are several reasons to add kale to your juice recipes...
Health Benefits of Kale
I love finding out why foods are good for me - don't you? If you are like me, it encourages you to eat or drink them if I know why I should!
So, let's look at kale benefits to discover why you should be adding it to your menu.
10 Health Benefits of Kale
1. May help fight and prevent diabetes.
Kale contains alpha-lipoic acid which can help lower the blood glucose levels and can increase insulin sensitivity. (1)
2. Is a good source of potassium which helps keep your heart healthy.
Having enough potassium has been shown tohelp reduce the risk of heart attacks. (2)
3. May reduce the incidents of cancer.
Kale contains chlorophyll that can help prevent the body from absorbing chemicals that are produced when meats are grilled and charred. These are called heterocyclic amines. (3)
4. Is a good source of vitamin K.
Vitamin K has been found to be important for bone health, as well as, other body systems. (4)
5. Aids digestion.
It is a good source of fiber which prevents constipation.
6. Keeps your skin and hair healthy.
Kale is  high in beta-carotene, which is used by the body and converted into vitamin A as needed. Vitamin A is important for healthy skin and hair. (5)
7. Has many important and potent antioxidants.
These include vitamin C, quercetin, kaempferol, beta-carotene, and others which have numerous beneficial effects on health. (6)
8. Is a good source of vitamin C.
Kale has 4 ½ times as much as spinach and even has more than an orange! Vitamin C is an antioxidant, important for your immune system, healthy skin, bones and much more. (7)
9. Important for eye health.
Kale is high in lutein and zeaxanthin. Both of these nutrients have been linked to greatly reducing the risk of macular degeneration and cataracts. (8)
10. Helps with weight loss.
Because kale is a nutrient packed veggie that is low in calories but high in fiber, it can help you lose weight or just maintain a healthy weight. (9)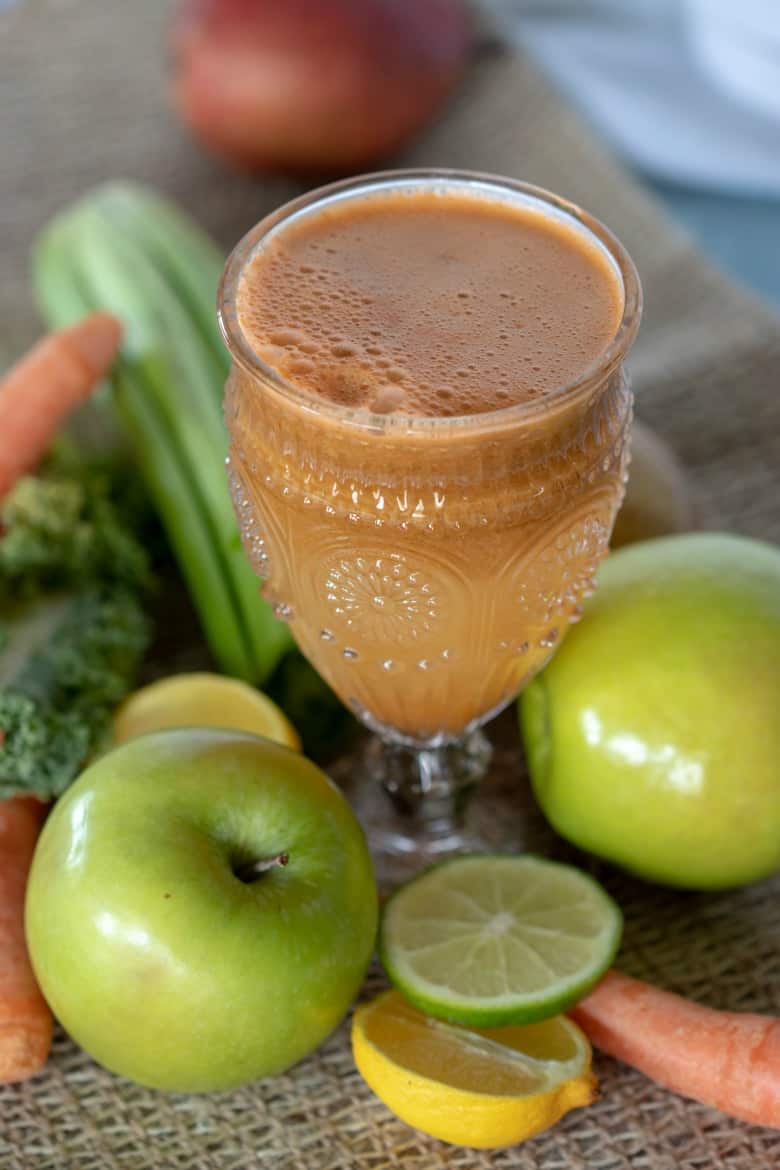 How Does This Juice Taste?
Since this juicing recipe has kale in it, you may be thinking that is has to taste earthy and yucky. Think again!
Because of the carrots and apples, it has just the right balance of sweetness without tasting too good for you - if you know what I mean!
Suggested Substitutions
The following Green Carrot Juice Recipe calls for Granny Smith apples. I like the balance of tartness they give to the sweetness of the carrots.
However, if you are new to juicing, you can add a sweeter apple such as, gala or red delicious varieties.
You can also add other fruit to provide a tad more sweetness like pear or citrus.
Can I Drink Green Juice Every Day?
Yes, you can drink a green juice recipe daily. In fact, because of the nutrients in it that help support your immune system (vitamin C and other antioxidants), it is a good idea to indulge yourself with a glass daily.
Why Use Kale Instead of Spinach?
Spinach is a nutritious vegetable also. However, since I have had a history or kidney stones, I am careful about the amount of spinach I eat. It contains oxalates that are anti-nutrients that can encourage the production of kidney stones in some people.
My hand is raised - I am one of those! So, I juice kale rather than spinach.
Do Children Like This Recipe?
My children do and guests we have served it to do also. It is important to remember, if your children are new to juicing, you might choose a sweeter apple than a Granny Smith.
Does Kale Have Much Juice?
Juicing kale does not yield as much juice as carrots or apples do. However, the juice is a nutritional punch and is loaded with nutrition for your body.
Your cells will be jumping up and down thanking you!
Can I Juice the Stems of Kale?
Absolutely! You can juice every part of the leaf - not just the softer leafy part. The stem is also packed with nutrition and should not be wasted.
When Should I Drink a Green Drink?
Anytime of day is fine to drink a glass of this Green Carrot Juice recipe.
A quick online search brings many options. Some say first thing in the morning. I don't know about you, but I don't want to get up early to juice!
I drink my glass of green juice mid-morning. The important thing is to drink it!
Can You Juice the Night Before You Drink It?
For maximum nutritional benefit, fresh juice should be consumed within 24 hours. Some people say it will last for up to 48 hours.
As it sits, the fresh juice oxidizes and not only loses the enzymes and nutrients it contains, but will also not taste as fresh.
Juicing the night before is completely up to you and your goal for juicing.
Should This Juice Be Refrigerated?
Yes, if not drinking the juice immediately after juicing, keep it in the refrigerator to help preserve the nutrients and slow oxidation.
Which Juicer do You Recommend?
For a complete review of the different types of juicers and the brands I have used, please see Carrot Juice Recipes.
I am using a Breville Juice Fountain Duo and love it! It does a great job and is not a pain to clean up! That is important to me because if it is difficult, more than likely, I will not do it! ;)
Looking for a Green Juice That Does Not Have Carrots?
I get it - you like variety and so do I! That is why there are so many variations that can be done with juicing. For a green juice that does not contain carrots, check out my Green Juice Recipe Without Carrots.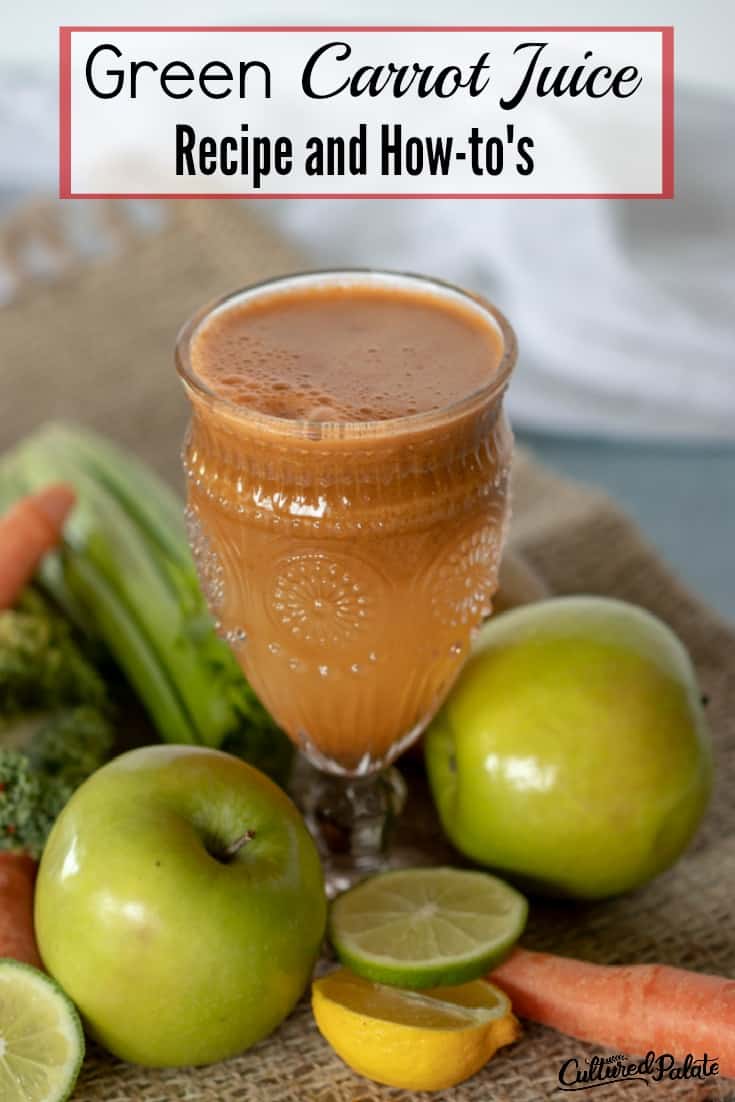 If you've tried this Green Carrot Juice Recipe or any other recipe on Cultured Palate please take a minute to rate the recipe and leave a comment letting me know how you liked it. I love hearing from you! You can also FOLLOW ME on PINTEREST, FACEBOOK, INSTAGRAM, YouTube and TWITTER.
📋 Recipe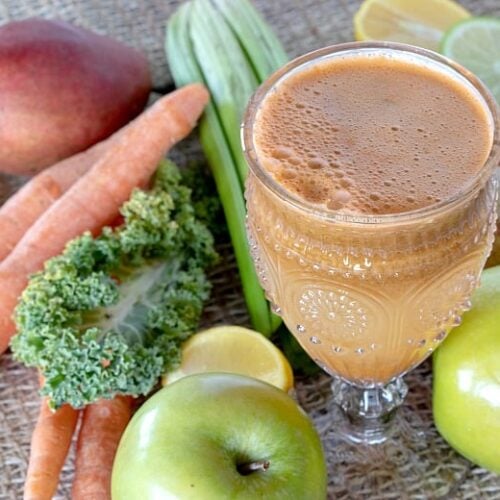 Green Carrot Juice Recipe
Green Carrot Juice Recipe is a delicious healthy drink that entices you with its taste and color!
Ingredients
5

carrots

2

Granny Smith apples

other varieties may be used

1

bunch kale

- about 8 leaves

2

stalks celery
Instructions
Juicer Instructions
Wash and prepare all ingredients cutting into small chunks if needed.

Put all ingredients through the juicer.
Blender Instructions
Wash and cut ingredients to fit into blender.

Using a muslin cloth or nut bag placed over a container to catch the juice, squeeze pulp through the cloth.
Notes
Optional ingredients: 
1 bunch spinach
 inch piece ginger root
½ pear
½ lemon or lime
Nutrition
Calories:
88
kcal
Carbohydrates:
21
g
Protein:
1
g
Sodium:
74
mg
Potassium:
463
mg
Fiber:
4
g
Sugar:
13
g
Vitamin A:
14300
IU
Vitamin C:
26.4
mg
Calcium:
60
mg
Iron:
0.5
mg
What is Your Favorite Green Juice Recipe?
Pin It!