A fresh, healthy and zingy green juice recipe made with kale, apple, cucumber and lemon. This easy to make juice is not only delicious but packed full of nutrients! A great breakfast or snack option.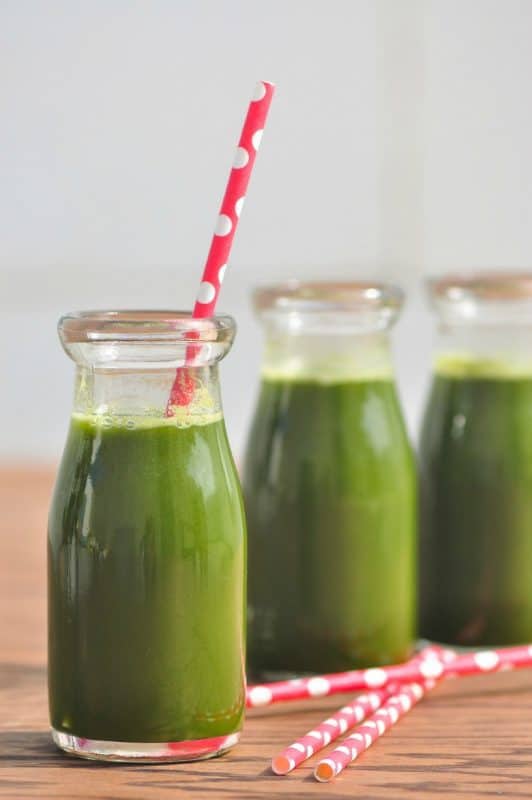 Have you jumped on the juicing bandwagon yet? I may be slow but I'm sure - and am still loving the juicing - I'm glad I made the jump!
Why Making Homemade Juice is So Healthy
My reason is simple - I want to provide the most nutrition through nutrient dense foods possible for my family's health. With juicing, all the nutrients, the vitamins, minerals, antioxidants, chlorophyll, etc. of the fruits and veggies, are readily available for absorption - they are delivered much faster to your body in liquid form since the body doesn't spend time breaking down the bulkier items like fiber.
I'm not just talking about nutrition either! The following Fresh Green Juice Drink recipe is delicious - if you are squeamish about drinking green, fear no more!
Green and Good

Green juice drinks can often be bitter. Bitter to the point of not being able to drink them - yuck! So what do you do - hold your nose and drink it anyway because they are good for you?
That's no fun! I don't buy the saying "as long as it is good for you, it doesn't matter how it tastes!" Healthy food can be good for you and good to you - just give this fresh green juice a try and I know you will agree!
Juice Power
Juicing is such an easy way to make sure you are getting lots of fruits and vegetables in your diet - you would have a hard time eating all the fruit and veggies that you can drink in one glass of juice! I gave you my favorite carrot juice recipe when I explained about my new Breville Juice Fountain Duo (available from my affiliate partner).
The following fresh Green Juice recipe is another one of our favorites. Plus, like any juice recipe, it can be adjusted to fit whatever veggies you have in the fridge or what veggies are on sale.
After watching the video Fat Sick and Nearly Dead (affiliate link) by Joe Cross, even John was a believer in the power of juicing - giving your body the nutrients it needs to nourish, maintain and heal.
It was like icing on the cake because we had just been talking about our diet and the one thing we both felt would make it better was adding more vegetables - talk about perfect timing, that video was it!
Hold the Spinach!
One green vegetable that I do not juice is spinach. Spinach is high in oxalic acid that contributes to one type of kidney stone - calcium oxalate stones.
I experienced the excruciating pain of kidney stones when we lived in Switzerland. During that time we had been eating spinach salads several times a week.
But, it was not until later that spinach was more than likely the culprit. Oh, the pain! I am convinced that kidney stones are the closest a man can come to experiencing the pain of childbirth! So, I normally do not use spinach!
If you do have kidney stones, I do have a natural solution for passing kidney stones It is a way that helps you naturally get rid of kidney stones works without invasive intervention.
Have Variety
Don't get stuck in a rut with your juicing. Experiment and be sure to have variety. After all, there are so many nutrient dense vegetables and fruits.
Each having their own make-up of vitamins and minerals, that eating a wide variety insures the best nutrition for your family. While this may sound expensive, there are at least 10 ways to save money juicing - tips I use to make sure juicing fits into our large family's budget.
Here Are Some Other Ingredients You Might Like To Add to the Green Juice Recipe
Peaches
Oranges
Berries
Zucchini
Tomatoes
Different spices such as cinnamon or turmeric
Pin It!
If you've tried this Green Juice Recipe or any other recipe on Cultured Palate please take a minute to rate the recipe and leave a comment letting me know how you liked it. I love hearing from you! You can also
FOLLOW ME
on
PINTEREST
,
FACEBOOK
,
INSTAGRAM
,
YouTube
and
TWITTER
.
Fresh Green Juice Drink
Green juice is healthy, a fun color and brings with it many benefits. Even children will enjoy it!
Ingredients
8

kale leaves

3

stalks celery

1

cucumber

2

apples - gala or granny smith

¼ - ½

lemon

⅓

bunch parsley

about ½ cup

ginger

quarter size piece
Instructions
Wash all vegetables.

Peel the ginger.

Feed all ingredients through the juicer.

Chill if desired.

Serve and enjoy!
Notes
Here Are Some Other Ingredients You Might Like To Add:
Peaches
Oranges
Berries
Zucchini
Tomatoes
Different spices such as cinnamon or turmeric
Nutrition
Calories:
117
kcal
Carbohydrates:
25
g
Protein:
5
g
Fat:
1
g
Sodium:
69
mg
Potassium:
837
mg
Fiber:
3
g
Sugar:
11
g
Vitamin A:
11625
IU
Vitamin C:
144.3
mg
Calcium:
199
mg
Iron:
2
mg
What is Your Favorite Time of Day to Drink a Green Drink?
Let me know below!