Greek yogurt is easier to make thank you might think. Starting with traditional yogurt, Greek yogurt is thicker and has a higher protein content. This recipe for how to make Greek yogurt is so easy and really delicious!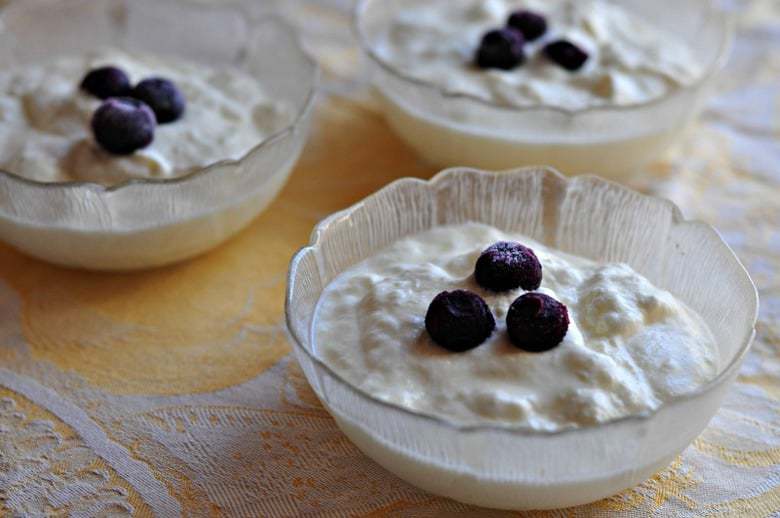 This is just one of the recipes included in my Simple Cheesemaking ebook. Follow the link to find more wonderful cheese recipes with easy to follow instructions and much more!
Greek Yogurt - rich and thick, it coats your mouth in creamy goodness! And, Greek yogurt starts with traditional yogurt. So, if you know how to make yogurt, learning how to make Greek yogurt is a breeze!
Have you ever made your own yogurt? If not, you can check out Making Yogurt to see just how easy and economical it is! Basically, you heat milk, add yogurt culture, or a Greek yogurt from a local store that contains active yogurt cultures, pour the milk, cultures and all, in a jar and maintain the warmth to allow the yogurt cultures to multiply making a great tasting, probiotic treat.
Difference Between Traditional Yogurt and Greek Yogurt
Unlike traditional yogurt, Greek yogurt is strained after the cultures have been added to the milk and has thickened. This means that Greek yogurt is thicker than traditional yogurt , has a higher protein content and a thicker mouth feel.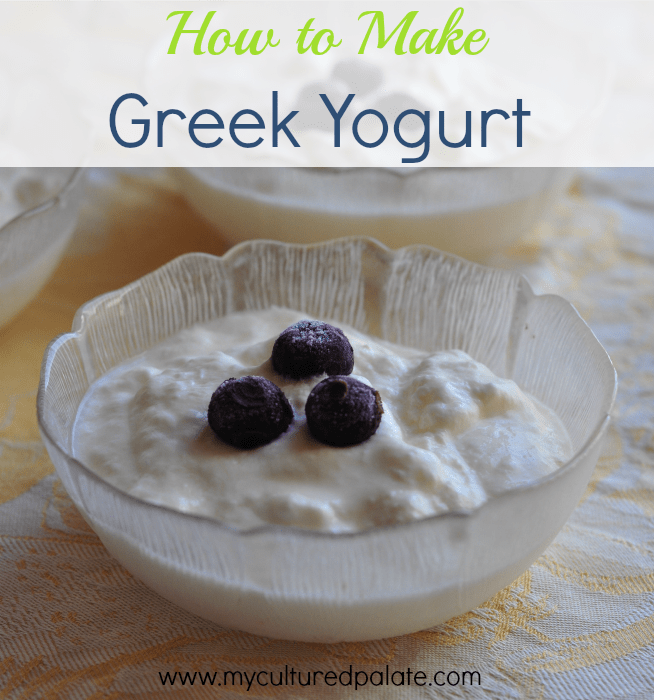 How to Make Greek Yogurt Step By Step
There are different ways to strain the yogurt but I have used cheesecloth. Placing the yogurt in cheesecloth which is large enough to draw up the edges around the yogurt, I secure it with a string and hang it suspended over a bowl to catch the whey as it strains.
Not only is it inconvenient to manage a bag of straining yogurt it is also a pain to rinse and clean the cheesecloth after straining the yogurt! I like to get all (or most, anyway) of the residual out of the cheesecloth before putting it in the wash.
If you don't, it sours and as you probably guessed, the whole load of laundry smells - bad! As a result, I didn't make Greek yogurt very often. But, that has changed...
Thanks to my daughter-in-law who loaned me her Greek Yogurt Maker! If your family likes it, you will be surprised at how easy it is when you learn how to make Greek yogurt!
The photo below shows the Greek Yogurt Maker which can make 2 quarts of Greek yogurt at a time and is BPA free. It consists of 3 pieces - the plastic lid, mesh basket and container to catch the whey.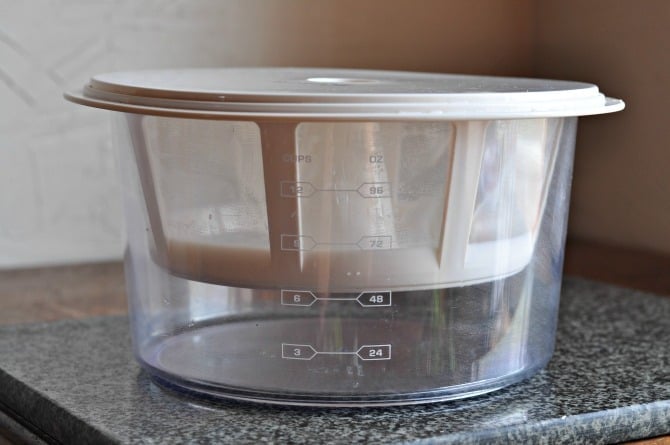 The top portion of the Greek Yogurt Maker (affiliate link) is a basket with fine mesh that allows the whey to drain through, being caught in the bottom portion of the maker. This is the best part - the mesh of the basket rinses out so easily when you are done!
Fully cultured yogurt is placed in the top basket of the Greek yogurt maker.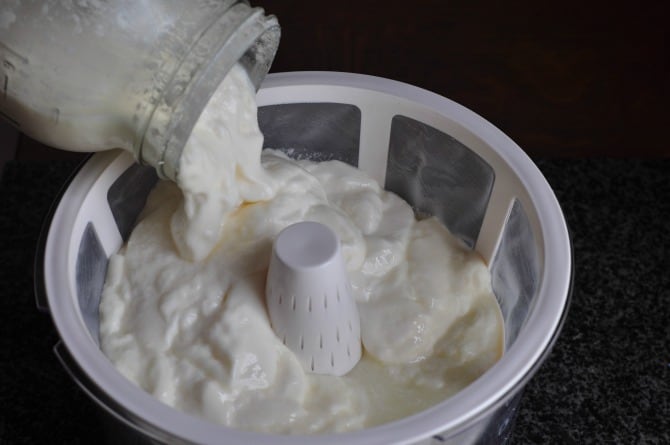 Once the yogurt is in the maker, the top is placed to cover the yogurt and allowed it to sit for about 4 hours. I put the whole Greek yogurt maker in the refrigerator until it reaches the desired consistency.
You can see from the photo below, after sitting in the refrigerator, the whey is in the bottom and the Greek yogurt is left in the basket.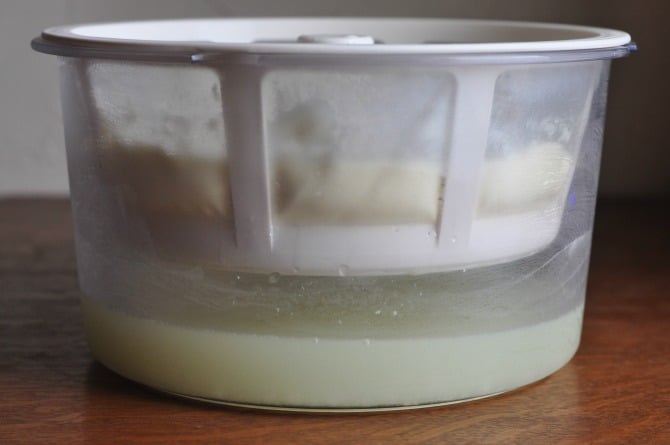 If the yogurt is left for an extended period of time, Lebneh is made. Lebneh is a very thick yogurt cheese. It has a consistency of soft cream cheese but more of a twang. I have even used it in place of cream cheese depending upon the recipe.
Purchased from, my affiliate partner, this Greek Yogurt Maker is soooo much easier and more convenient than a cheesecloth bag hanging over a bowl!
I'm all for simplifying life - how about you?
If you've tried this recipe for How to Make Greek Yogurt or any other recipe on Cultured Palate please take a minute to rate the recipe and leave a comment letting me know how you liked it. I love hearing from you! You can also FOLLOW ME on PINTEREST, FACEBOOK, INSTAGRAM, YouTube and TWITTER.