This Homemade Mayonnaise Recipe, like most homemade replacements just tastes better. Learn how to make mayonnaise with 3 different methods. Once you taste the homemade version, you won't want to settle for less than the best!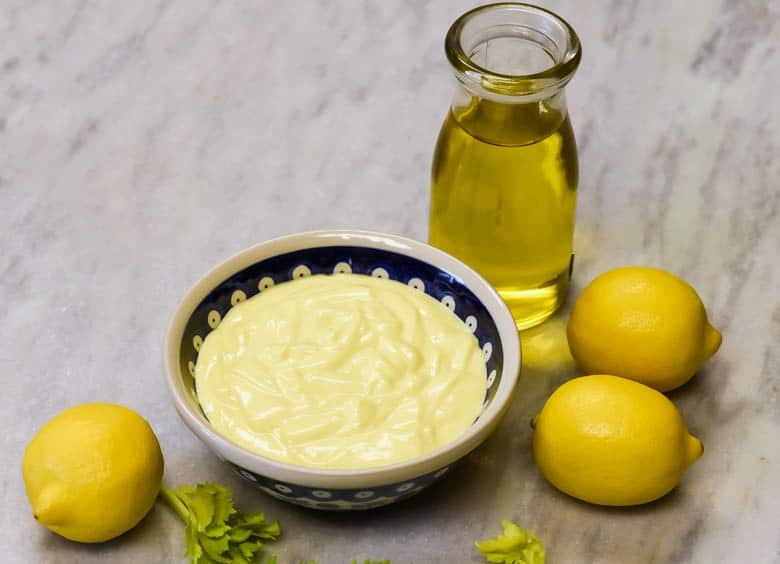 Why would anyone want to know how to make mayonnaise? To be honest, I had never thought about making my own mayonnaise.
But, then I became much more aware of the ingredients in the foods we ate.
Why You Should Make This Homemade Mayonnaise Recipe
I had settled for the convenience of the store bought mayonnaise and never questioned the healthiness of it!
Things have changed, however, I am no longer settling for the status quo!
Homemade mayonnaise is creamier and richer in taste than its store bought counterpart not to mention healthier.
Which Oils are Best to Use for Making Mayonnaise?
After beginning to read labels, one of the things that struck me (besides sugar being on every label I read!) were the oils used in prepared foods - they were down right bad for you.
Canola oil and partially hydrogenated oils are in just about everything!
So, I began the quest to replace as many bad-for-you oils in our diet with good-for-you oils. Enter - Homemade Mayonnaise Recipe!
Several oils can be used for making mayonnaise but my favorite is virgin olive oil. Olive oil is a longer chain fatty acid that contains oleic acid. It is a healthy monounsaturated fat that has been shown to decrease inflammation. (1, 2)
I do not like the taste of mayonnaise made with extra virgin olive oil because it is too strong. Feel free to experiment and see which you prefer.
How to Make Mayonnaise - 3 Methods
Once you give it a try, you will find homemade mayonnaise is quick and easy no matter which way you choose to make it. After all, it is richer, creamier, full of enzymes and just plain tastes good!
1. How to Make Mayonnaise Using an Immersion Blender
This has become my favorite way to make my homemade mayonnaise recipe because it is not only quick and easy, but the clean up is super fast too.
Making Mayonnaise Step by Step with an immersion blender:
Add oil to a large measuring cup that is large enough to mix in without spilling. I like to use my 4 cup glass measuring cup. Add egg and other ingredients. Photo 1
Place immersion blender all the way to the bottom of the measuring cup (or other bowl), turn on high. Photo 2 Slowly, moving in circular pattern, raise it to the surface while blending the ingredients. You will see the mayonnaise being made as you go. This only takes about 30 seconds. Photo 3 - 5
By the time you get to the top, you have delicious mayonnaise! Photo 6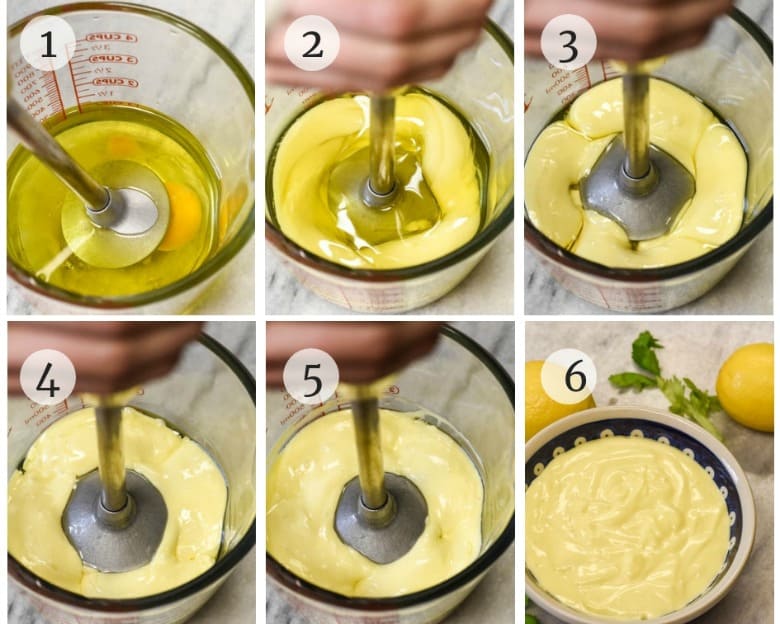 2. How to Make Mayonnaise Video Using the Food Processor
While this is one of my older videos, it shows how make mayonnaise using a food processor. You will see just how easy making your own homemade mayonnaise is to do.
And, you will wonder why you never tried it before!
Following the video, there is a resource section of the things I use in the video and a recipe for those of you who prefer written instructions.
How to Make Mayonnaise Video Resources:
These are things you see me using in the "How to Make Mayonnaise" video and I link to the exact item - I don't know about you, but I love knowing what other people are using and why they like them. The links will take you to Amazon.
3. How to Make Mayonnaise Using a Blender:
The process for making my Homemade Mayonnaise recipe in the blender is almost identical to making it in a food processor.
Place all ingredients except for the oil in the blender and cover.
Turn on high and very slowly, add the oil just as is shown in the video with the food processor.
The mayonnaise should be finished by the time you add the oil in a slow steady stream.
Ways To Use Homemade Mayonnaise:
Use it as in salad dressings for a creamy, rich flavor
Use it to make homemade coleslaw
Spread it on sandwiches or rolls and top with your favorite fillings
Simply use it as a side to dip potato wedges or roast veggies into.
What Causes Mayonnaise to Thicken?
Lecithin is found in the egg yolk and it is the lecithin that causes mayonnaise to thicken. Lecithin is a phosholipid that emulsifies when it is slowly added.
What if My Mayonnaise Does Not Thicken?
While I am not sure why this occasionally happens, all is not lost. Don't do like I have before finding this trick and throw it out!
Simply add another egg and blend once more and your mayonnaise should thicken nicely.
Why Does My Mayonnaise Separate?
This will happen if the mayonnaise is forgotten about and not used. If it is forgotten in the refrigerator, it can begin to separate and while it can be stirred and remixed, I have only had this happen if it is old. So, I make a new batch.
Can I Sweeten My Homemade Mayonnaise?
Homemade mayonnaise can be sweetened and still be healthy. Depending on where you are in your real food journey, you might prefer to begin by using 1 -2 tablespoon processed sugar.
I like to use 1 -2 tablespoon honey or monk fruit sweetener depending on what the mayonnaise will be used for.
Do I Have to Use Raw Eggs?
You may be a bit squeamish as you look at the recipe which calls for an egg - raw egg.
Since we have chickens, I am sure the eggs are fresh and I encourage you to find a local source for pastured eggs. Raw eggs are safe and very healthy for you when they are pastured.
If that is not an option, you can use regular eggs from the grocery store and it works very well.
In the GAPS diet, raw egg yolk is introduced during the second stage because they are easily digested and absorbed quickly. Eggs provide wonderful nutrition!
How Long Does Homemade Mayonnaise Last?
The lemon juice used in the following recipe is acidic which can help kill any bacteria found in the egg. My homemade mayonnaise recipe will last for 1 week in the refrigerator.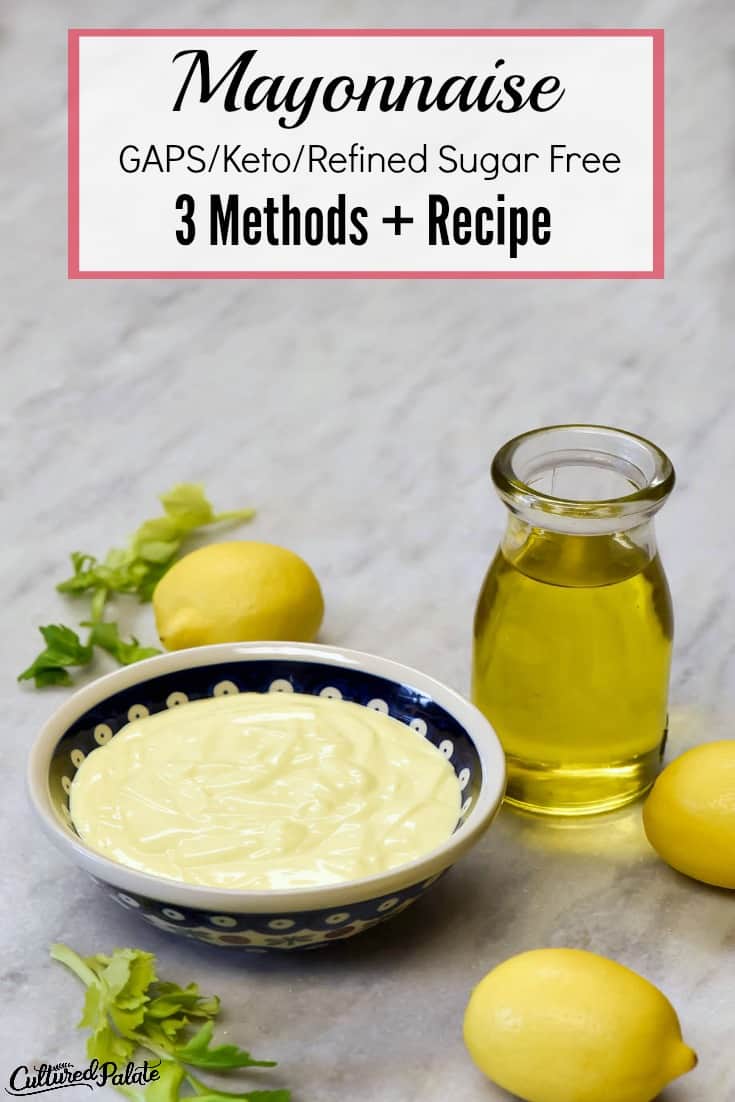 If you've tried this Homemade Mayonnaise recipe, or any other recipe on Cultured Palate please take a minute to rate the recipe and leave a comment letting me know how you liked it. I love hearing from you! You can also FOLLOW ME on PINTEREST, FACEBOOK, INSTAGRAM, YouTube and TWITTER.
📋 Recipe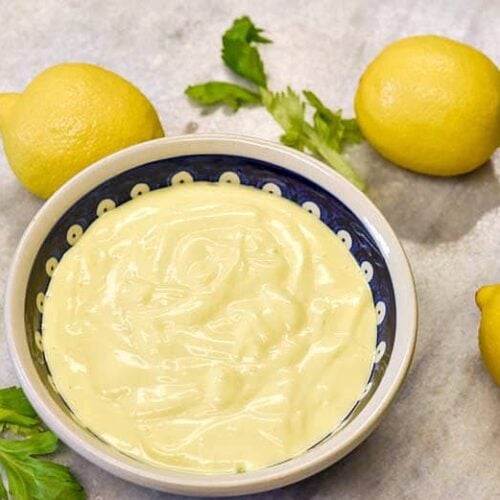 Homemade Mayonnaise
Cultured Palate
Skip the jar on the shelf and make your own for the best flavor and nutrition.
Ingredients
1

egg

1

cups

olive oil

1

tablespoon

lemon juice

¾

teaspoon

salt

2

teaspoon

mustard

1

tablespoon

honey

optional - monk fruit may also be used
Instructions
Using an Immersion Blender
Add ingredients in the order given to 2 - 4 cup container.

Place immersion blender to the bottom of the container.

Turn immersion blender on and very slowly using a circular motion, raise it to the top while blending. This should take about 30 seconds.

Place mayonnaise in refrigerator if not using immediately.
Using a Blender or Food Processor
In the blender or food processor, whisk the egg.

In a slow and steady stream, add the olive oil.

Add the remaining ingredients.

Refrigerate until ready to use.
Notes
My preferred method of making mayonnaise is with an immersion blender because it is quicker and has less clean up.
Nutrition
Calories:
108
kcal
Fat:
12
g
Saturated Fat:
1
g
Cholesterol:
8
mg
Sodium:
96
mg
Potassium:
3
mg
Vitamin A:
10
IU
Vitamin C:
0.3
mg
Calcium:
1
mg
Iron:
0.1
mg
What is Your Favorite Way to Use Homemade Mayonnaise?
Pin It!