This Indian Style Carrot Juice Recipe is delicious and the perfect drink for healthy living. Who says carrot juice recipes can't taste good?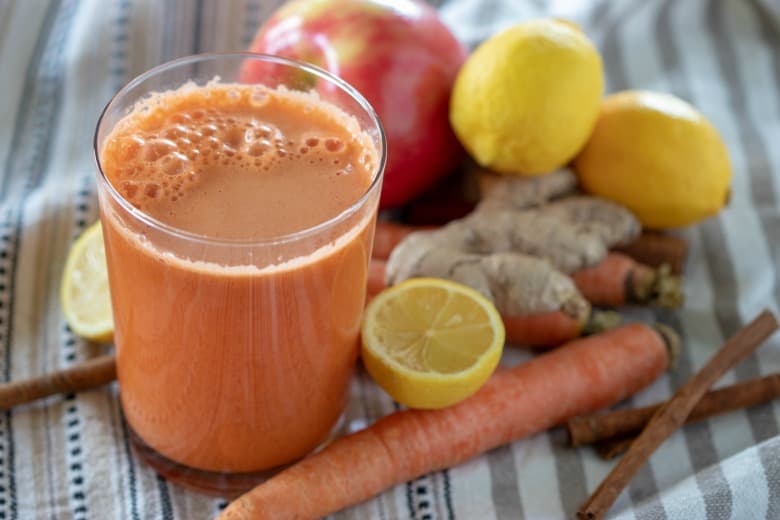 I know, you have tried juice recipes before and it is just not your thing. Well, I am about to change that. With all the variety available in juicing recipes, I know we can find one you love!
Why You Should Drink This Indian Style Carrot Juice Recipe
There are two main reasons.
Taste - It is delicious.
Nutritious - It is good for your healthy living lifestyle.
Not only do you have all the benefits of carrot juice but also of the other ingredients too. And, all in a form that makes it easy for your body to absorb and use the nutrients.
Juicing removes the fiber or pulp and this leaves the nutrients in a concentrated form that your body can easily absorb.
You can read about the amazing benefits of carrot juice in my Carrot Juice Recipes page. Just to whet your appetite though, here are are a few of the benefits of drinking carrot juice:
Helps prevent cancer
Good for healthy eyes
Helps with weight loss
Ginger is a good aid for digestion and can help combat constipation, bloating and gas.
Cinnamon has anti-inflammatory properties and can also help your body fight infection so it supports your immune system.
So, now, let's see just how good turmeric is...
Benefits of Turmeric
Other Suggested Ingredients
Curcumin, the active ingredient in turmeric from which it gains many of its health properties from, can be difficult for our bodies to absorb.
To help aid absorption, black pepper can be added whenever turmeric is used.
Try adding to the following recipe along with the cinnamon:
Are There Any Side Effects to Eating Turmeric?
No, when used as a spice (as a drink or food addition), there are no known side effects and in fact, you may see the benefits of decreased inflammation and better health.
Do Children Like This Indian Style Carrot Juice Recipe?
Yes, or at least, mine do. I have been juicing for quite awhile and my children are used to carrot juice and other juicing recipes.
They enjoy the variety that all the different recipes give and so do I. With all the variations, none of us get bored.
I love this recipe because of the turmeric - I am always looking for ways to add more of it to our diet.
Should I Peel the Turmeric Before Juicing?
When I am using the juicer, I do not peel the turmeric or the other ingredients. I simply wash them well.
Whether or not you do will depend on your juicer - please check the owner's manual for details on your particular model.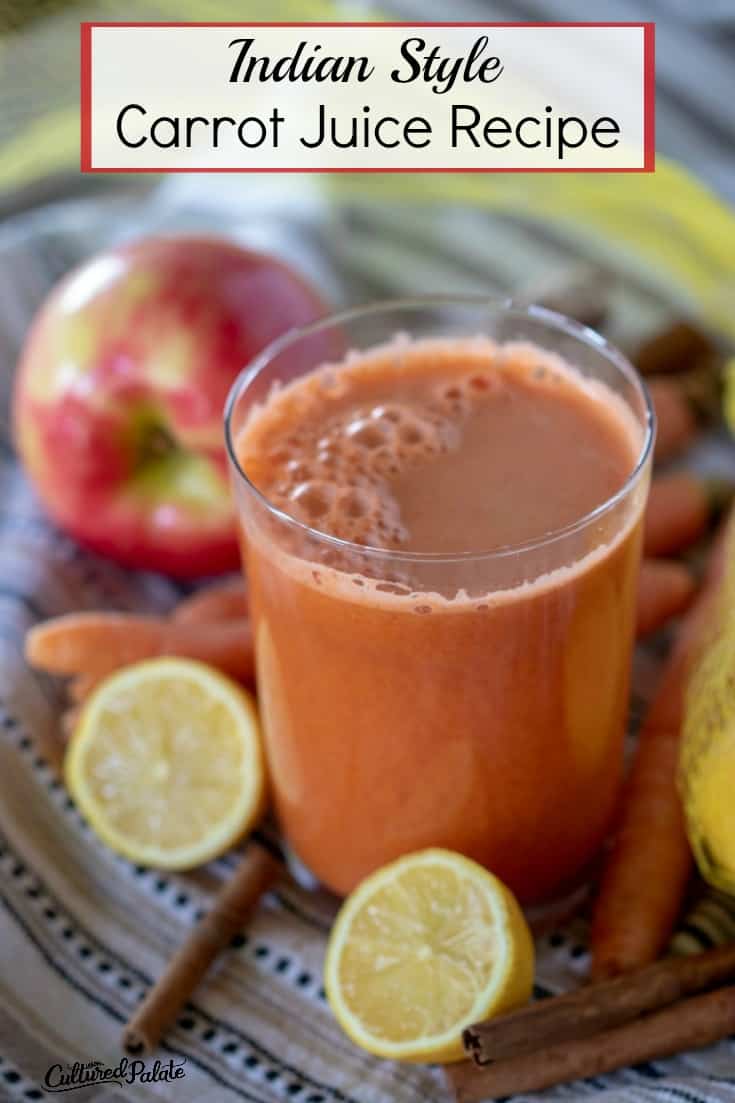 If you've tried this Indian Style Carrot Juice Recipe or any other recipe on Cultured Palate please take a minute to rate the recipe and leave a comment letting me know how you liked it. I love hearing from you! You can also FOLLOW ME on PINTEREST, FACEBOOK, INSTAGRAM, YouTube and TWITTER.
📋 Recipe
Indian Style Carrot Juice Recipe
Who says carrot juice recipes can't taste good? This spicy delicious carrot juice is the perfect drink for healthy living.
Ingredients
5

carrots

1

apple

½ - 1

inch piece

fresh ginger

- use 1" for a bit more zing

½

lemon

1

inch

piece fresh turmeric

or ½ teaspoon turmeric powder

⅛

teaspoons

cinnamon

⅛

teaspoons

black pepper

(optional - see recipe note)
Instructions
For Juicer:
Wash carrots, apple, ginger, lemon and fresh turmeric (if using).

Juice veggies and pour into pitcher.

If using dried turmeric add it along with cinnamon (and pepper) - mix well.
For Blender:
Wash and peel carrots, apple, ginger, lemon and fresh turmeric (if using).

Place all ingredients in the blender and blend well on high.

Position a muslin cloth or nut bag over container to catch the juice.

Pour blender contents through cloth or bag to strain out the pulp catching the juice.
Notes
To help with absorption of the curcumin in the turmeric, add ⅛ teaspoon black pepper when adding the cinnamon.
Nutrition
Calories:
118
kcal
Carbohydrates:
29
g
Protein:
1
g
Sodium:
106
mg
Potassium:
622
mg
Fiber:
7
g
Sugar:
17
g
Vitamin A:
25525
IU
Vitamin C:
27.5
mg
Calcium:
63
mg
Iron:
0.7
mg
What is Your Favorite Indian Inspired Recipe?
Pin It!